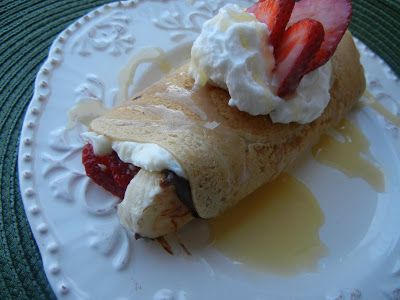 Nutella….where have you been all my life?? I don't know how, or why, I have gone this long in life without trying Nutella, a chocolaty hazelnut spread. Oh my…sinful is all I have to say! I know why I have never bought it until now, it was always too expensive. My sister however has helped me realize there are some things in life worth paying for. This $3 jar of Nutella is WELL worth it's price in gold!
May is a busy and crazy month for our family. Four of our five children have birthday's within a few weeks of each other, combine that with Easter, Mother's Day, Father's Day, and Memorial Day–it gets a little hectic, but fun! One of our children's favorite traditions on their birthday is they get to pick the breakfast and dinner meals for that day. We usually have family over for breakfast and dinner on their birthday which makes them feel special the whole day (my family all lives within a mile..so we thankfully can get together often (well…daily I should say 😉 Today was my oldest daughters birthday and we had a wonderful time celebrating and spending time with family. I can't believe she is 11 already! Time flies so quickly. Her breakfast of choice was crepes. My sister brought Nutella over and that was the perfect addition for our special breakfast.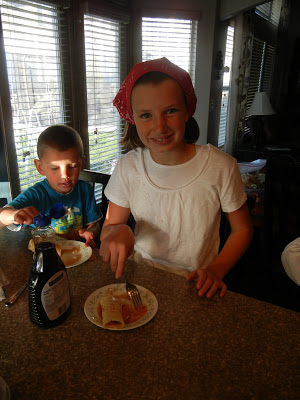 I made my traditional recipe for crepes (with powdered milk & eggs–LOVE this super easy & cheap food storage recipe–it can feed a crowd for very inexpensive). However, this time I used half wheat flour and I really liked the results. Since I am filling my crepe with lots of sugar–I figure I might as well add a little fiber, right?
Now, the crepes were delicious, but what we put in them was the special part! We went with a cream cheese, Nutella, banana, and strawberry filling. We then topped the rolled crepes with our butter syrup, more fresh strawberries, and whipping cream. Wow! Now you know why I couldn't go to sleep tonight before sharing this recipe with you. I am still thinking about it and it is nearly midnight. Yum!
Hopefully this recipe can find it's way to your bed Mother's Day morning 😉 I am going to put a bug in my husband's ear that this would sure make a lovely start to a special day. Happy Mother's Day to all of you!