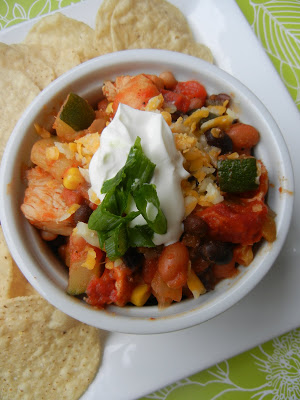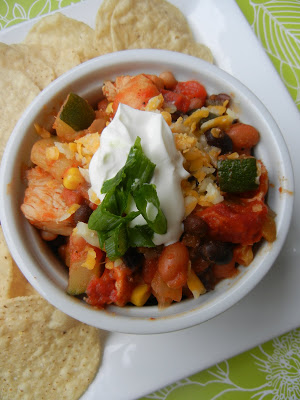 I am not one to love soups in the heat of summer, but on those few summer nights when the gray clouds roll in and the night gets a little cool, it is the perfect time for two of my favorite soups. These soups are awesome because they use all of the fresh produce from your garden. Both soups can be tailored to your family's liking and can include any vegetables you have growing: green bell peppers, red bell peppers, spicy peppers, zucchini, yellow squash, tomatoes, carrots, onions, broccoli, cauliflower, etc. Use these recipes as a base and then add any fresh produce you wish.
Here is the recipe for this amazing Summer Chicken Chili that I posted about a couple years ago.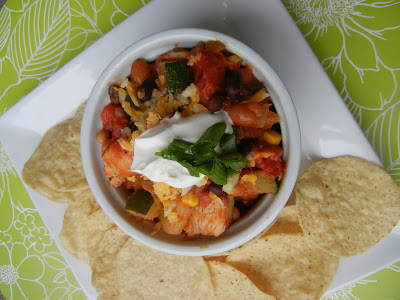 I was at Hobby Lobby the other day and about fell over dead when I saw Halloween and Christmas decorations up already. Can it possibly be getting close to the end of summer, and fall around the corner? I guess soups will be back on our kitchen table before we know it. Until then, I will eat these soups and pretend that summer is just beginning and I have plenty of time to bask in the sun!
This next soup is one I got from my favorite food blog and I stick pretty close to the recipe. I only add a little more seasoning and more cheese (can you really have enough cheese?) to her recipe and other than that, it is perfect. I have also added cubed grilled chicken to this soup to help fill up my kids before and it is fabulous with or without meat.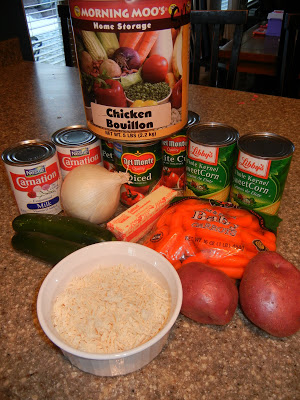 **It is CASE LOT TIME again here in Utah!!
Twice a year in February and August store's in Utah have their semi-annual case lot sales. Few things make me more giddy than when groceries go on sale for rock-bottom prices.
Throughout the year there will be times when there are not many great (red) deals and sometimes it gets frustrating when you are needing to plan your meals and save at the grocery store. Summer is generally when food prices are at their worst. If you have been frustrated with the food prices lately, THIS WEEK is the time to combat these prices the other 11 months of the year. If you stock up your food storage during case lot time you will NOT have to purchase these items again until NEXT year!! Then..when you see meals on our Deals to Meals meal planner that call for things like: canned beans, wheat, canned vegetables, oats, oil, condiments, powdered eggs, powdered milk, tomato paste, canned tomatoes, etc. you won't have to purchase them each week because you will have them in your own 'grocery store' in your basement. Stocking up while prices are low may cost you a little in the short term, but can save you hundreds in the long term.
There are 141 food storage items on sale for GREAT (less than Walmart, Costco & Sam's Club) prices you can be adding to your stock pile this week. Login to our website to see ALL of this week's deals and the delicious meal planner that is all planned out for you based on items on sale this week. Save TIME and MONEY for just over $1 a week! I don't know about you, but my time is worth much more than a buck! (Remember, there are NO contracts and a two week trial for everyone..you can't beat that!)
Have fun shopping! I am going Monday and I will blog about my 'loot'. I can't wait!!
*Food storage tip, take inventory before you go shopping to know what items you need to stock up on. Use our inventory sheet to help you know what you have.