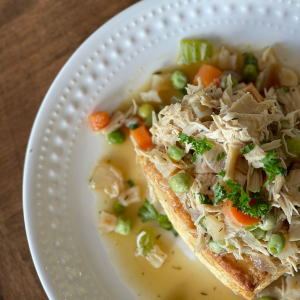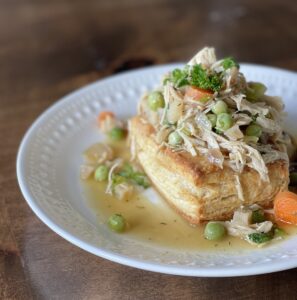 For those who follow our Meal Plan on Prepear you have probably seen one of my favorite recipes for Chicken Gravy & Biscuits on my meal plan before. This is comfort food at it's finest and my family loves Chicken and Biscuits way more than they do chicken pot pie. Perhaps it's the fact I always make extra biscuits to devour with jam, but either way, they love this meal much more than any other similar version. Before summer is in full swing, it's time for one more comfort food recipe that's sure to bring a smile to your face!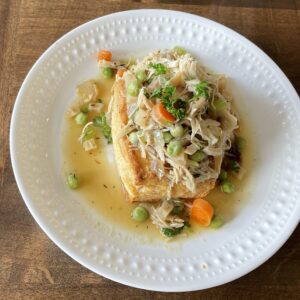 The best part about this recipe is it can be made in about 30 minutes and can all be made from your food storage/pantry. Who doesn't love a recipe that can be made quickly on a busy night but still made from fresh chicken and vegetables. You know me, I LOVE Thrive Life products and how versatile they are to use in your everyday cooking.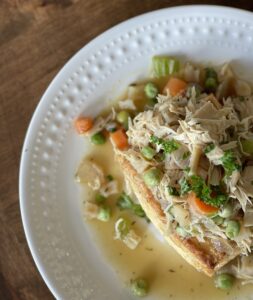 This month Thrive is offering their chicken, celery and diced potatoes on sale for 25-30% off. These products make this meal so much easier than using fresh meat and potatoes. Simply hydrate them, throw them in the recipe and away you go! Hope you print this recipe out and keep with your food storage and enjoy on those busy nights when you're craving a home-cooked meal.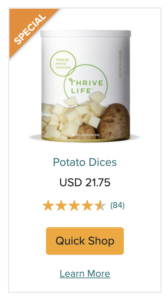 My son is home from college and made these INCREDIBLE biscuits from the America's Test Kitchen Recipe. They were absolutely heavenly and flaky. Seriously the best I have ever had. However, they were a little more time intensive. Check out this post for a couple easier recipes in a hurry (or just use store bought for those busy nights).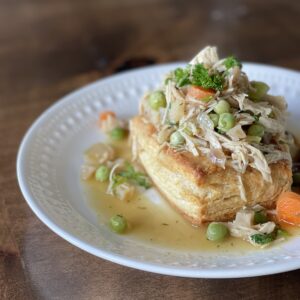 Instructions
Prepare the biscuits as desired (homemade or store bought). Once the biscuits are cooked make the gravy and serve over the warm biscuits.

In a large bowl add the diced chicken and diced potatoes with 3 cups of water. Let sit for 15 minutes. After 15 minutes add the celery and carrots to the water mixture and let sit for 5 minutes.

Heat a large saute pan to medium heat. Add the olive oil and heat for a minute. Add the sliced onions and saute for a few seconds while you add the cornstarch. Saute and then add the water, potato, chicken, celery and carrot mixture. Let this mixture simmer for 5-10 minutes. Add the chicken bouillon, pepper and thyme. If the mixture does not thicken to your liking you can add a little extra cornstarch slurry to thicken a little more. Once the mixture is thicken, add the freeze dried peas and let simmer for another couple minutes until the peas are tender. Garnish with fresh parsley.

Serve over the cooked biscuits or use the mixture in a pot pie.