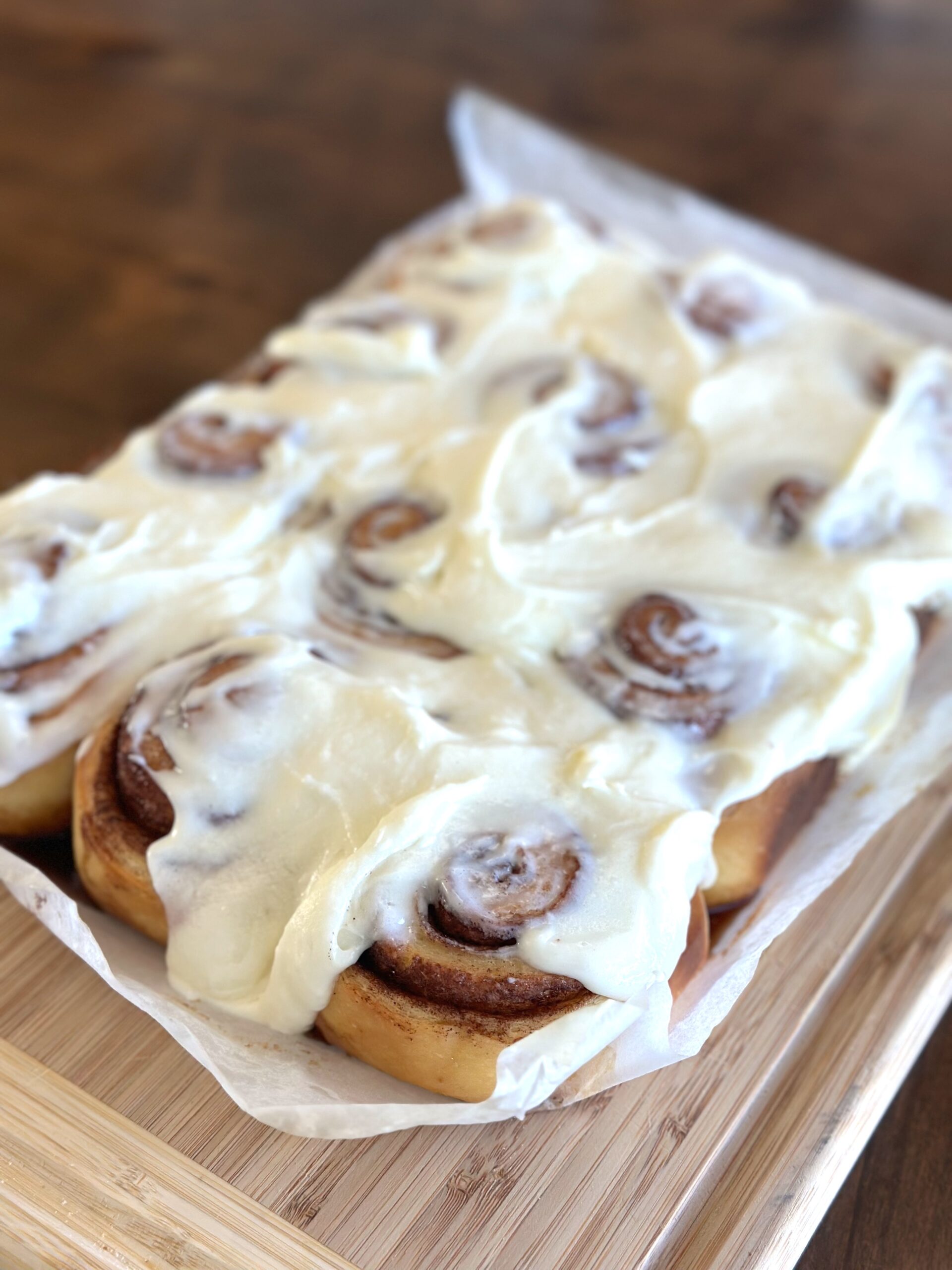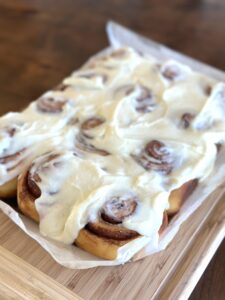 This is my go-to cinnamon roll recipe and you just can't beat it's delicious, flaky, soft texture. Ditch your old cinnamon roll recipes and replace it with this one! It's a favorite and one I'm guaranteed to make multiple times this year.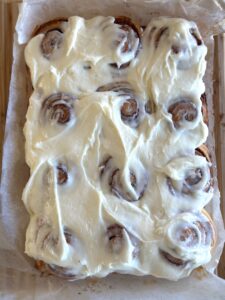 This recipe comes from my dear friend Camille. When we were neighbors we would all look forward to these  rolls she'd bring warm to us the morning of our birthday's. One birthday morning she woke me up out of bed with a big tray of them, right out of her oven. It was the best birthday breakfast I've ever had. They were heaven on earth!! Grateful for her friendship, as well as her amazing cinnamon roll recipe.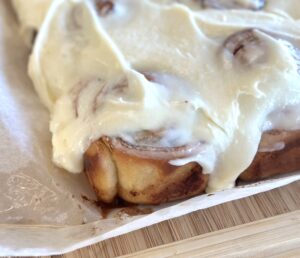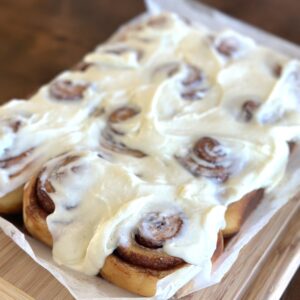 Ingredients
2

cups

warm milk

⅔

cup

butter

melted

4

eggs

1

cup

sugar

2

tsp.

Salt

8

cups

flour

2

Tbs.

yeast

FILLING:

1 ½-2

cups

brown sugar

3

Tbs.

cinnamon

⅔

cup

butter

melted

FROSTING:

1

cup

butter

8

oz.

cream cheese

3

cups

powdered sugar

1

tsp.

Vanilla

¼

tsp.

salt
Instructions
Dough: Warm the milk and butter in the microwave for 2 minutes. In a large mixing bowl, with a dough hook attachment, add the warm milk/butter mixture into the bowl. Add the yeast and sugar and let mix for two minutes. Add the eggs, salt, and flour (one cup at a time) and let the dough knead for 5 minutes. If the dough is too sticky, you can add a little more flour if needed. Once the dough has been kneaded for 5 minutes, put a cloth or towel on top of the bowl and let it rise until it's to the top of the bowl.

When the dough has risen, pour onto a lightly floured counter. Cut the dough into two pieces. Set aside one of the pieces of dough. With your fingers, spread the dough into a rectangle shape. With a rolling pin, roll each of the sides of the rectangle until it measures approx. 16 x 21 inches.

Filling: Once the dough is rolled out, spread the filling melted butter all over the dough. Then, spread the cinnamon and brown sugar mixture all over the dough. Roll up the dough toward you and cut into 16 rolls. I usually use a sharp knife to keep them even (or you can use dental floss). Place on a greased cookie sheet (4 across and 4 down) and cover with greased plastic wrap. Use this same method on the other dough portion and place those rolls on a second cookie sheet. Let the rolls rise until doubled in size. Bake at 400 for 10-12 minutes, or until the tops are golden brown.

Frosting: In a mixing bowl, with electric beaters or a whisk, whisk the butter and cream cheese together until completely smooth. Add the powdered sugar, vanilla and salt and continue to whip until smooth and fluffy. If the frosting is too thick, add a little bit of milk to thin it out.

Frost the cinnamon rolls one or two minutes after they are finished baking and are out of the oven.