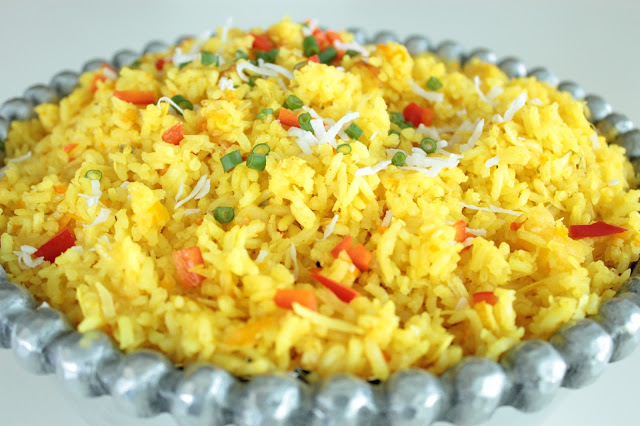 This recipe is my version of box mix by Zatarains called Caribbean Rice. It used to be my go to side dish if I didn't have time to whip up a unique dish of my own.  Sadly all the stores in Utah that used to have it quit carrying it some time ago. My favorite aspect about the dish was the creative blend of tropical flavors with a bit of a kick so I set off to recreate it myself.  This recipe for Pineapple Rice is what I came up with and it's amazing! You can always cut back the sugar to your liking. This recipe is so simple–just put in all the ingredients in the rice cooker at once and forget about it until dinner time. You can also make it the old fashioned way too…its up to you.  Every time this rice is served it gets rave reviews!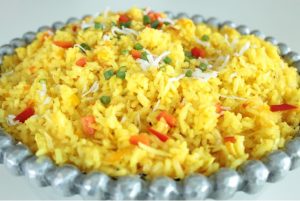 Serve this amazing rice with the Pineapple Grilled Chicken & the Vegetable Kabobs for an amazing summer night meal!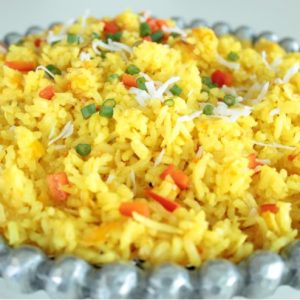 Ingredients
1

tbsp

butter

2

cups

long grain white rice

I run water over rice in a strainer prior to cooking it to prevent sticking and to wash off extra starch

4

cups

water

1/2

cup

chopped sweet onion

1/2

cup

finely chopped bell peppers

I use a mixture of red and green

1/2

cup

crushed pineapple

1/2

cup

coconut flakes

2

tbsp

sugar

1

tbsp

chopped green onion

more if you want to use it as a garnish also

1

tsp

chicken bouillon

1

tsp

salt

1

tsp

garlic powder

1/2

tsp

turmeric

1/2

tsp

mustard powder

1/4

tsp

cayenne pepper

1/4

tsp

black pepper
Instructions
Place butter at the bottom of a rice cooker add all of the remaining ingredients and stir until combined. Turn on rice cooker an Viola! That's it! It will take approx 30 minutes to cook depending on your rice cooker.

If you do not have a rice cooker just bring the water, butter and chicken boullion to a boil add rice and bring back to a boil. Turn heat to low, cover and simmer 20 minutes. Add the rest of the ingredients and simmer for another 20-30 minutes or until water is absorbed and rice is tender.