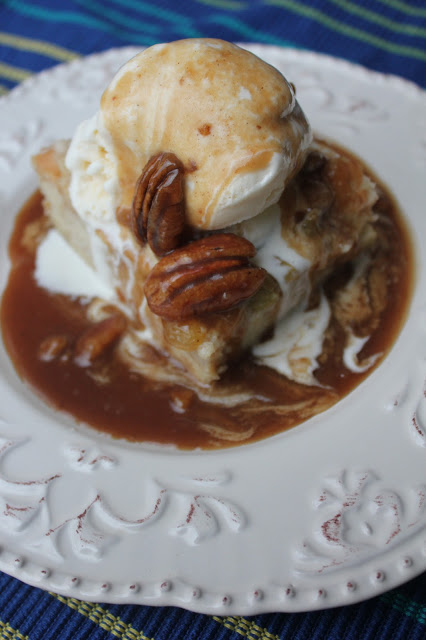 Alright, it's been a week and I am thankfully feeling really great! I still haven't been back to the kitchen to cook anything other than one batch of banana bread, but I think I am almost up for the challenge 😉  As I was thinking about recipes to blog about I decided to blog about my favorite recipe of all time..I figured that would make me feel better! The bread pudding from Famous Dave's is hands-down my favorite dessert on the planet. If I had to choose only one dessert to eat the rest of my life, this bread pudding would definitely be it. I have blogged about many bread puddings in the past few years (Pineapple Coconut Bread Pudding, Kneaders Raspberry Pudding, and Cranberry Orange Bread Pudding) and I was shocked the other day to realize I hadn't blogged about this version. If you are not a bread pudding fan (as I know many are not) you at least have to try making the Praline Sauce. It is the BEST caramel sauce you could ever imagine! The tanginess from the sour cream gives this caramel an amazing and smooth flavor. The recipe for the Praline Sauce makes a lot which is awesome because the extras are heavenly on a big bowl of vanilla ice cream. Or, really just eaten by the spoonful (I've done that sadly!). So, if you are needing a special dessert to serve friends or family, this is one that will blow their socks off. It is rich, smooth and full of delicious nutty and cinnamon flavor. Enjoy 🙂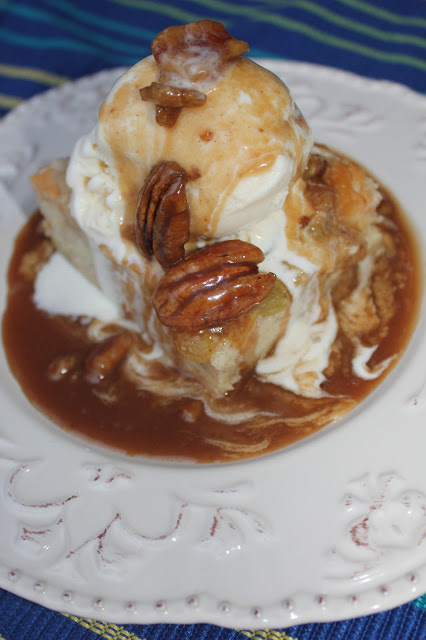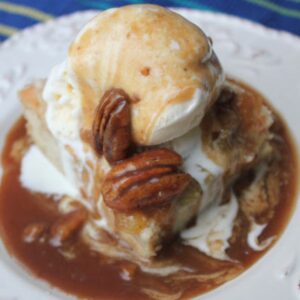 Ingredients
Bread Pudding:

1

loaf french bread or other white bread

2/3

up golden raisins

optional

1 1/2

cup

sugar

4

cup

milk or half & half

2

cup

whipping cream or whole milk

1/4

cup

vanilla

8

eggs

beaten

1

tsp.

ground cinnamon

Whipped cream or ice cream

Praline sauce

See Recipe on Site

Famous Dave's Praline Sauce:

Praline Sauce

1

cup

butter

3/4

cup

chopped pecans

3 1/4

cup

brown sugar

3/4

cup

whipping cream or whole milk

1/2

tsp.

cinnamon

1 1/4

cup

sour cream

3/4

tsp.

vanilla
Instructions
Coat bottom and sides of 13-by-9-inch baking pan heavily with butter.Tear bread into 1-inch pieces. Mix with raisins in bowl. Lay bread mixture evenly in prepared dish, turning crust side down, as this tends to burn easily. In bowl, whisk sugar, milk, whipping cream, vanilla, eggs and cinnamon until blended. Pour over bread mixture. Preheat oven to 325 degrees. Place baking dish in larger 4-inch deep baking pan. Add water to reach halfway up side of dish. Bake in preheated oven 1 hour.Remove from water bath. Let stand 20 minutes.Cut pudding into portions and put into large dessert bowls. Add a scoop of ice cream next to the pudding, and then spoon 3 to 4 ounces of warm praline sauce over the pudding and the ice cream. Top with whipped cream if desired.

To make this sauce, it is very important to follow the directions carefully and to use a candy thermometer. If you don't have time to make this sauce, just use a high quality store bought caramel and add pecans to the sauce.

For this Praline Caramel recipe, in a large saucepan, heat '/z cup of the butter until melted. Add pecans and mix well. Bring to a boil.Cook until pecans begin to change color. Mixture will foam up.Add remaining 1/2 cup cubed butter and mix well. This will cool pecan mixture and stop the cooking process. Remove from heat. Do not over cook. Combine brown sugar, whipping cream and cinnamon in a saucepan and mix well. Cook over low heat until blended, stirring constantly. Increase heat and cook until mixture comes to 230 degrees on a candy thermometer. Or boil mixture for about 1 minute. Stir in pecan mixture. Add sour cream and vanilla and mix well. Remove from heat. Makes 4 cups.