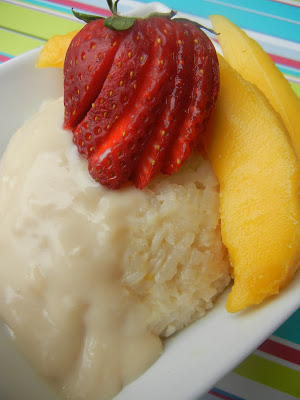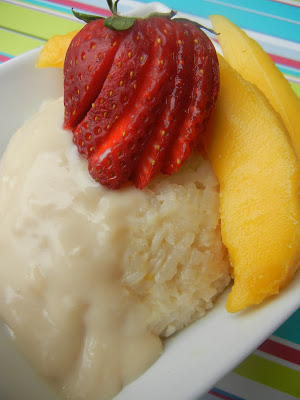 Are you having trouble getting out of the winter time blues and want to be transported to a tropical paradise with fresh fruit, coconut, and exotic flavors? This dessert can do just that! After a long day with gray clouds and rain I sat myself down on the couch, snuggled up with a warm blanket and savored every moment of this tropical dessert. It was a lovely, sunny moment of my otherwise dreary day 😉 Whether you need a summer pick-me-up or just want to savor the fresh flavors of mangoes & strawberries, this dessert is for you! I took a traditional Thai dessert and gave it a little twist..I even cut 1/2 the fat by using evaporated milk instead of 2 cans of coconut milk. The combination is absolutely heavenly and goes down so smooth and creamy. Man…what I would give for another bowl of this tonight!!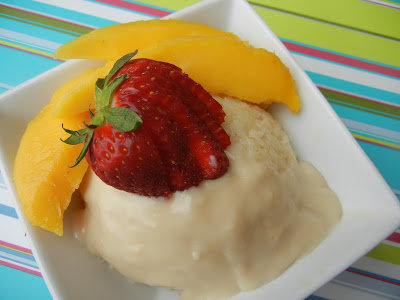 Sticky Coconut Rice with Mangos & Berries
2 c. calrose rice
2 c. water
Rinse the above for an hour (or overnight) and then rinse well and place in a medium sized saute pan. To the pan of drained rice, add the following:
2 T. white sugar
1 3/4 c. water
One can of evaporated milk MINUS 1/2 c. (set aside for sauce & rice later)
1 c. flaked sweetened coconut
Bring the rice and water mixture to a light boil, stir the rice, put a lid on the pan and let the rice simmer for 20 minutes on low heat. Once the rice is tender, stir the rice and add:
1/4 c. of evaporated milk (save the other 1/4 c. of evaporated milk for the sauce)
1/4 c. white sugar
1/2 t. salt
1 t. vanilla
The thin portion of one can of coconut milk (scoop the thick portion into another saute pan for the coconut sauce)
Mix together the rice and the above mixture and let sit with the lid on while you make the sauce.
Coconut Sauce:
Thick portion of one can of coconut milk
2 T. white sugar
1 T. brown sugar
1/4 t. salt
2 t. cornstarch
1/4 c. evaporated milk
1/2 t. fresh ginger, grated fine
Whisk together the above ingredients into a small sauce pan and bring the stove to low heat. Let the sauce simmer on low, whisking often until the sauce begins to thicken.
3 mangoes, peeled and sliced into long strips
1 lb. strawberries, washed and sliced into strips
Once the rice is cooked (if it is too thick you can thin the rice down with milk or more evaporated milk) and the sauce is made, serve the rice in a bowl with the cut up fruit. Drizzle the rice and fruit with some of the coconut sauce. Serve warm or cold.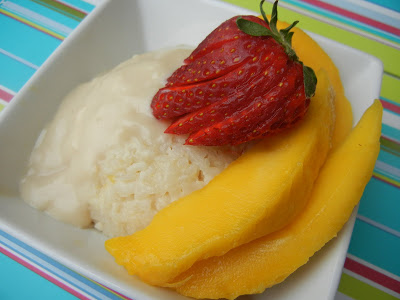 (Added bonus to this dish is everything other than the fresh fruit can be found in your food storage. This would be a great dessert if we were living out of our storage…this would make me happy during hard times!! I am sure it would even be good with canned pineapple or other fruits. YUM)