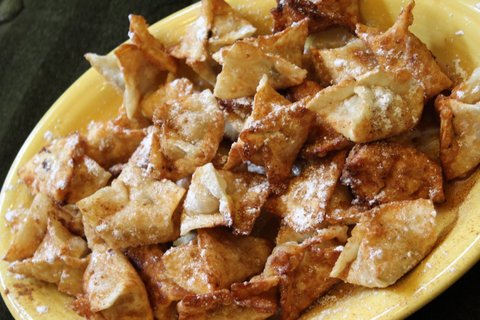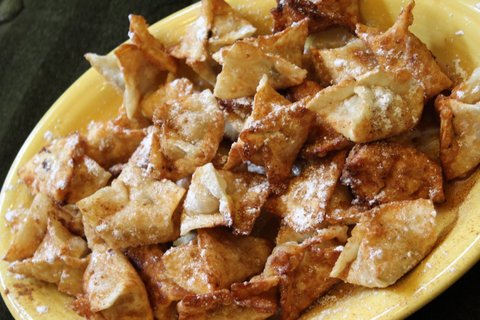 We returned back a few weeks ago from our annual trip to Park City. For those who live in Utah, it is such a beautiful time to visit this tucked away city in Parley's Canyon. The leaves have all changed to the brilliant yellows, oranges and red colors and it makes for a breath taking view! Besides the fun hike to the top of the mountain, lots of swimming, hot tubbing once kids were in bed, game nights, delicious dinners, we had our annual taste off and iron chef competitions.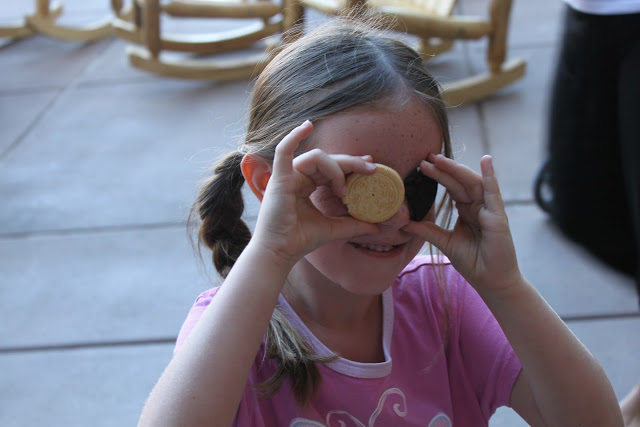 We sent the men off to the grocery store, anxious to see what they would come back with for this year's taste off item. We were not too shocked when the returned with almost $60 of Oreo cookies! Who knew there were SO many different types of Oreo cookies.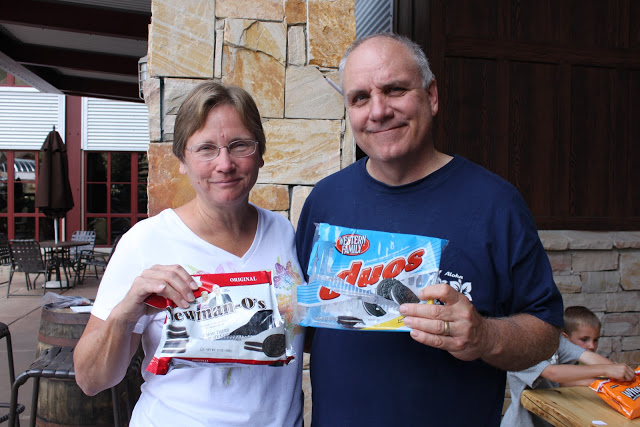 My Dad got the taste off table ready and then it was time to gorge ourselves with Oreo cookies of all varieties. Let's just say not all Oreo cookies are equal! Some cookies had such an awful flavor (Newman's Organic cookies were absolutely terrible!) that we could hardly even finish the cookie. Others however, were surprisinly good and were even the no-name brand. In fact, the Western Family Duos came in as the TOP/FAVORITE cookie! Who would have thought a generic Oreo cookie would actually win out Nabisco?? Nabisco Oreo's did come in second however and the double-stuffed probably would have won, but we didn't count that in our competition since it has more frosting…and who doesn't like more filling?!? So, if you want to save a few pennies, give the WF Duos cookies a try! They were surprisingly delicious!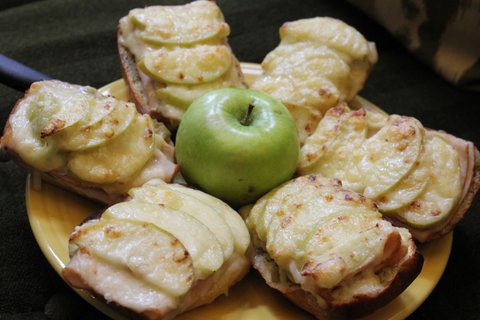 Turkey Apple Brandy Melts…so good! We eat these every vacation trip we go on. YUM
After our taste off we hurried back to our hotel rooms with our secret ingredient in hand and began the hours of cooking for our annual iron chef competition. We were thrilled with the secret ingredient of APPLES. How easy could that be?!? We quickly brainstormed several ideas and came up with four recipes we could hurry and make in our 2 hour window. I, of course, came up with a Cinnamon Apple Bread Pudding with a caramel topping. Diana made her famous Apple Brandy Melts which we all LOVE! Our friend Betsy then helped us with our next recipe which was my all-time favorite! These Apple Dumpling Won Tons were SO good, we all couldn't stop eating them. They are totally fattening and bad for you, but if you need a fun and new appetizer or dessert, these Won Ton's are really scrumptious!! Their crispy outside with the warm, creamy filling and the caramel drizzled all over them was aaaamazing!!!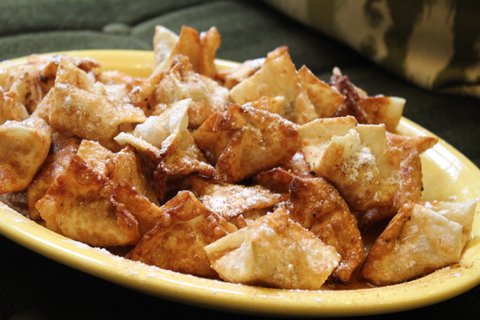 [buymeapie-recipe id='574′]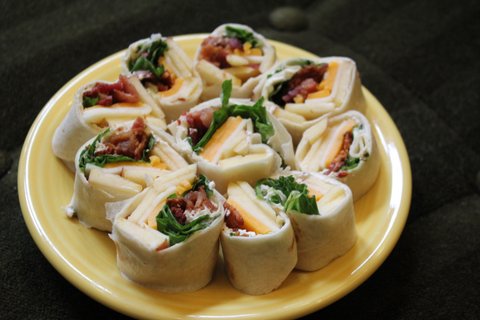 Our fourth recipe was my sisters concoction that was actually really good–Bacon Apple Wraps. She wrapped spinach, sharp cheese slices, provolone, bacon slices and apple slices together with a cream cheese and chive spread (just cream cheese, some seasonings and some green onions). The salty from the bacon and the sweetness from the apple actually made a delicious combination!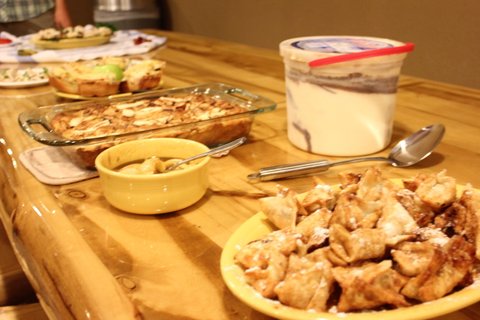 Sorry, the lighting in the room was awful, but we were excited to win 1st & 2nd place once again! The Wontons won first prize and the Brandy Melts won second. Way to go team! This tradition continues to be one of our favorite parts of our trip. If you need a fun date-night or family activity idea, come up with your own iron chef event. It is a blast and makes for good food and fun any time you need it!