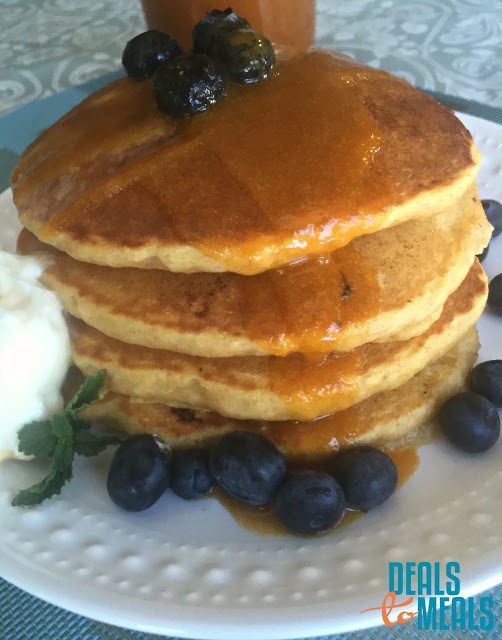 I don't know about you, but I love fresh apricots. We are in full-blown apricot season here in Utah. We have several sweet neighbors who have been so kind and shared their harvest of apricots. I love snacking on them, but wanted to come up with a recipe for some homemade apricot syrup and pancakes. We had lots of cousins over for breakfast so it was the perfect thing to feed the hungry crowd 😉 I loved the combination of the apricots with the blueberries. It's also blueberry season, so those are on sale everywhere this week too. Login to Deals to Meals to see where you can stock up on fresh apricots and blueberries. They also freeze great in your freezer for later breakfast recipes or smoothies. Enjoy!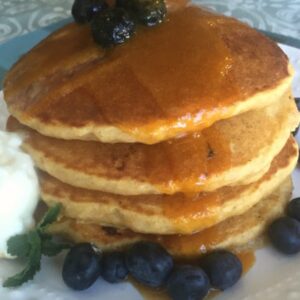 Ingredients
Apricot Syrup:

6

cups

pureed apricots

if you have a Blendtec, rinse them, remove the pit, and keep the skins on

1/4

cup

lemon juice

2 1/2

cup

sugar

1

cup

water

Pancakes:

1 1/2

cups

apricot puree

3

eggs

1/4

cup

canola oil

2 1/2

cups

milk

can use water and powdered milk

1/2

cup

sugar

3

tsp.

baking powder

1 1/2

tsp.

baking soda

1 1/2

tsp.

salt

3-3 1/2

cups

flour

you can add half wheat flour

2

cups

blueberries

optional plus more for serving
Instructions
For the apricot syrup, rinse the apricots under water and remove the pits. Keep the skins on and place in a blender. Add the lemon juice and water. Puree the apricots until they are completely smooth. If you have a heavy duty blender like a Blendtec it will puree the apricots so smoothly you won't need to strain. If you have a less strong blender, you may want to strain this portion of the syrup to get it nice and smooth.

Once you have the pureed apricot mixture, pour it in a sauce pan and add the sugar. Bring the mixture to a low boil and let it simmer until the sugar has been dissolved. Once the mixture is smooth and the sugar is melted, the syrup is ready. If it is too thick you can add more water to the syrup to thin it out. The syrup will last in the fridge for a couple weeks. Use this syrup in the pancakes.

For the pancakes, in a bowl, pour the cooled syrup, canola oil, milk, sugar and eggs and whisk until smooth. Add the dry ingredients and whisk until just combined. If the batter is too thin, add the extra half cup of flour. Adding a little more flour will help the pancakes be extra light and fluffy. When ready to cook, heat a griddle (this is my all time favorite griddle--it's HUGE and can make 6 pancakes at a time. I love it!). Once the griddle is hot, spray with cooking spray or butter. Pour a portion of the pancake on the griddle and cook until golden brown and then flip. Serve the pancakes with extra blueberries and the apricot syrup.
You can also use Thrive Life Freeze Dried Apricots or Blueberries to make this dish completely from your food storage!