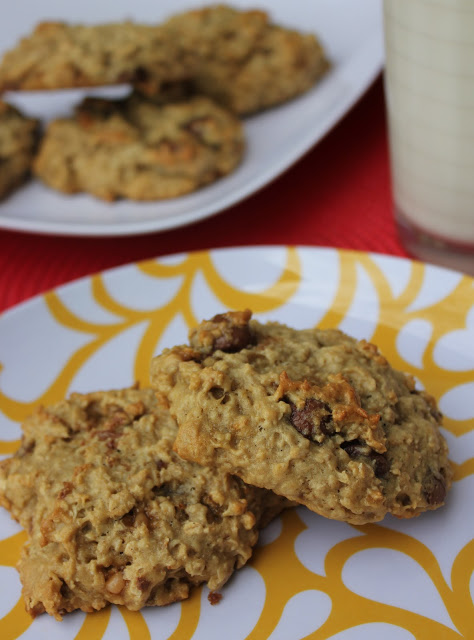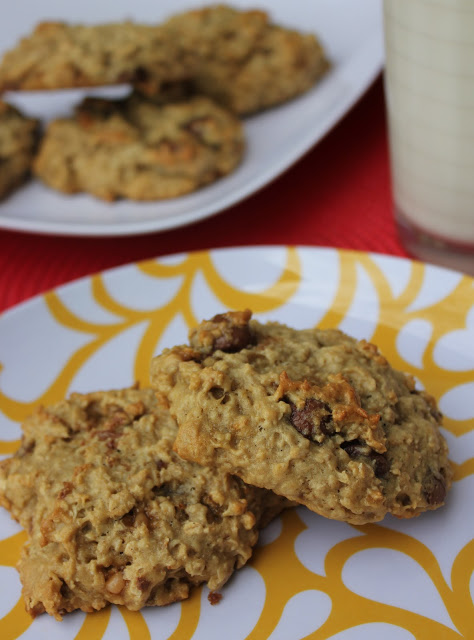 Do you ever get excited over extra ripe bananas? I secretly buy bananas hoping my kids won't eat them all so that I can have an excuse to make some of my favorite banana recipes: Banana Bread, Banana Oatmeal Hot Cakes, and Chocolate Chip Banana Muffins. Today I decided to branch out and try a new banana recipe and it was a big hit! These cookies would make for a great after school snack because they were hearty with all of the oats, bananas and wheat flour. Despite the hearty grains, these cookies were moist and soft and the crunchy toffee bits were perfect with the subtle banana flavor. Totally delicious!

Banana Toffee Oatmeal Cookies
1 stick butter, softened
1 c. brown sugar
1/2 c. white sugar
2 t. vanilla
2 large bananas or 3 medium sized (the more ripe the better)
2 eggs
2 1/2 c. flour (1/2 wheat flour works great!)
2 t. baking soda
3/4 t. salt
4 c. quick or regular oats
2 c. chocolate chips (1 12 oz. bag)
3/4 c. toffee bits
Preheat the oven to 350 degrees. In a mixing bowl, mix together the butter and sugar until the mixture becomes light in color and fluffy (about 4-5 minutes). Add the eggs, bananas and vanilla and beat until smooth. Add the vanilla, baking soda, salt, flour and oats until combined. Add in the chocolate chips and toffee bits to the batter mix. Grease a large cookie sheet with cooking spray and place twelve golf ball sized cookie dough portions on the pan. Bake the cookies for 8-10 minutes, or until the cookies are light golden brown on top and cooked through.
*For those who live in Utah, stock up on your oat supply at Maceys through next Saturday! They have their 50 lb. bags of oats on sale for under $23! That is a fabulous price, so stock up & buy several bags to add to your food storage. Oats are great to have on hand for many simple & healthy recipes 🙂