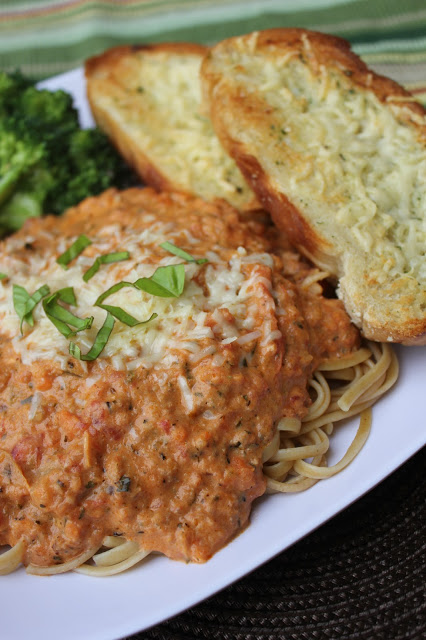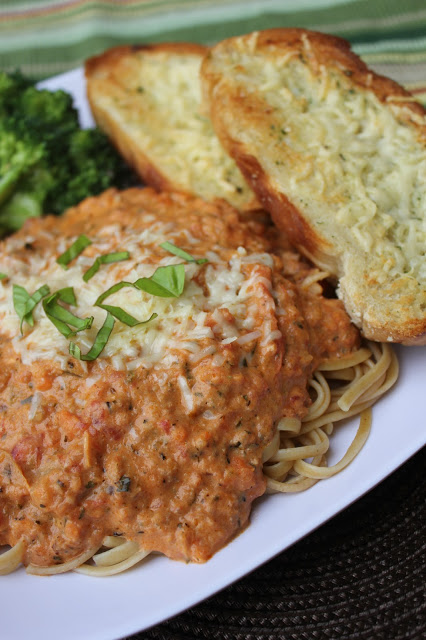 You know a recipe is good when nearly 4 years later a recipe lives on in your monthly menu plan, month after month.We rarely go a month without eating this Creamy Bolognese at least once. I am not a huge fan of plain spaghetti, but doctor it up a little and I could eat this meal multiple times a month! I love the cream cheese in the sauce and the Italian Dressing. It adds so much flavor and a creamy texture which I love.
Now, onto the other best part of this dish. The other day I was reading through a Cook's Country Magazine (which I also love) and read their recipe for the Best Garlic Toast. I was surprised to see such a simple recipe in their cookbook, but once I made this toast I realized it was definitely worth adding to their pages of delicious recipes. The addition of a little sugar and the fresh garlic makes for a great combination. Soak up some of the extra spaghetti sauce with this garlic toast and I could die and go to heaven. Even better, make homemade French Bread instead of store bought and you have a meal fit for a king.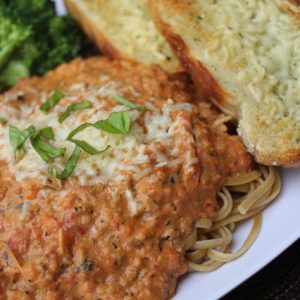 Ingredients
1

yellow onion

1

garlic clove

minced

1

lb.

lean ground beef or sausage

2

cups

spaghetti sauce or homemade marinara

1

14.5 oz. can diced tomatoes, drained

1/4

cup

Italian salad dressing

8

oz.

cream cheese

1

tsp.

dried basil

1

tsp.

Italian seasoning

1

lb.

spaghetti or linguini noodles

1/2

cup

parmesan cheese
Instructions
Saute onions in a large skillet on medium heat until they are translucent. Add beef or sausage or a combination of both and saute until cooked thoroughly, stirring frequently. Drain any excess grease from pan. Stir in spaghetti sauce and tomatoes. Bring to a boil. Reduce heat to medium-low and simmer 15 minutes. Remove from heat and stir in cream cheese, seasonings and Italian salad dressing. Serve hot over cooked & drained noodles. Garnish with parmesan cheese.
Notes
FREEZER MEAL: Sauce can be doubled and frozen for later
VEGETARIAN OPTION: Omit sausage and lean ground beef
Here is that amazing recipe for Garlic Toast!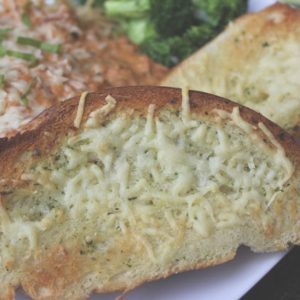 Ingredients
12

Tbs.

butter

softened

4

garlic cloves

minced

1/4

tsp.

sugar

1/4

tsp.

black or white pepper

1

tsp.

parsley flakes

dried or fresh

12

slices

French bread or Italian Bread

Parmesan cheese

grated
Instructions
Adjust oven rack to middle position, place rimmed baking sheet on rack, and heat oven to 425 degrees. Using fork, beat butter, garlic, sugar, and pepper in a small bowl until combined. Spread butter mixture evenly over both sides of bread. Sprinkle with Parmesan cheese (optional) on one side of the bread (top side). Arrange buttered bread on heated baking sheet and bake until golden brown on first side, 8-10 minutes. Flip and bake until golden brown on second side, about 4-5 minutes.