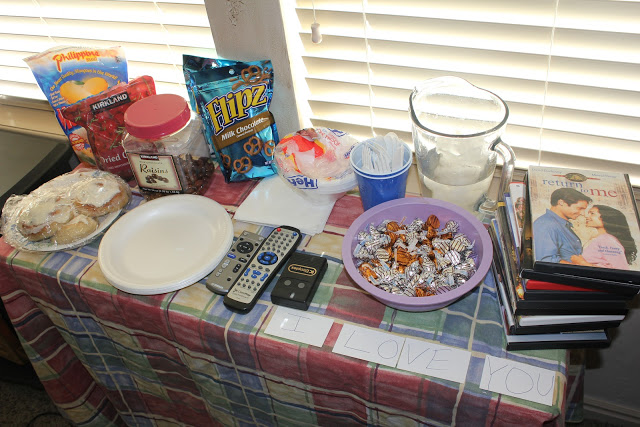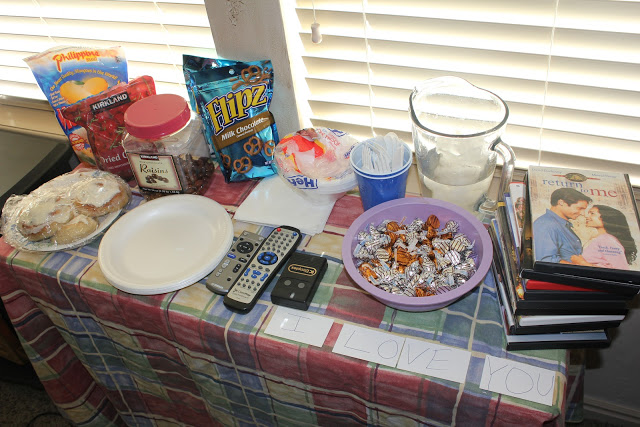 I have to brag for a minute. I have the world's best husband EVER!! For the past 6 months I have not been the easiest person to live with. At first I didn't know what was wrong with me. I thought maybe I was going through menopause at the age of 33, or that I was just needing to be sent to the looney bin. I felt from my head to my toes that I was falling apart. I wasn't sure why, but after several tests and lots of needle pokes I finally found out that I have what's called Plummer's Disease. For anyone that has had health problems, isn't it such a blessing when you find out what is wrong with you? There is such comfort that comes when you know there is a reason to your madness and not just that you are going 'crazy' and becoming a hypochondriac. So..basically I have a psycho thyroid that likes to grow funny growths all over it, spew out crazy amounts of thyroid and turns my body upside down and inside out whenever it feels like it. I didn't even know I had a thyroid a few months ago and let me tell you, this little organ can cause too much trouble for how small it is. If you have had thyroid problems, you know what I mean 😉
So, I am thankful for many things today. First, that I found a doctor (and with lots of prayers) who could figure out what was wrong with me, second, that there is a solution (hallelujah!) and third, that I have so many wonderful and sweet family and friends who have put up with me through my grumpy-tired-onoryness these past few months. Let's just say I couldn't be a pioneer. I am not the toughest cookie on the block, so I have really appreciated everyone listening to me complain and helping me through this sickness.
Well, today was a GREAT day! I finally am on my way to feeling good again. I went in today for radiation to basically blow up my thyroid and I couldn't be happier! I am thrilled to have my thyroid blown to pieces! Good riddens 😉 In the mean time, I have such a cute husband. Because I am technically 'radioactive' I have to be in complete isolation for five days (well, 3 days from adults and 5 days from kids). My hubby surprised me with my own 5 star suite when I came home. He had our bedroom spotless, our bathroom shining and a table set up with everything any woman needs to make her happy for five days…chocolate, cinnamon rolls, dried mangoes (my favorite!), Flipz pretzels (hello…how do we say YUM!), movies, ice water and all of the chick-flicks I can ever dream to watch. Not only that, but he put a nuclear/toxic picture on my door to make sure that the little monkeys don't try and come into my radioactive room 😉 I am afraid I am going to get used to this radiation life and not want to go back to reality!
So..bottom line, you are going to be hearing a lot from me in the next few days. I may just have to blog every day to keep me occupied. Of course I could be scrapbooking or doing something productive, but let's pretend we don't know that 😉
Before I went into my 'solitude' I made several recipes I have archived ready to share with you. The first one is a twist on an old favorite. German Pancakes. What would our family do without them? They are a Saturday staple at our house. I have a daughter that EVERY Saturday asks for German Pancakes. They are definitely one of our family's favorite breakfast dishes. They are super easy to make, puff up pretty and tall and covered in any type of syrup or fruit they are amazing! Well, today I have a blueberry caramel version that is so good it could almost be called a bread pudding. The texture is soft, smooth and rich. It is one of those breakfast recipes that you wonder if it is dessert or breakfast. Who doesn't like to start their day off with a little sugar? I know I do!!
[buymeapie-recipe id='577′]