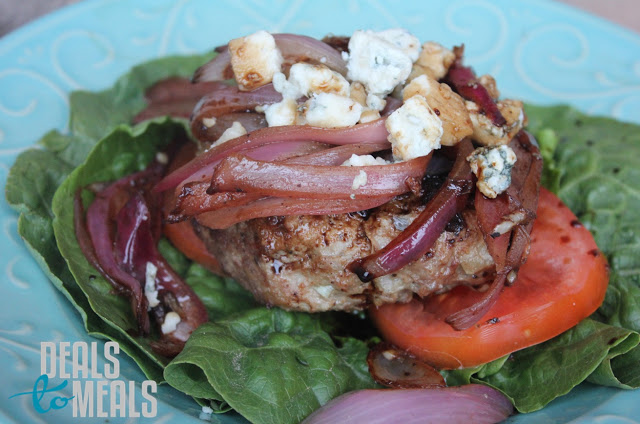 Several years ago I still remember going to an In-n-Out restaurant with my aunt when she ordered her burger 'California Style'. I had never seen a hamburger wrapped in lettuce before and I thought that was such a strange idea. A hamburger without a bun? What's fun about that? Well,  several years (and pounds) later, I realize the wise philosophy behind no bun. If you are like me and love homemade hamburgers, you realize with the bun, ground beef, cheese, mayonnaise, a hamburger is not necessarily a great 'health' food choice when you are trying to cut calories. I decided yesterday to come up with some simple ways I could still eat my beloved homemade hamburger but made a few tweaks to make this burger less than 1/2 the fat than a regular burger. Here are some simple tips to help you eat what you love without all the calories and fat 😉 Enjoy!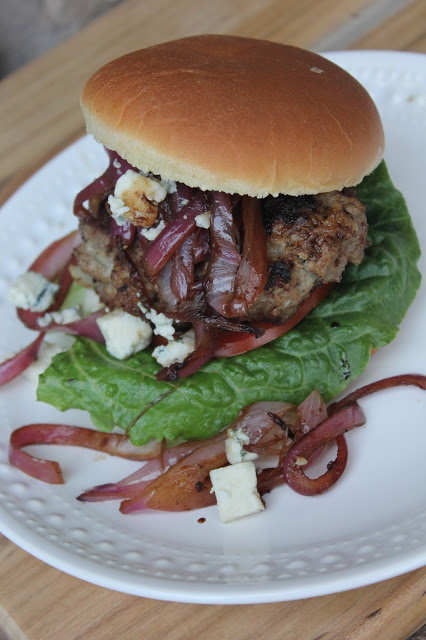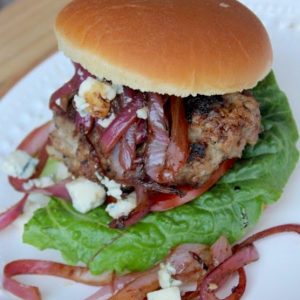 Ingredients
Meat:

1 1/2

lbs.

ground beef

1 1/2

lb.

ground turkey

or all ground turkey

3

egg whites

or full eggs

4

garlic cloves

3

tsp.

black pepper

2

tsp.

salt

1

Tbs.

balsamic vinegar

1

cup

bread crumbs or panko crumbs

1

large white onion

diced fine

Onions:

1

red onion

sliced

1/4

cup

balsamic vinegar

1

Tbls.

butter or olive oil

1

tsp.

sugar

Burgers:

Gorgonzola cheese

crumbled (blue or feta also work)

Mayonnaise

optional

2 to

matoes

sliced

6-8

pieces

of lettuce
Instructions
In a large mixing bowl, add together the ground beef and turkey and combine thoroughly together. Add the egg whites, garlic cloves, black pepper, salt, balsamic vinegar and bread crumbs. Combine. Cut the white onion into very fine pieces and add the ground meat mixture. Combine the hamburger mixture until all is incorporated and set aside.

Slice the red onion into thin strips. Heat a saute pan to medium high heat and add the butter or olive oil. Once the oil is hot, add the sliced red onions. Continue to saute on high heat for 30-60 seconds and then turn down the heat and continue to saute until the onion begins to soften. Add the balsamic vinegar and sugar and allow the mixture to simmer and the vinegar to start to evaporate. Once the onions are all tender and the balsamic vinegar is cooked down, set those aside.

Slice the tomatoes and lettuce pieces as desired. When ready to cook the hamburgers, patty them out into 1/4-1/2 lb. portions and place on a plate. Heat a griddle or grill to high heat. Place the burgers on the heat and cook until the bottom side is dark, golden brown. Flip the hamburgers and cook on the other side for 10-12 minutes, or until he center of the burgers are cooked through and no longer pink. When ready to serve the burgers, place the burger on a bed of lettuce or spinach. Top with the carmelized onions, tomatoes and sprinkle with some gorgonzola, feta or blue cheese (optional). Serve warm.