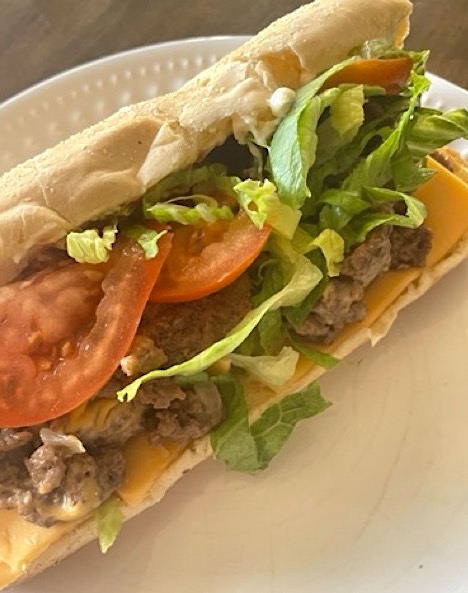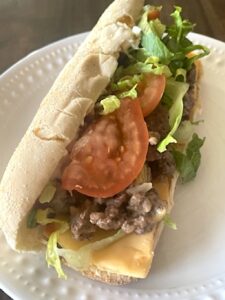 Have you ever heard of a Chopped Beef Burger? My son made these for us during a family vacation a few months ago and I have been craving them ever since. Imagine a tender, juicy burger all chopped up and put into a hoagie bun with simple ingredients like American cheese, sliced tomatoes, shredded lettuce and plenty of juicy beef with sauted onions.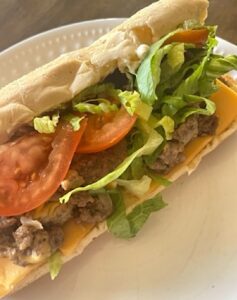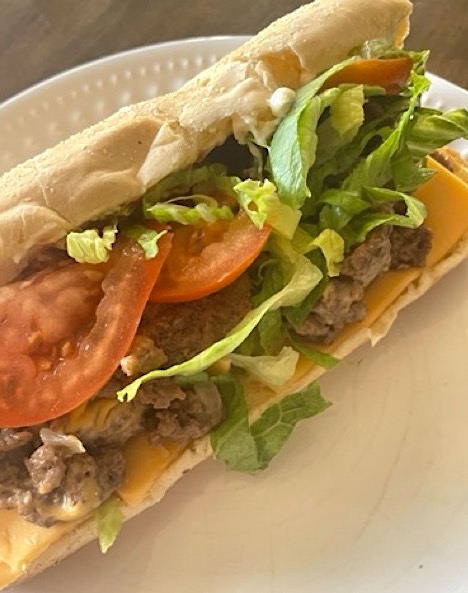 The ingredients are so simple and yet have so much flavor and texture. Just talking about this recipe again makes my mouth water. If you need a savory, simple recipe this one is for you!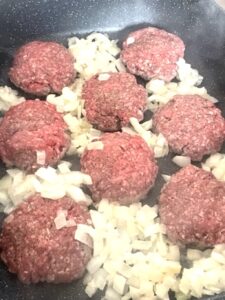 Here are some images to help you see how these burgers are made. Dice the onions and place in a large skillet or pan. Let them saute for a few minutes. Add the burger patties to the onions and let cook on medium-high heat.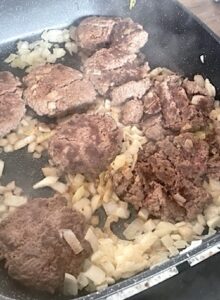 Once the burgers are browned on the bottom side, flip them over and let them continue to cook.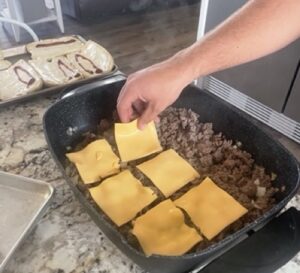 Slightly chop the burger patties into larger pieces. You don't want them broken up too much, but keep larger pieces. Add the cheese over the beef and turn off the heat to stop the cooking and let the cheese melt. Serve in the hoagie buns with lettuce, tomatoes, mayo and bbq sauce. Serve warm.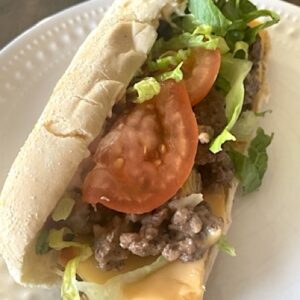 Ingredients
2

lb.

Lean ground beef

1

white onion

diced

2

tsp.

Garlic powder

1

tsp.

Onion powder

1

tsp.

Salt

1

tsp.

Black pepper

12

slices

American Cheese

2

tomatoes

sliced

1

head lettuce

shredded

Mayo

BBQ Sauce
Instructions
Form the ground beef into 6-7 large beef patties. Dice the onion into small pieces.

Heat a skillet or large pan to medium-high heat. Place the onions in the pan and let them start to sweat for 1-2 minutes. Place the burger patties into the bed of onions. Let the beef cook for 3-5 minutes on the one side until nice and browned.

Flip the burger patties over to the other side. After 2-3 minutes, begin breaking up the burger patties into large pieces. You want to keep large pieces, don't turn it into ground beef. This will dry out the meat. Keep large pieces. Turn down the heat and spread the cheese slices over the beef. Let the cheese melt.

Spread the hoagies out on a pan. Spread mayo and bbq sauce over the hoagie buns. Add the beef to each hoagie.

Slice the tomatoes. Shred the lettuce and then top the burgers with these items. Serve warm.