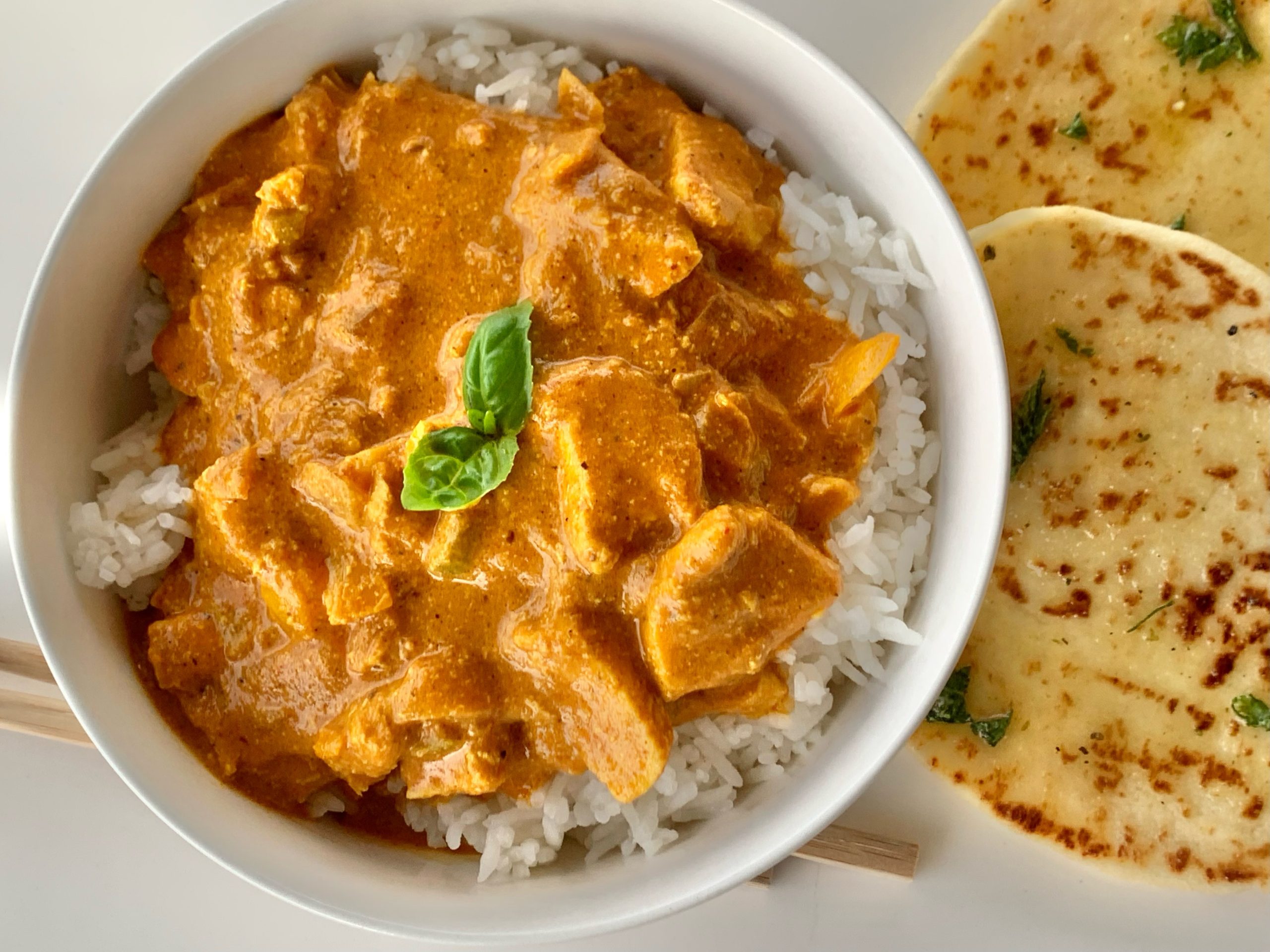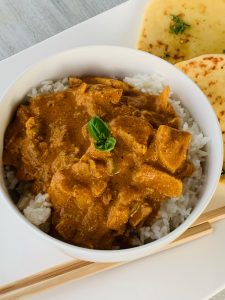 There are few dishes I love more than curry. I never feel like I get my fill of the rich, buttery, spicy flavors of India. This Butter Curry Chicken is one of my go-to Indian recipes I enjoy so much. This week I made a double batch of this flavorful dish so I could enjoy it the entire week. I've had it for lunch, dinner and maybe even breakfast one day. That's just how great it is! This recipe is pretty simple and comes together quickly, despite the chopping of vegetables.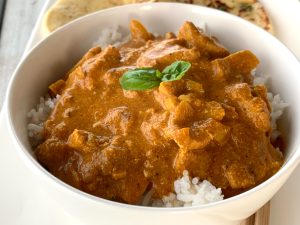 If you are in a super big hurry you could leave out the peppers. However, I love that I can add in those added nutrients to this dish and my kids don't even know they are eating them. The creamy, silky, spicy, sweet coconut sauce covers them all up so nicely that your kids will never know there are several veggies in this dish.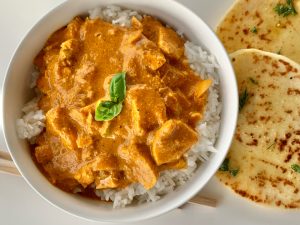 If you love curry, check out our recipe for Sweet Potato Curry for a fall twist on a family favorite.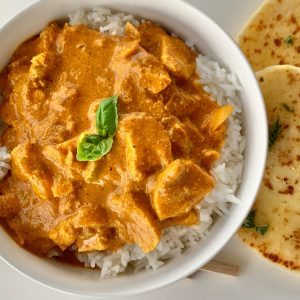 Ingredients
3-4

boneless chicken breasts

trimmed of excess fat

1

stick butter

1

red onion

diced small

1

jalapeno pepper

diced small

1

yellow bell pepper

diced small

1/2

green bell pepper

diced small

2

tsp.

garam masala

1

Tbs.

yellow curry powder

1-2

tsp.

salt

as needed

1

tsp.

black pepper

1

tsp.

coriander

½

tsp.

cinnamon

3

tsp.

turmeric

1

tsp.

cumin

1

tsp.

paprika

Cayenne pepper

to your liking of spice

2

tbs.

brown sugar

1

Tbs.

fresh ginger

grated

1

can coconut milk

6

oz.

can tomato paste

1/2-1

cup

half and half or sour cream/plain yogurt

Cooked jasmin rice
Instructions
Choose your favorite type of rice and set cooking in a rice cooker or over the stove.

Trim the boneless chicken of any excess fat. Cut the chicken into thin strips or cubes. On a separate cutting surface, but up all of the vegetables into small diced pieces. Heat a large saute pan or skillet with sides to medium-high heat. Add half of the butter to the pan and let it melt. Add the chicken pieces to the pan and saute until the chicken is tender and golden brown. Once the chicken has a nice color to it add the additional butter and diced vegetables.

Saute until the veggies are tender. As it is cooking, add all of the seasoning to the chicken and veggies. You can turn the heat down a little if you need to. Once it is all seasoned and cooked add the can of coconut milk, tomato paste and enough half & half to make the sauce the thickness you desire. Keep the mixture on low heat until ready to serve over the cooked rice.