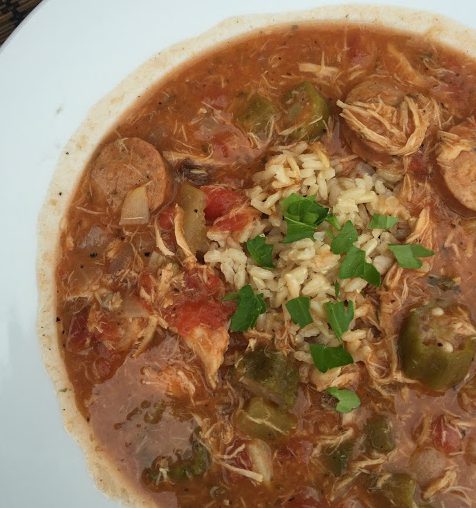 Here in Utah it is supposed to be a littler warmer than it was last week (yay!), but I can't help but share a new soup recipe my family LOVED this past week. Now that it's starting to warm up outside, I'm having a hard time saying goodbye to soups and baked
goods. There is something about a warm soup for dinner that warms the belly and
the soul–anytime of year 😉 If you're already moved onto grilled recipes and thinking of summer, just book mark this soup for an upcoming cold evening and you'll not be sorry!
Many years ago I blogged about a copycat recipe of
Disneyland's Famous Gumbo Soup. I have loved this recipe for years, but yesterday
I wanted to make a soup that was a little easier to throw together, didn't have
shrimp (because I didn't have any) and that could be made in 30-40 minutes.
This new Gumbo soup recipe was SO good and served with our favorite Cornbread recipe, this was a hit for the whole family. In fact, it ended up tasting just
like my favorite Gumbo from Rib and Chop in St. George Utah. If you've never
had their soup, you need to go there if you live in the Western US (they have
this chain all over). It's one of our favorite places to eat and I am pretty
thrilled I was able to get my gumbo to taste as great as theirs.  If you have any cooler days ahead and want a
hearty (and quite healthy) soup, this is the one to try. Hope you love it!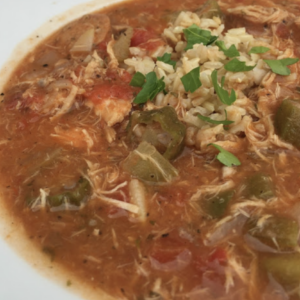 Ingredients
12

oz.

pork or chicken sausage links

sliced

1

red onion

diced

1

cup

celery

diced

1

green bell pepper

diced

3

garlic cloves

minced

3

Tbs.

olive oil

12

oz.

frozen okra

4

cans diced tomatoes

4

cans chicken broth

2

Tbs.

chicken bouillon

1

tsp.

black pepper

2-3

Tbs.

cajun seasoning

1

tsp.

cumin powder

1

tsp.

parsley flakes

Salt and pepper to taste

ROUX:

1/2

stick butter

1/2

cup

flour

2-3

cups

cooked

brown or white rice
Instructions
If you are using raw chicken (and not chicken from a rotisserie chicken), dice the chicken into bite sized pieces and set aside. Slice the sausage link as well. Dice the onions, celery, and bell pepper and set aside. Add these vegetables to to a large soup pot and add the olive oil. Turn the heat to medium-high heat and sauté the vegetables until they are slightly tender.

To the mixture, add the sliced sausages as well as the chicken pieces. Saute the chicken and sausage until they start to cook and get a little browned. If you are using precooked chicken, add the chicken at the very end of the soup, not with the sausage.

To the soup, add the garlic cloves, frozen okra, diced tomatoes, chicken broth, bouillon, and seasonings. Turn the mixture to low heat and let it come to a simmer.

While the soup is simmering, and in a separate sauté pan, add the butter to the pan and bring to medium heat. Let the butter start to brown and then add the flour. Continue to whisk the mixture together until it starts to turn a brown color. The darker the color, the more of a smokey, Cajun flavor your soup will have (which is great!).

Once the roux is browned, remove from the heat and add to the soup pot. Stir in the mixture and continue to simmer for 20-30 minutes, or until the soup thickens. If the soup gets too thick, you can add more tomatoes or chicken broth. Season to your liking (adding more Cajun as desired or red pepper flakes). While the soup is simmering, cook some rice in a rice cooker or over the stove. To serve the soup, put a portion of rice in a bowl. Ladle some of the soup over the rice. Serve with parsley as a garnish if desired.