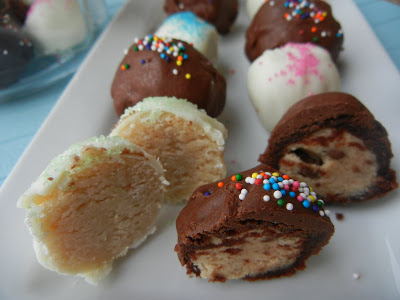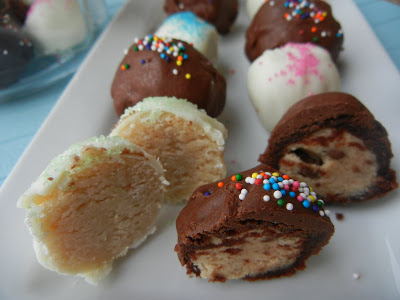 Spring time is one of our family's favorite times of year. Besides all of the traditional spring time activities (gardening, sporting events, spring cleaning, bike rides, planting flowers, etc.), our family's May & June are filled with birthday parties. It is a busy time of year for our family, but super fun at the same time. So much for a diet plan! In two months we pretty much have birthday cake nearly every week–bring on the butter cream frosting! Yum!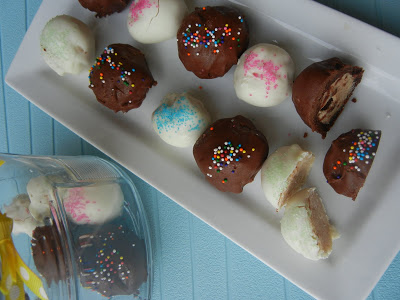 This recipe idea is not birthday cake, but it is a festive and cute treat to serve at a birthday party or any fun get together. We will be making these cute little cookie balls of at my daughter's 8th b-day party this week. These would also be fun to serve at a ladies lunch, girl's tea party, or wrap them up in a cute jar and giveaway as a gift. No matter when you choose to make these, your kids will absolutely love them (and so will you!).
I have to warn you however, these special treats are extremely rich, so don't over-do it (I know from experience). My friend Danielle introduced me to these balls of goodness and I have been hooked ever since. I was surprised to hear how simple they were to make–raw cookie dough dipped in chocolate. If you are like me and love cookie dough, almost more than the baked cookies, this treat is for you!
All you have to do is make up a batch of our favorite chocolate chip cookie dough (leaving out the eggs) and roll the dough into golf size balls. Let the cookie dough balls chill in the fridge for a few minutes as you prepare the chocolate for dipping. In a microwave safe bowl, melt semi, dark or milk chocolate chips (or bark) until smooth. Once chocolate is smooth, dip the cookie dough balls into the chocolate and cover on all sides. Place chocolate covered balls onto a greased cookie sheet and let cool in the refrigerator until cool. Sprinkle chocolate balls with any type of decoration you would like–candy sprinkles, crushed candy bars, crushed cookies, chopped nuts, etc. Chill cookie balls until ready to serve and until chocolate has become hard.
The sky is the limit as far as variations to this recipe goes. You can dip sugar cookie dough into white chocolate (this was probably my favorite), or peanut butter cookie dough into milk chocolate and cover with crushed Reese's PB Cups, white macadamia cookie dough into almond bark, etc.
Next time you are having a sweet-tooth, these simple cookie balls will be sure to do the trick!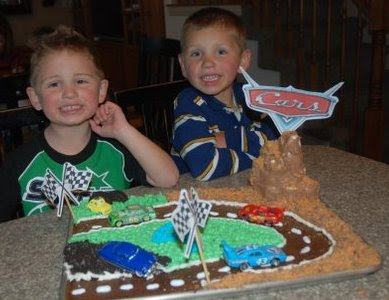 Birthday Boys…I am anything but a great cake decorator, but I have to say I was pretty impressed with this last minute Cars cake my sister and I threw together for our boys' 4th birthday party. Our boys are glued together at the hip, born four days apart, and are obsessed with the Disney movie Cars. All they wanted for their birthday was a Lightning McQueen cake. In case you have a youngster who wants a Cars cake, I thought I would share this very easy cake we came up with.
We ended up making a big sheet of our Black Bean Brownie recipe (easier to frost than cake) and frosted it to look like a race track. We used chocolate frosting and crushed Butterfingers for the dessert portion of Radiator Springs, along with a marshmallow mountain. We then used green frosting and green coconut for the grassy area of the race track, and crushed Oreo cookies for the gravel. We then outlined the track with white Good n' Plenties, added a few toy cars for decoration, and voila! our birthday cake was done. So easy, and so fun! Here is a link for a few more of our favorite birthday cake ideas 😉