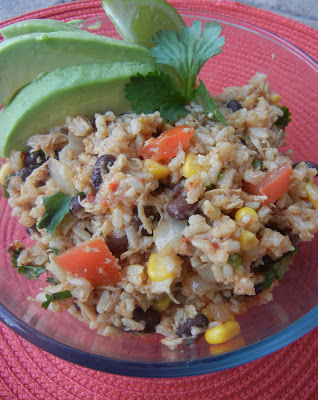 There are few recipes that I take the time to post the night I make them for dinner. Not because the recipes I am making are not worth posting right away, more just because I get busy and forget to blog about them until I have a few minutes to sit down at my laptop and post. This recipe however was a MUST-POST-RIGHT-AWAY kind of dish for me. I found a recipe that looked delicious from my friend Jamie's blog and knew I needed to make and try this for our 'rice' month here at Deals to Meals.
This recipe didn't disappoint, it was awesome!! I did change several aspects of the salad, so I gave it a new name (a little wordy I know..but, it will do) and am so excited to share it with you. I could see this dish being one I make all of the time in the summer. It would be fabulous warm or cold (in fact, it was..I had two bowls of it tonight–one at dinner and one an hour later when I was cleaning up, delicious both ways!!). Either way, the fact you don't have to turn on the stove and it is a one bowl wonder, it is the perfect recipe to eat on the go, on a picnic, camping, at a family gathering or for a weeknight meal. We ate this for dinner tonight and all of the kids LOVED it!! Even my 10 month old baby couldn't get enough (that says a lot, he is a picky chap!)
Bottom line, add this to your list of meals to try before the month is through. I hope you love it as much as I did! The other great thing about this recipe is that it is a great dinner option for people who are unable to eat gluten. If you want to also cut back on your food budget, leave out the chicken. I think it would be just as good without it. A good vegetarian meal never hurt anyone, right 🙂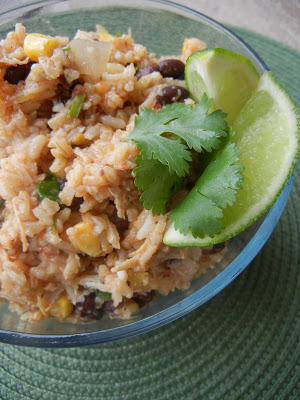 [buymeapie-recipe id='838′]
BROWN RICE TIP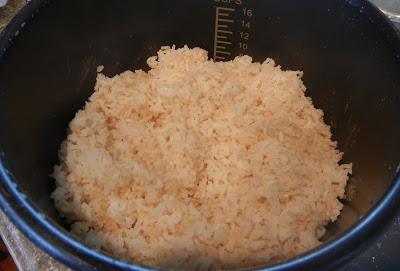 Healthy tip: anytime I make a recipe where the rice is covered in a sauce of some kind or lots of seasonings, I always use a ratio of 2 parts brown rice to 1 part white rice. Brown rice is so much more nutritious than white rice so if it is going to be covered up anyway with sauce, use the brown rice and your family will never know. I know they are supposed to cook at different temperatures and time frames, but I have found in a rice cooker, pressure canner or on the stove they turn out just fine being cooked together.