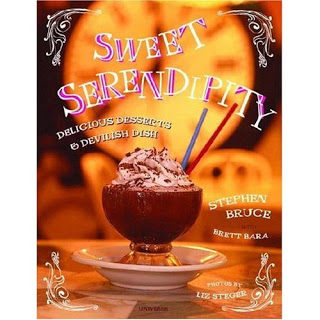 Make your own Serendipity Frozen Hot Chocolates in your own home!! This drink/dessert is famous at any of the Serendipity restaurants (New York, Las Vegas, etc.) and was featured in the movie Serendipity–for good reason, they are SO delicious!!
Recently, my cravings for chocolate haven't been met…but today they have finally met their match. Let me explain. In my neighborhood we do something called "Dessert & Discussion" aka "Book Club." This cute gal decided her "book" of choice was going to be a "cook book." Yeah! A girl after my own heart, I personally loved the idea! It was right up my alley, just like chocolate mouse always is. Those attending this fun event were asked to pick a recipe from this cook book to make and share the night of book club. I could hardly wait to borrow the cookbook from her, let's just say as soon as I did…I was hooked.
(This is a picture of the Frozen Hot Chocolate on the cover)
The cookbook of choice is from the restaurant, Serendipity. As I flipped through the book the first recipe jumped out at me– "Frozen Hot Chocolate." Then I continued to look through the book for the second and third time, pouring over each recipe, imagining myself making and tasting all of these delicious treats! Finally a choice had to be made, which one would I make? The winner was…Frozen Hot Chocolate! I couldn't wait for book club to make this dessert and decided I must make it at once. It was the perfect choice for a 100 degree day. You will love that this recipe is SUPER easy to make and SO delicious. Confession…I will be running longer tomorrow to make up for the extra calorie intake today, but let me tell you I LOVED EVERY MOMENT OF THIS DRINK!! Funny thing, I happened to read the recipe wrong to which only benefited friends and neighbors because I made EIGHT times the amount I needed for one serving! Oops. But then again, sharing chocolate with others is fun to do! So here is the recipe for you. Beware, drink it too quickly and you may get a brain freeze. Hope this recipe cools off the summer heat.
[buymeapie-recipe id='754′]