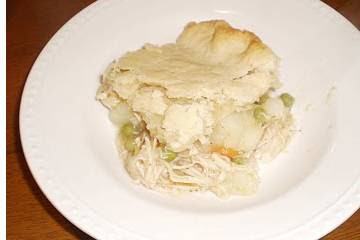 Quite a few of our followers requested the Chicken Pot Pie recipe from a
previous post
. This was slightly difficult for me because I never use a recipe to make this meal, it is really that easy! However, I have written down my steps and I hope you will enjoy adding this to your collection.
Chicken Pot Pie
4 carrots, peeled and sliced 1/4 inch thick
1 onion, chopped
4-5 potatoes, peeled and cut into chunks
3/4 cup frozen peas
1/2 cup flour
5 tablespoons chicken bouillion (cube or paste)
1 tablespoon italian seasoning
salt and pepper, to taste
1 tsp. garlic powder
1 1/2 cup cooked chicken or turkey*
Fill a large pot on the stove with water. Season water with salt, pepper, chicken bouillion, garlic powder and italian seasoning. Place carrots, potatoes and onions in the water once it is boiling. Cook the vegetables until tender. Depending on the size that you've cut the vegetables you'll might want to cook the carrots a little before adding the potatoes, this will make it so the vegetables are done at the same time.
Once the vegetables are tender remove some of the water from the pot and remove the pan from heat. Keep enough water in the pot with the vegetables to have them covered completely. In a separate bowl mix flour and a little bit of water to make a paste. This will thicken the water in the pot and turn it into gravy. Slowly stir the flour paste into the pot of vegetables/water and bring the pot to boiling again, this will thicken the mixture. At this point you'll want to add more salt, pepper, garlic powder, italian seasoning and chicken bouillion until it is a very flavorful and savory gravy. If it gets too thick add more water, if it is too thin add another mixture of flour paste. After the gravy tastes good to you add the peas and the turkey. Stir the mixture and pour it into a 9×13 pan. Place the rolled out pie crust on top of the gravy mixture. Make sure to bring the pie crust to the edge of your dish and seal it to the sides. If you do not do this gravy will leak up the sides and make the top of your pot pie soggy. Bake at 375 degrees for 20-30 minutes or until the top of the crust is slightly brown. Serve smothered in ketchup, at least that's what I do!
*I only make this meal when I've cooked a turkey breast in my crockpot and have meat left over. This makes the meal VERY easy to put together. The turkey from your cooked turkey breast can be shredded and frozen in sandwich baggies to use later. Allow yourself 3-4 hours to thaw the turkey before placing it in this recipe. It tastes just as good as fresh chicken or turkey, you would never know it was frozen initially.