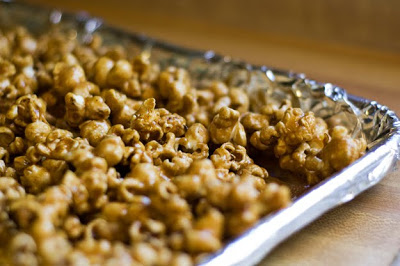 I don't know about you, but as a kid I have a memory of those big tin buckets filled with three different kinds of popcorn- cheesy popcorn, butter & salt popcorn and crunchy carmel popcorn. Let's admit it no one really enjoys cheese popcorn, we all love butter popcorn but hands down the best popcorn is carmel.
I have to admit I am a crunchy popcorn lover. #1 reason, my hands stay clean. I guess having little kids my hands are always sticky because of them, so I'd rather enjoy a treat with out having to lick of my fingers. #2 reason, it's totally kid friendly! No messy sticky hands for them either. I have to admit I even let them eat this on the couch…I'm serious, it's that kid friendly! So if you are going to be sitting around this weekend and you need something sweet and salty to munch on this recipe is for you!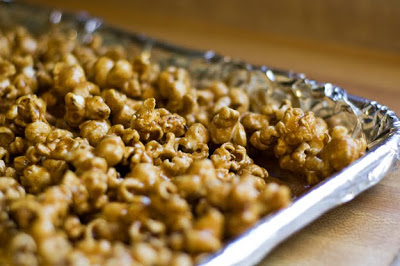 Ingredients
8

cups

popcorn

microwave or homemade

1

lb.

brown sugar

about 2 1/3 cup

3/4

cup

light corn syrup

1/4

cup

molasses

2

sticks butter

unsalted (or use salted and decrease your salt amount to 1/2 tsp.)

1

tsp.

salt

1

tsp.

vanilla extract

1/2

tsp.

baking soda
Instructions
Pop enough popcorn kernels to make 8 cups of popped corn. If you use a microwave popcorn, use the lightly buttered version, not the movie theater style. Make sure and remove all of the unpopped kernels from your bowl.

In a heavy sauce pan, bring brown sugar, corn syrup, molasses and butter to a boil. Allow to boil for 5 minutes or until 248 degrees on a candy thermometer. (I've never used the candy thermometer, I just set a timer once it starts boiling for 5 minutes.) Remove from heat and add 1 teaspoon vanilla and 1 teaspoon salt. Stir. Then add 1/2 teaspoon baking soda - STIR QUICKLY.

Pour over the top of the 8 cups popped popcorn. Mix lightly, place popcorn spread out on cookie sheet lined with parchment paper or tinfoil. I use two cookie sheets. Place in oven at 225 degrees and bake for 1 hour + 15 minutes, stirring every 15 minutes. Once you have removed it from the oven, continue to stir gently as it cools. Once it has sat for about 5 minutes stir again. This is when you will have individual crunchy carmel kernels.

*I have tried skipping the 1 hour cooking and the popcorn still tastes great, but it hardens in a giant ball. So the baking at a low temperature and stirring helps keep the popcorn loose and in individual pieces. Enjoy!