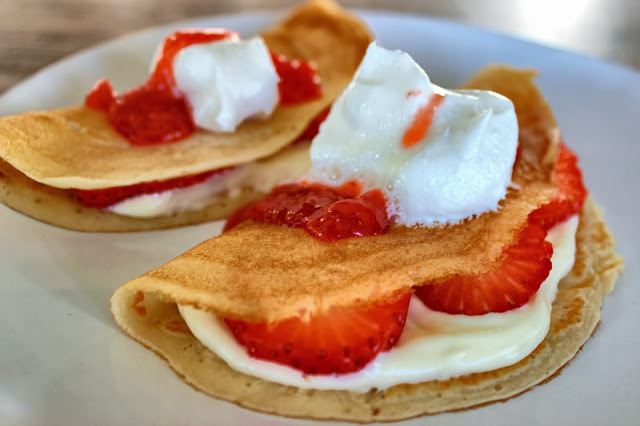 Every Saturday morning without fail my girls wake up requesting a fancy breakfast, and since they were really little crepes has been the most popular demand.  To save me the agony of a messy kitchen and starting my Saturday with tons of dishes I have came up with a way to make crepes really quickly and super easy. This recipe is my basic crepe recipe and just like Shandra with her delicious waffle variations, this recipe can be easily tweaked and experimented with to make an endless array of crepe masterpieces.  Lemon cream cheese filling and strawberries is a family favorite so we will start there!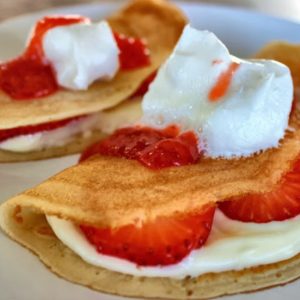 Ingredients
2

cups

milk

1 1/2

cup

flour

3

tbsp

melted butter

3

tbsp

sugar

2

eggs

1

tsp

vanilla

1/2

tsp

baking powder

1/2

tsp

salt

Additional butter for cooking

1 lb.

fresh strawberries, sliced (for topping)

FILLING

8

oz

cream cheese softened or warmed in the microwave.

1

tsp

lemon extract

or if you have it 1 tsp fresh lemon zest

1/4

cup

powdered sugar
Instructions
Starting with the milk, add all of the ingredients to a blender and mix on low speed until everything starts to come together then slowly turn up the speed until it is perfectly smooth. Do not over blend because the mixture will become to liquidy and not set up properly. Heat a pancake skillet or large skillet to medium high, melt a tad of butter and then pour batter about 1/8 of a cup at a time. Quickly spread batter with the back of a spoon in to a thin circle. If you want larger crepes use about 1/4 cup of batter. On a counter skillet you can usually do 4 at a time, in a large pan you can do 2-3 small ones. as soon as the batter looks dry, around 1 minute, flip and cook other side also about one minute. Crepes cook very quickly. Continue this process until all the batter is gone. this batter makes between 18-22 five inch crepes. or 10-12 large ones.

To make filling just mix all the filling ingredients into a medium bowl with a fork. Serve with fresh berries and whip cream!