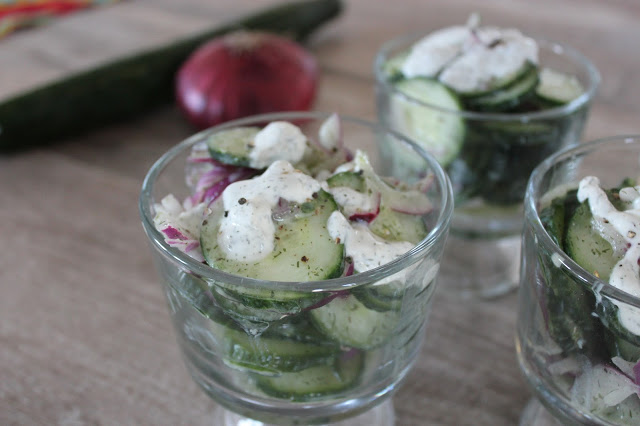 Since we have been talking about simple recipe ideas for summer, I thought I would share a simple side dish that goes perfectly with many of your favorite main dishes. I love cucumbers,  they are always so refreshing! After a day of being in the sun too much and not feeling real great my husband asked if he could make me a snack.  My husband is so sweet, but is not the type willing to spend an extended amount of time in the kitchen making anything complicated.  I knew we had some yummy English cucumbers in the fridge and that he would feel very accomplished making me such a refined snack as cucumber salad. He didn't follow my directions to a "T" but I must say it turned out very nicely even though he used vanilla yogurt instead of plain;)  It's the thought that counts!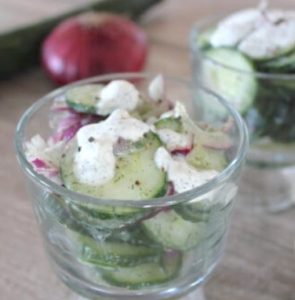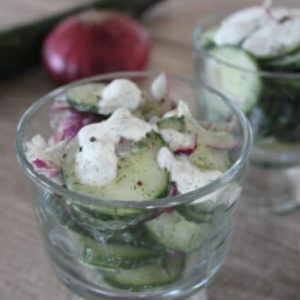 Ingredients
2

Burpless cucumbers very thinly sliced and blotted with paper towels to remove excess moisture

1

small red onion very thinly sliced

DRESSING

1

tbsp

white wine vinegar

1

tbsp

lemon juice

1/4

cup

Greek yogurt

(you can also use sour cream, or even vanilla yogurt, Ha!)

1

tsp

sugar

1

tsp

dill

salt and pepper to taste

1

Tbs.

feta cheese crumbles
Instructions
Mix dressing ingredients in a bowl then toss with the cucumbers and onions. Chill for 4 hours and serve. You can eat it right away, but it wont give the onions enough time to soak in the sauce, if you cant wait 4 hours I would cut the amount of onions in half. Also if you are planning on serving the salad the next day properly draining the cucumbers help keep the salad from getting watery. To do this, before starting the recipe place the sliced cucumbers in a strainer with a bowl underneath and sprinkle a tablespoon of salt on the cucumbers, toss and let stand for an hour, this will get rid of most of the water leaving your cucumbers crisp and not soggy. When ready to serve sprinkle with feta cheese (optional).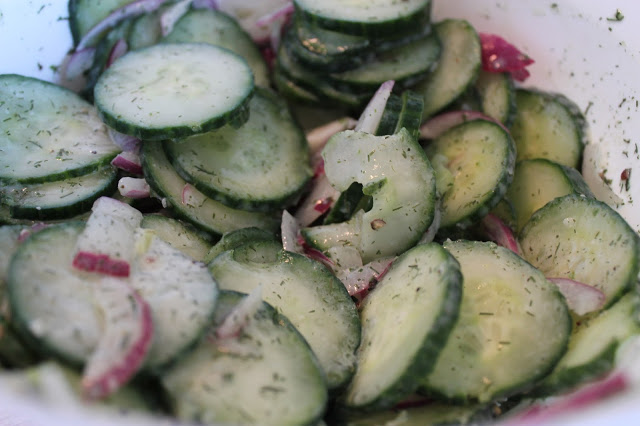 ~Ellen