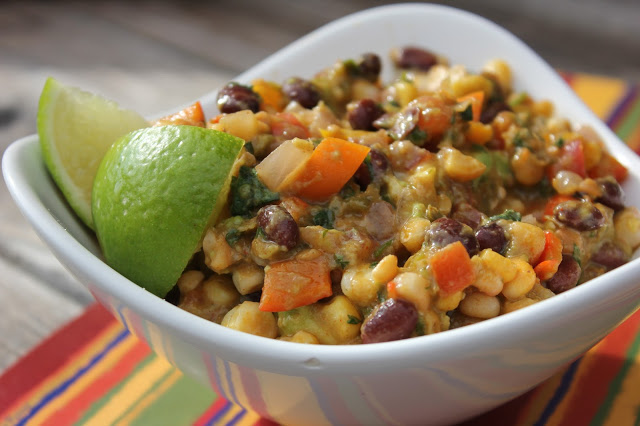 Since I posted about a super rich sinful dessert yesterday I thought I would lighten things up a little with a very healthy and very flavorful recipe. This salsa was the life saver of my family's dinner the other night. My friend Sheri (who is a wonderful cook by the way) brought a huge container of this salsa to our door. Little did she know that I was refusing to make dinner that night and was going to succumb to another breakfast-for-dinner-pancake feast that my husband totally despises. Sheri came to the rescue and fed us all this amazing salsa.
You would think salsa for dinner would not be filling, but this salsa was so chuck full of vegetables and beans that it satisfied us like a dinner would. You could even throw this salsa in between a tortilla and it would be a great meatless dinner option. The thing that makes this salsa special is the fact the corn, peppers and onions are all grilled and have this awesome semi-charred smoky flavor. It is totally different than the other hundred variations of corn salsa I have tried. The other aspect I love about this salsa is the dressing. The chipotle in it with the lime and garlic give it a new and authentic flair that makes you feel like you are somewhere south of the border…somewhere with palm trees and pina coladas 🙂 Okay, I'm just dreaming about that, but this salsa made a very ordinary day around here extra special. Thanks Sheri for another great recipe!


*Extra bonus, this salsa is a great way to use up some of your garden produce. Throw in any peppers or onions you have growing in your garden..any combination would be great!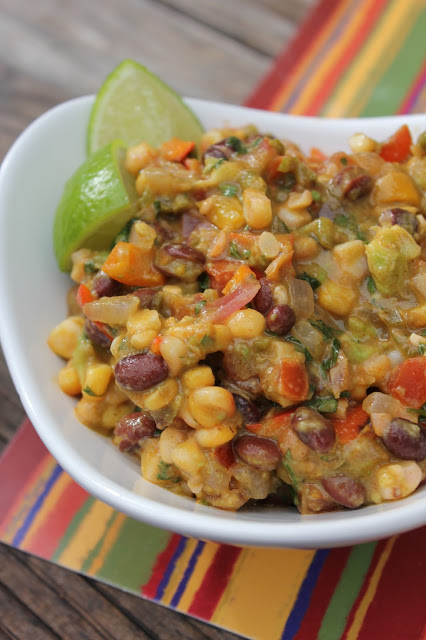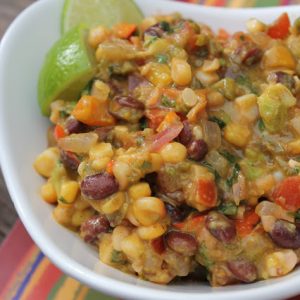 Ingredients
4

ears of corn

fire roasted (or you can use thawed/frozen corn)

3 to

matoes

seeded and diced

2-3

jalapeno peppers

fire roasted and diced

1

red bell pepper

fire roasted and diced

1

yellow or orange bell pepper

fire roasted and diced

1

red onion

fire roasted and diced

1

bunch of cilantro

chopped fine (about 1/2-3/4 cup)

2

avocados

peeled, seed removed and diced

1

can black beans

drained and rinsed

DRESSING

2

limes

juiced

2

Tbls.

olive oil

3

Tbls.

apple cider vinegar

2

tsp.

salt

2

tsp.

ground cumin

2

cloves

garlic

2

tsp.

ground chipotle

from a can with adobo sauce--just dice or mash until fine
Instructions
Prepare a grill to medium high heat. Prepare the vegetables by rinsing, peeling back the husks of the corn, etc. and place them on the hot grill. Let them cook until they are slightly charred (not too much) and tender to the touch--turning vegetables until all sides are cooked. Remove vegetables and dice into small pieces. If you are in a hurry, place all of the peppers and onions in a food processor and then add to the corn. For the corn on the cob, cut the corn from the cob and place all of the salsa ingredients in a large bowl. Mix the dressing ingredients in a separate bowl and then pour over the salsa. Right before serving, add the diced avocados, toss and serve with tortilla chips, over chicken or as a side dish.