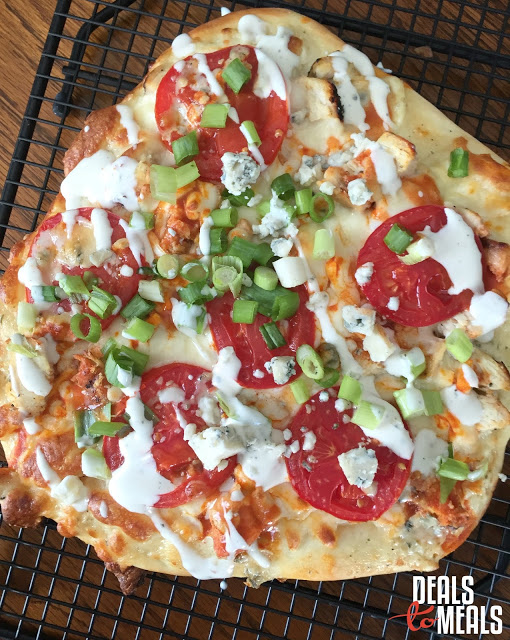 Last weekend we had the best time making homemade pizzas with my extended family. We experimented with lots of different flavors and combinations and were in LOVE with these two gourmet pizzas. The first pizza we used our favorite quick pizza crust recipe and topped it with grilled chicken, ranch dressing, fresh tomatoes, green onions, crumbled blue cheese, lots of mozzarella cheese and Buffalo sauce. It was amazing!!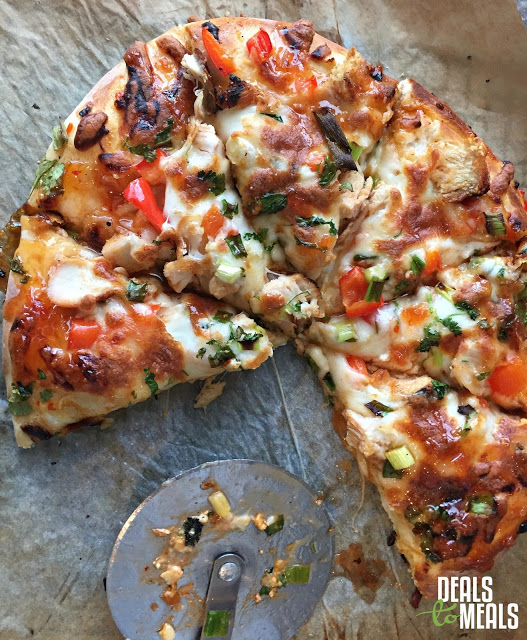 On the second pizza we topped the crust with Sweet Thai Chili Sauce, added grilled chicken, green onions, diced bell peppers, chopped cilantro and lots of mozzarella cheese. This Thai pizza was a hit and the sweet and spicy flavor was unforgettable. My mouth is still watering thinking about these pizzas. If you want to have a fun, family activity, whip up a batch of homemade pizza dough and have fun playing with new toppings and flavors. Hope you have a great weekend! Enjoy 😉
*Btw, there are TONS of great deals on produce and meat this week, so login to Deals to Meals to find where to get your pizza toppings at the best price.
Favorite Pizza Dough Recipes:

America's Test Kitchen Overnight Pizza Dough
Quick and Easy Pizza Dough
Mel's Kitchen Cafe Simple Pizza Dough
*Everything for this recipe is on sale this week: chicken, cheese, tomatoes, green onions, and ranch dressing. Login to our website to see where the best deals are in your area.