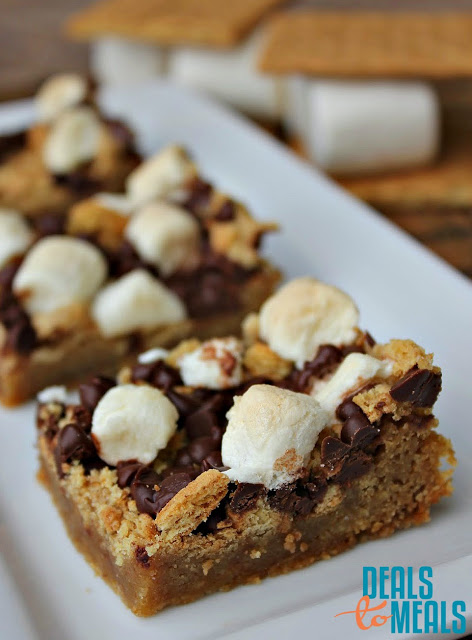 Sorry I have been awful at blogging this past week. We are spending some good, quality time disconnected this week with my inlaws and my family. We are on our annual week long reunion and having a blast. I really love the way his family does reunions. There are 9 siblings and each year one sibling is in charge of planning the reunion. They get the opinions of the other siblings, but in the end it is up to them to decide where to go. Sometimes we stay at home and do fun things each day together, and other times we get away and rent a condo or house we can all stay in together. This year we have been spending the week in Midway Utah. It has been beautiful and relaxing. I have been sharing some of our favorite pics on instagram (follow us at Dealstomeals), but for our recipe today I wanted to share a flashback recipe for these S'more Cookie Bars.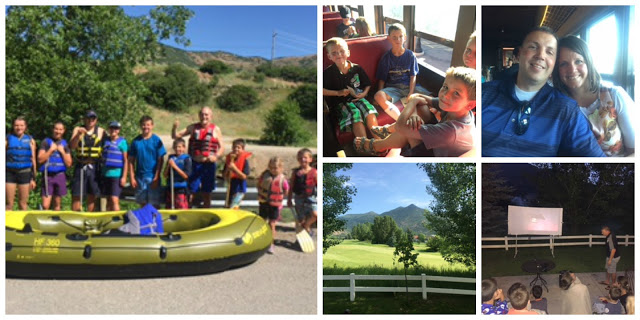 I have made these three times in the past week and they are seriously a heavenly recipe. They are amazing! They are gooey, full of chocolate, golden marshmallows, and a buttery cookie crust that is to die for. I really can't see how you could improve on this treat. I brought up all of the ingredients to make these bars in our condo and we all devoured them in a few minutes flat. These are definitely a crowd pleaser and perfect for summer! Hope you enjoy 🙂
Ingredients
1 1/4

cup

butter

2

cups

brown sugar

2

eggs

1 1/4

tsp.

salt

2

tsp.

vanilla

2

Tbls.

cornstarch

1

tsp.

baking soda

1

tsp.

baking powder

1

cup

graham crackers

crushed into crumbs

2 1/2

cup

flour

SPRINKLE THE BARS WITH

1/2-3/4

cup

graham cracker crumbs

1

cup

chocolate chips

1 1/2

cup

mini marshmallows
Instructions
In a mixing bowl with an electric mixer, blend together the butter, brown sugar and eggs until smooth and creamy. Add the vanilla, salt, cornstarch, soda and powder and continue to cream together. In a Ziploc bag, place a package of graham crackers and crush with a malet or a heavy pot until the graham crackers are crumbs. Add to the mixing bowl one cup of the graham crackers and flour. Once the mixture is combined press the dough into a greased 9x13 baking dish. To the top add an additional 1/2-3/4 cup of crushed graham crackers, chocolate chips and mini marshmallows. Press into the dough about 1/4 inch. Bake at 350 for 20-25 minutes, or until the center is no longer soft. Don't over bake, these are better the next day if they are slightly under done.