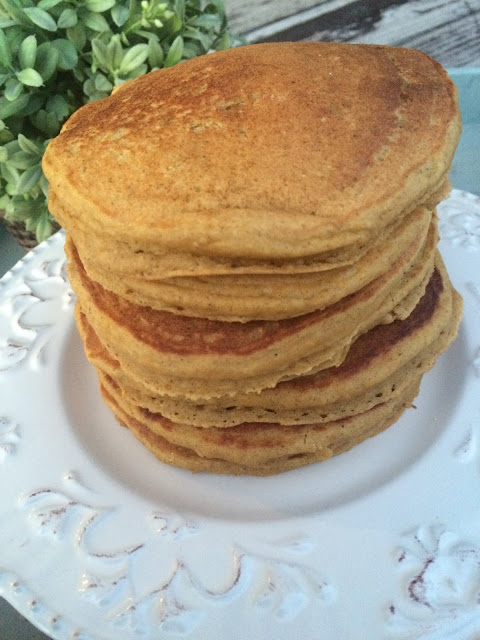 It is the weekend, yay! Are you as excited as I am? What a week! That means pumpkin breakfasts of some kind around our house in November. Whether it's Pumpkin Waffles, Pumpkin Oatmeal, Pumpkin Quinoa or Pumpkin Pancakes, we are all about pumpkin this time of year. These pancakes I have been making for as long as I can remember and I'm excited to share this recipe with you again. It's a simple way to switch up the traditional Bisquick pancakes with a little pumpkin flair. They are easy to make and much healthier with the added nutrients of the canned pumpkin. Not to mention they are totally moist and fluffy which is just what you want in a pancake. I hope you are having a wonderful weekend and are enjoying this fun time of year!
If you haven't downloaded your copy of our
90 Favorite Fall Recipe Ebook
yet, it's not too late! This
ebook
is filled with every recipe you need for this time of year and I know these recipes will be treasured for your family for many years to come. Enjoy 🙂
Here's a sneak peak of the EVERYTHING PUMPKIN section of our
cookbook
–get your copy today!
Pumpkin Waffles
Pumpkin Pie Oatmeal
Pumpkin Cinnamon Rolls
Pumpkin Cinnamon Rolls Continued
Pumpkin Bread Perfection
Pumpkin Bread with Cream Cheese Filling
Spiced Pumpkin Dip
Pumpkin Pancakes
Pumpkin Sheet Cake with Cream Cheese Frosting
Pumpkin Crumb Cake
Gingerbread Pumpkin Pudding Cake
Pumpkin Pecan Fudge
Pumpkin Butter Spread
Pumpkin Chocolate Chip Muffins with Toffee Crunch Topping
White Chocolate Pumpkin Blondies
Pumpkin Caramel Pecan Cookies
Pumpkin Crepes
Pumpkin Monkey Bread
Spiced Pumpkin Steamer
Pumpkin Bread Pudding
Simple Pumpkin Chocolate Chip Cookies
Pumpkin Pie Dessert
[buymeapie-recipe id='126′]