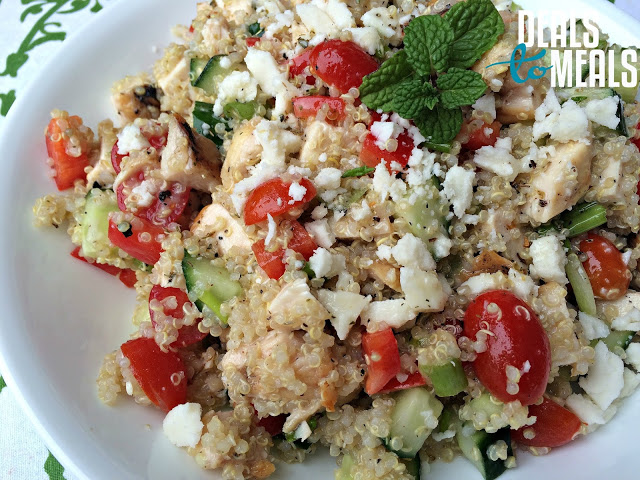 Since we are still trying to be on a healthy kick (right?!), I am excited to share another healthy recipe with you! This Quinoa salad is incredible. I ate this salad for dinner, lunch, breakfast..it didn't matter. I lvoed everything about it. It is so fresh tasting and full of bright flavors that go so well together. The slightly sweet, lemon dressing drizzled over grilled chicken, tender quinoa, crispy cucumbers and creamy feta cheese. The whole thing is bursting with healthy, fresh flavor you are going to love! I can't wait for you to try this recipe and let me know how you liked it!
TIP–if you are looking for the most inexpensive place to buy quinoa, check out your local Winco Foods. They have a bulk section that has quinoa, red quinoa, chia seeds, flax seeds and many other items that are SUPER expensive at a regular grocery store. If you live near a Winco, this is a great place to stock up on some of these long term grains for inexpensive 😉 All other items for this salad can be found on sale by logging into Deals to Meals 😉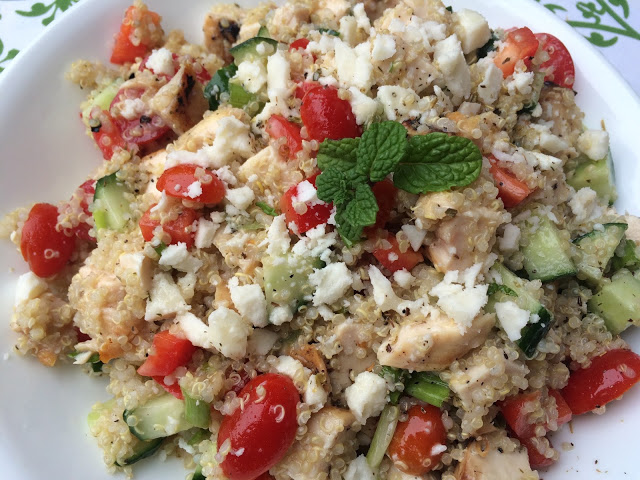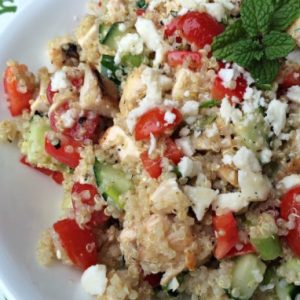 Ingredients
SALAD:

4

cups

quinoa

cooked

3

boneless chicken breasts

2

tsp.

lemon pepper

1/4

cup

green onion

diced

1

red bell pepper

diced

1

cucumber

diced

1

cup

grape tomatoes

halved

1/2

cup

feta cheese

DRESSING:

3/4

cup

lemon juice

1/2

cup

olive oil

2

garlic cloves

minced

1/2

tsp.

black pepper

1

tsp.

thyme

1/4

tsp.

dill weed

1

tsp.

salt

1

tsp.

oregano

1/4-1/2

cup

honey
Instructions
In a rice cooker, or pot over the stove, add two cups of dried quinoa with 3 1/2 cups water. Bring the mixture to a boil and then place a lid on the pan and turn the heat to low. Cook the quinoa until fork tender and you can fluff the quinoa. When it is cooked, remove it from the pan and set aside to cool. For the chicken, grill or bake the chicken until cooked through and no longer pink in the center. Season the chicken with salt, pepper, or lemon pepper. Let the chicken cool and cut into bite sized pieces. Slice the green onions, dice the bell peppers, dice the cucumbers and cut the grape tomatoes in half. Place the quinoa in a large bowl, add the cut up pieces of chicken and all of the vegetables. Sprinkle on top of the salad the feta cheese and the cut up mint leaves for garnish. For the dressing, combine all of the ingredients together in a blender or in a bowl with a whisk. Whisk until smooth. pour the dressing over the salad and toss, right before serving. Salad will stay good in the fridge for several days.