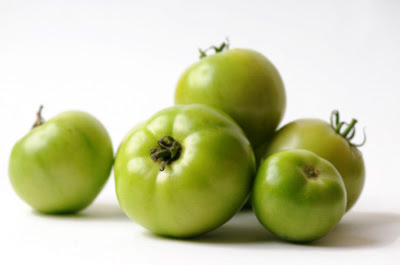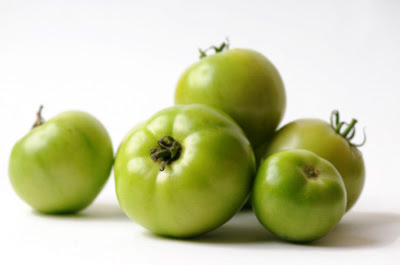 Extravaganza is an under statement! If anyone asks what I did this past weekend, they should be able to tell by the green hew on my face. I am surprised after these past few days I have not turned into a green tomato. I literally have done nothing other than thought about, learned about, cooked with, eaten (and more eaten), green tomatoes–so much I have gained 3 pounds in two days…ah, that is proof for you 🙂
It all began when my husband told me those dreaded words…the first fall freeze is coming! Oh….I am not ready for that, and neither were my tomato plants. We planted 12 tomato plants this year and they have been covered in green tomatoes for WAY too long. Our production of red ones were not the best this year, but for some reason our soil has been able to produce BOXES of green ones–bizarre! I guess I was meant to learn what to do with this unusual fruit (fruit right??).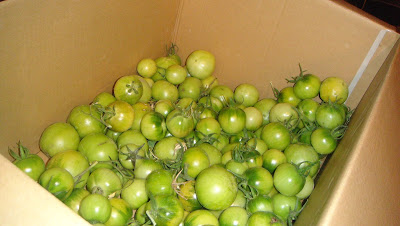 So…with several hours of my life now wasted on this green tomato I think I have officially come up with six fabulous recipes that can be made with those green tomatoes in your garden. I tried several recipes that were disastrous and others that were just 'okay'. I have taken those not-so-great recipes and given them the 'Shandra Make-over' and I think I have an outstanding conglomeration of recipes for you (humbly speaking–hehe!). Hey…my 20+ hours should be good for something right?
So, each of these recipes are tried and true from my kitchen to yours. Below are the recipes in no particular order. If I had to rank them the Salsa Verde is my absolute favorite and then the bread coming up as a close second…but, then again the Fried ones were also divine. Hmm, it's like my children, unique and wonderful in their own special way!
*If you are patient, you can also pick your green tomatoes, put them in a box, store them inside or in your garage, and over time some will eventually turn red. It is a slow process, but well worth having garden tomatoes in the winter 🙂 If you have an over abundance of green ones though, these recipes are great in the mean time!
PRINTER FRIENDLY RECIPES

*For your convenience all of the recipes for the items below can be downloaded with the above link)



GREEN TOMATO SALSA VERDE (GREEN SALSA)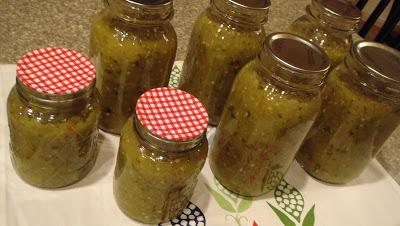 This recipe is FABULOUS!!!! I m going to make more this week because most of these jars are already gone. Use this verde with meat, in burritos or fajitas, with tortilla chips, or even on your eggs or hashbrowns. The flavor is excellent and it has a great texture. This will for sure be an annual canning recipe for me! If you don't try any of the other recipes, at least give this one a try–it is WELL worth it!!
GREEN TOMATO SWEET RELISH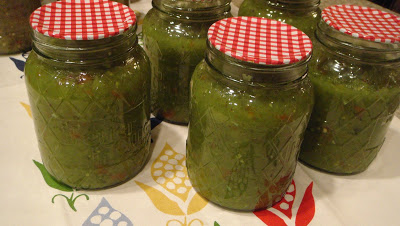 This relish was a 9 out of 10 for me. The cucumber relish I made earlier this year beats this recipe, but it is still VERY good and a nice item to have in your storage for those hot dog BBQ's in the summer.
FRIED GREEN TOMATOES WITH CREAMY SALSA DIPPING SAUCE


I have a friend that loves the fried green tomatoes at Archibalds Restaurant here in Utah, so I tried to recreate that recipe for her. She says I was very close (I have never had them so it made it kind of tricky). These fried tomatoes would be perfect as an appetizer or fun side dish for dinner.








GREEN TOMATO BREAD WITH CINNAMON STREUSEL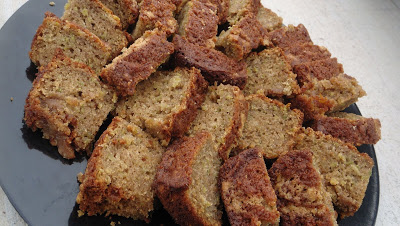 I know this picture makes this bread look like meatloaf, but trust me..it is moist, soft, dense, and has the perfect cinnamon taste. This bread was even more moist than zucchini bread. So, ignore this picture (I had to plate them for a baby shower and didn't have a chance to take a cute picture), and give this recipe a try. It is YUMMY!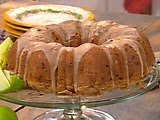 Green Tomato Cake w/ Brown Butter Icing by Paula Deen: Nearly every recipe of Paula Deen's I have tried is fabulous, so this one I am sure would be no exception. Plus, her brown butter icing I use on her amazing oatmeal raisin cookies and so I know that part would be divine! One more great recipe to use your green tomatoes 🙂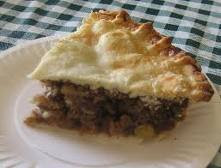 Green Tomato Mincemeat Pie Filling

Thanksgiving is coming and if you like Mincemeat pie, this recipe will be a MUST for you. This is almost exactly like the recipe my mother makes every year for Thanksgiving. Yes, the pumpkin pies and apple pies go first, but this pie brings back nostalgic feelings to me of my childhood. We would always have a slice for breakfast the day after Thanksgiving. Who knew it was made with green tomatoes all these years? Use our homemade pie crust for an all around AWESOME pie!

Green Tomato Mincemeat Filling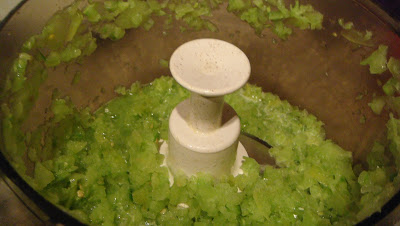 TIP: Puree extra green tomatoes and keep in freezer bags for later bread baking. Keep 2 c. portions in each bag so you can quickly throw together these recipes when needed.