Summer is upon us and it's the time to turn on the grill and enjoy some of the fresh produce in season in these Grilled Vegetable Hummus Wraps. This meal is so simple to make all you need to do is slice your favorite vegetables super thin. Drizzle them with some garlic butter and any other favorite seasonings you like. Grill them on both sides until lightly golden brown and then place in a warm tortilla with a thick smothering of hummus and a coupe slices of Mozzarella Cheese.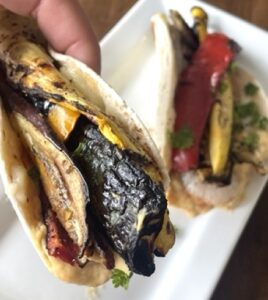 The cheese and hummus melt into the crevices of the grilled vegetables and turns these wraps into a flavorful, soft, delicious wrap with loads of flavor. If I were a vegetarian this meal would be on my meal plan every single week. It's one of our favorites we make several times throughout the summer.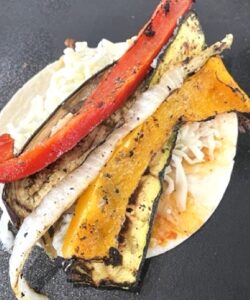 Best part about it is you can use your favorite vegetables from your garden or that are on sale at the grocery store. Make sure and check out our FREE grocery comparisons on our website as well as our meal planner on PREPEAR where you can get more delicious recipes like this all ready to go! Let us help get dinner on the table at the least expensive prices and without all the headache. Thanks for stopping by and hope you return back soon!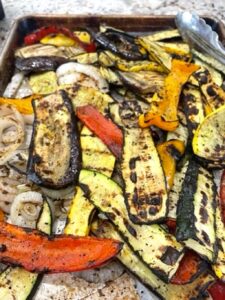 Don't forget that THIS week is the time to stock your food storage with Thrive Life's Powdered Eggs that are on sale. They don't go on sale very often but you don't want to miss these specials before they are gone. Reach out with any questions about them. You are going to LOVE them!!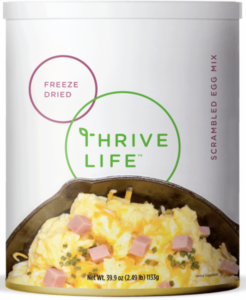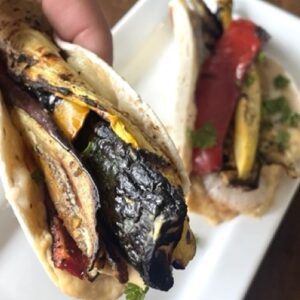 Ingredients
1

zucchini squash

1

yellow squash

1

red onion

1

eggplant

1

red bell pepper

1

yellow bell pepper

3

Tbs.

butter

1

Tbs.

garlic seasoning

1

Tbs.

Montreal Steak Seasoning

8

slices

mozzarella or monterey cheese

8

oz.

favorite flavor hummus

1

pkg. flour tortillas
Instructions
Rinse all of the vegetables and cut off cores and ends to the veggies. Slice all of the vegetables to about 1/4 inch thick so the vegetables can lay flat on the grill. Once the vegetables are all cut thin, drizzle with 3 Tbs. melted butter (or olive oil). Season the vegetables and toss to coat.

Turn the grill to medium-high heat and then place the sliced vegetables onto the hot grill. Grill on both sides until tender and lightly golden brown grill lines. Once the vegetables are finished being grilled remove from the grill and let cool on a plate or pan.

Heat a flat griddle to medium heat. Place several tortillas on the griddle. Spread on each tortilla a generous amount of hummus. Place the shredded or sliced mozzarella cheese on top of the hummus. Add slices of your favorite vegetables and cook until the cheese is melted. Serve warm.