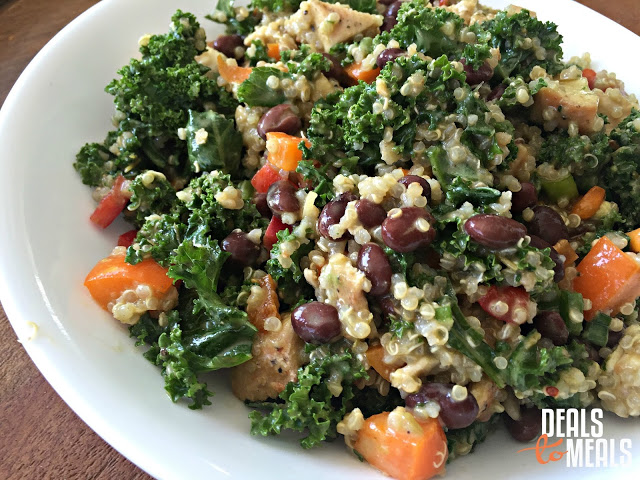 How was your weekend? I hope you had a wonderful time with all of the father's and men in your life. My husband (of course) requested a hot dog bbq, so between that and all of the treats and snacks we ate all weekend, I am ready to start the week off with a SUPER healthy and delicious salad recipe to share with you. Between the quinoa, the kale, the black beans and all the vegetables, this whole salad can be eaten guilt free. Drizzle the whole salad with a cilantro lime vinaigrette that is slightly sweet and spicy and is the perfect combination with all of these fresh flavors. Give this salad a try if you want a fabulously fresh summer salad for any day of the week!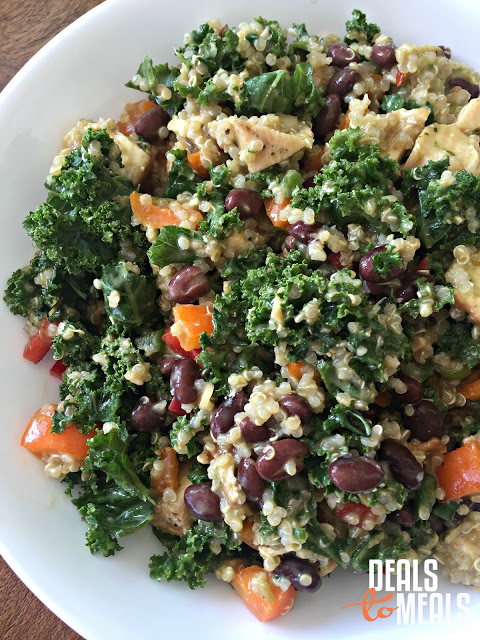 Ingredients
SALAD:

1 1/2

cup

quinoa

cooked

1

head kale

chopped

1

can black beans

drained

1/2

orange or yellow bell pepper

1

jalapeno pepper

diced

2

stalks green onions

1-2

avocados

diced

2

grilled

seasoned chicken breasts

CILANTRO LIME VINAIGRETTE:

1/2

cup

olive oil

1/2

cup

white vinegar

2

Tbs.

lime juice

1

Tbs.

balsamic vinegar

1

tsp.

soy sauce

Dash of cayenne pepper

2

tsp.

cumin powder

2

tsp.

black pepper

4

Tbs.

green onions

sliced

1/2

cup

honey

2

Tbs.

sugar

2/3

cup

cilantro

chopped
Instructions
For the salad, put the dry, uncooked quinoa into a rice cooker or sauce pan. Add the 3 cups of water and bring to a boil. Place a lid on the pan (or use the quinoa in the rice cooker on the 'white rice' setting) and simmer until the quinoa is tender and cooked. Once the quinoa is cooked, set aside to cool slightly while you prepare the salad. For the salad, rinse the kale and remove the thick, stems. Chop the kale leaves into small pieces and place in a large salad bowl. Drain the black beans and add to the bowl. Chop the bell pepper, the jalapeno, green onion and avocados and add to the salad. Grill the chicken breasts and season with salt and pepper. When the chicken is cooked through, cut into pieces and add to the bowl. Make the dressing and pour over the salad before serving.

For the dressing: place all of the ingredients in a food processor and puree until completely smooth. If you don't have a food processor, use a hand wand or anything you can find to make this dressing smooth.
Notes
This is a super simple recipe that can be made with freeze dried Chicken, Kale and Peppers. Simply hydrate the chicken before hand and use the kale and peppers in the recipe as normal.