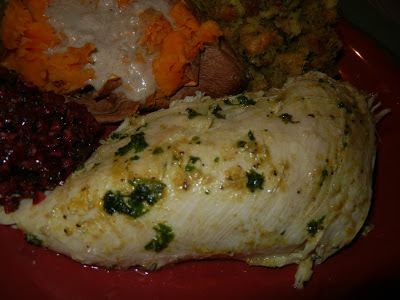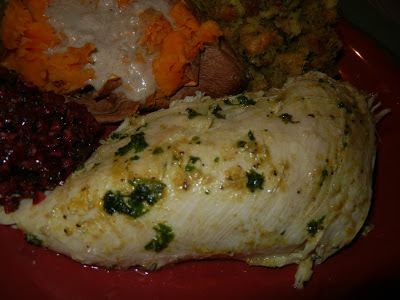 Let's talk turkey. What would Thanksgiving be without a turkey? Well, too often, it seems the turkey is too dry and too flavorless. I generally have to soak my turkey in gravy to give it some flavor and to moisten it up a bit. Well, this year I think I have figured out the method of cooking the perfect turkey. Now..I have to admit something, I have only cooked a whole turkey twice in my life. It's not my favorite thing to do…too many bones, too many gizzards, too much floppy skin, too much fat…you get the idea. I tend to be a turkey breast kind of gal. They are small, compact and fit perfectly into my crock pot. The other benefit, they are on sale this week, feed my family of 7 twice and there is very little to throw away when I am done.
If you must have the picture perfect turkey to carve on your Thanksgiving dinner table, you can still do that with this method. It was a method I saw on Paula Deen that I thought was totally do-able–basic ingredients, simple, etc. It's amazing what a stick of butter will do 🙂 The flavor that infuses into the turkey is so outstanding! The herbs, butter, garlic, chicken bouillion make for the perfect combination of flavors. Having the turkey cook low and slow for 5-6 hours and sitting in the butter and it's juices makes for the perfect outcome. It may not be the prettiest turkey you'll ever see, but it sure will be the best tasting! One other bonus..the drippings of this turkey makes the world's best turkey gravy…so smooth, buttery and delicious!
(*TIP: If you love turkey breasts as much as I do, login to our website to find out the best deals in your area. In UT they are on sale for $1.29/lb. which is an incredible deal! Buy several and keep them in your freezer for later in the year when you are wanting to remember how delicious Thanksgiving was)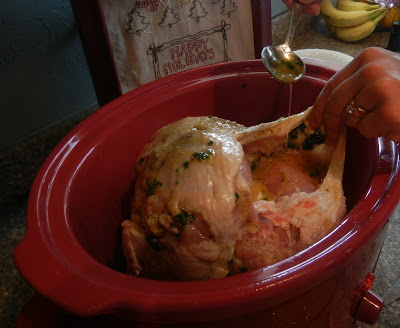 Mix together the herb butter and drizzle/spread the mixture underneath the skin of the turkey. Keep the majority of the butter on the top side of the breast so it can cook underneath the skin and make the turkey extra flavorful.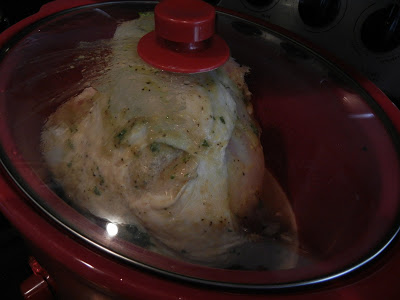 Cook the turkey breast on low or medium heat for 5-7 hours (depending on the size of your turkey breast). When the turkey is cooked, baste the turkey breast with the drippings from the turkey, shred and serve.
[buymeapie-recipe id='651′]