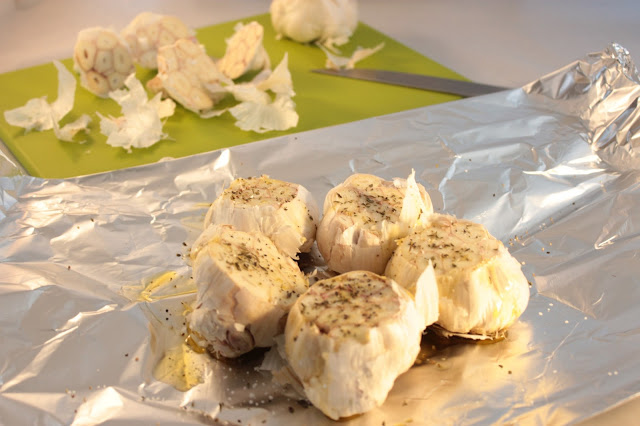 If you have never roasted garlic you are truly missing out! The process of roasting gives garlic a rich flavor with out the harshness that raw garlic can sometimes add to a dish. It becomes a creamy spreadable paste with an almost nutty flavor. It is great on pretty much anything savory. Use it as a pizza topping or even as a yummy appetizer to spread on crackers with your favorite cheese. My favorite way to use it is in mashed potatoes, but it is good with anything you would put garlic in. Give it a try, it takes only a few minutes of prep, and an hour of unattended cooking time and your reward is a tasty enhancement that you can store and use for so many different recipes. You will be addicted, I promise!
[buymeapie-recipe id='505′] Now that you know how to roast garlic, here is a delicious vegetable side dishes my whole family enjoys. One day I was making Roasted Garlic Smashed
Potatoes and used the extra roasted garlic while sauteing some fresh
green beans and magic happened. The green beans where slathered in
buttery heaven and the roasted garlic gave them the perfect amount of
flavor. The best part is this recipes takes only 10 minutes to make if
you have some roasted garlic stored in your refrigerator or freezer.
Its a great dish to serve to last minute guests or when the oven is
busy making other delicious food and you need a quick side dish.
[buymeapie-recipe id='506′]