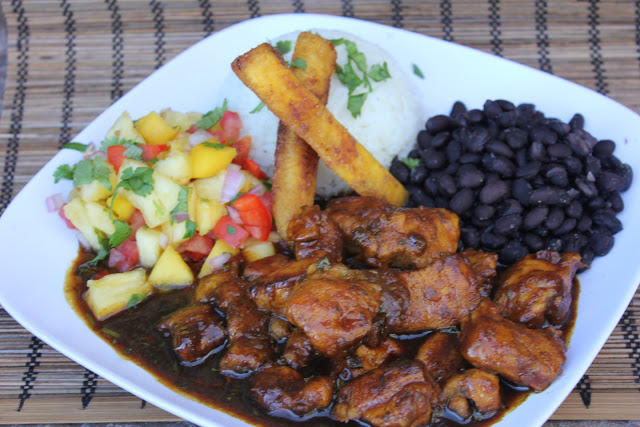 Over the past four years I have posted several unusual recipes for you to enjoy. Whether it is African Chicken Soup or Shrimp Gumbo, I love recipes with unique flavors. This recipe is no exception! In fact, it might just have some of the most unique flavor combinations that have ever graced our kitchen table. I have to preface that this recipe will not be fun for every joe-shmoe cooker. There are four different components to this meal and if things like that drive you crazy, this is not the recipe for you. However, if you love new flavors and want to try and new recipe that will totally rock your taste buds, you have GOT to try this one!!


A few months back my family & I were at The Cheesecake Factory near Disneyland. I saw a woman with a dinner plate filled with food I was drooling over. I knew I saw mangos, shrimp & black beans and from there I was sold. I asked our waiter what it was and he said it was the 'underdog' dish of their restaurant. He told us it was the Jamaican Black Pepper Chicken/Shrimp and that it was seriously one of their best dishes (that says something since everything is good!) and that if people didn't start ordering it more it was going to be taken off the menu forever (ahhh!). I anxiously ordered it and was in Jamaican paradise while eating every last bite. The combination of flavors was SO intense and SO incredible I couldn't stop talking about it for days. I knew I had to go home and recreate this recipe, and so that is what I did.
Now…there is one slight problem. Every copycat recipe I found online called for several cups of beer (no wonder I liked it so much!). I have never drunk beer (except for in this recipe) and I am not about to go pick up some Budwieser in my grocery cart. So, I had to improvise. If you happen to have beer in your fridge, by all means, add it to this recipe. My recipe was missing a little extra 'something' that was in my original dish and I am sure it is the difference of using beer verses orange juice. So, use what sounds good to you and enjoy this new & tropical dish! The mango salsa, along with the fried plantains and the seasoned chicken makes for such an exotic combination of flavors, you are going to LOVE it! This dish will whisk you away to somewhere warm, romantic and tropical and make you think you aren't in the middle of cold, gray weather in Utah 😉
[buymeapie-recipe id='562′]
Fried plantains–I could just eat these plain. They were so yummy with the salt, sugar & cinnamon.
Mango Pineapple Salsa…could any flavors be more appealing this time of year? I don't think so!
I thought you would get a kick out of this paper. No joke, this is what 90% of my recipes look like. A half used scratch piece of paper filled with chicken marks, crossed out ingredients, changes and more changes to the recipe I am inventing. If only it were something smart like an algebraic equation. Maybe I should have become a doctor with my awful handwriting 😉
Yum, yum and more yum! I am craving this dish again. It was so new, fresh & unlike anything you have had before! Enjoy