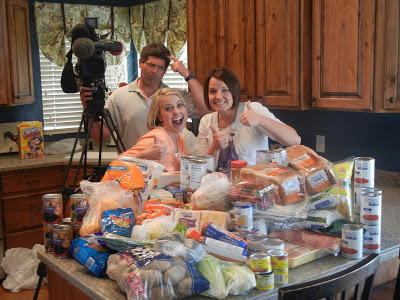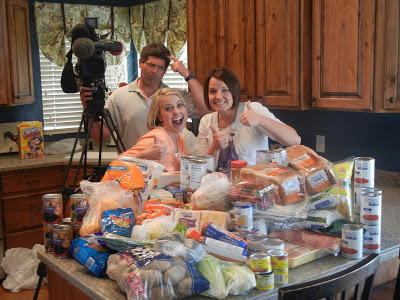 Deals to Meals
was spotlighted on
KSL News
last night! I had such a fun time with Ashley Kewish from KSL. I was humbled when they contacted me and asked if I wanted to help them with this news story–in today's economy, who isn't looking for ways to save money?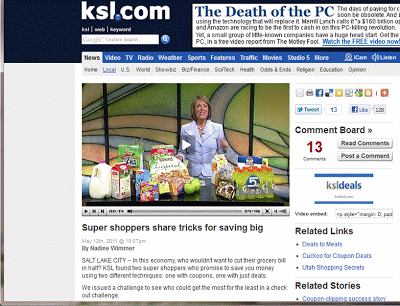 Needless to say, I was thrilled! I was excited to show people how easy it is (without clipping coupons) to save money on their groceries, eat healthier meals, and learn to plan their meals around those items on sale each week. Anyone that knows me, or uses
Deals to Meals
, they know I am a HUGE advocate of dinner time with family–on a budget. We don't have to feed our family processed or prepackaged meals. With a little planning, and using our service, it is easy to put together healthy, fresh, and homemade meals on a budget. Feeding your family a homecooked meal and having a stockpile of food in case of emergencies can bring a lot of joy and peace of mind to your families.
So..the race was on! We timed the whole process and from start to finish it tooks us less than 1 1/2 hours. On the news spot they had to add a couple hours of prep time assuming I didn't use
Deals to Meals
(yeah right..who would do that? hehe!) We were in and out of Walmart in 36 minutes. I am so competitive, so I was running around crazy and sweating bullets. People were laughing and it was a lot of fun. I had the cashier, Ashley the producer and the camera man in awe at how much groceries we got for under $100. SO fun!! (Below I will show you what exactly we got)
Let's quickly go through how I do my meal planning and grocery shopping so quickly. Here is how Deals to Meals works and what we did:
STEP 1:
Login to our
website
(become a member for 2 weeks for FREE and after that it is only $1.13 a week–whos time isn't worth a dollar a week? No brainer!). Then, select the state you want to shop from.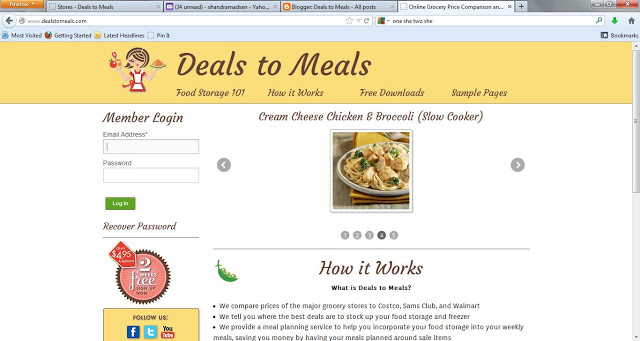 STEP 2:
Choose the stores you would like to shop at (or price match all of the best deals
at Walmart):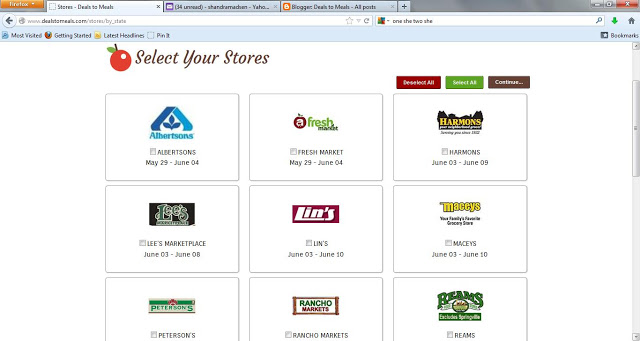 STEP 3:
Look through the weekly meal planner and decide which recipes/meals your family will want to eat that week. You don't have to choose all of the meals, these are just suggestions of meals that can be cooked from the sale items that week. Create your own meal plan or use ours–either way, the hard work is done for you!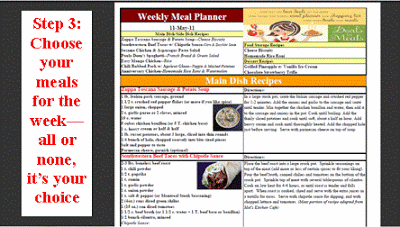 STEP 4:
Create your own grocery list using our premade grocery list or selecting your own. Using our put together grocery list for the meal planner means you can be shopping within minutes and know exactly what the least expensive prices are for each item in your meals/recipes for the week. SO easy!!
(Deals to Meals Grocery List correlating to weekly Meal Plan)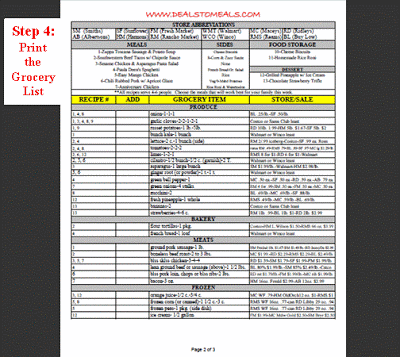 Or, select the items you wish to add to your personal grocery list…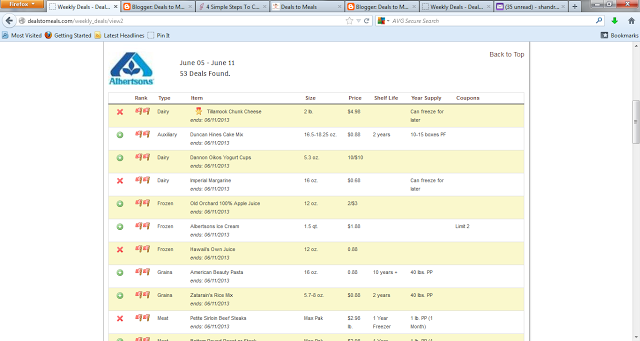 Print your grocery list with all of the stores and deals you have chosen to buy. Sort the grocery list by store or by product type. Sorting by product type makes price matching a breeze!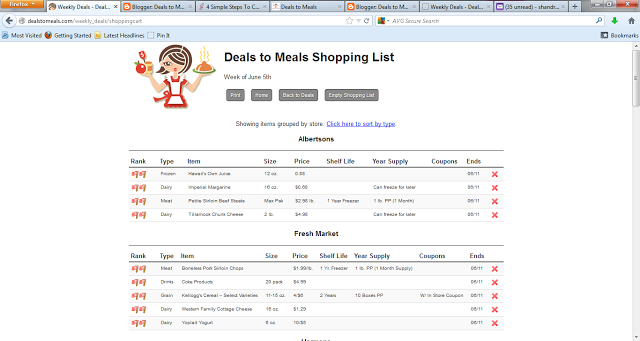 Off to the grocery store! Shop at several grocery stores or price match ALL of the great deals at Walmart (this is what I do for one-stop FAST grocery shopping).
Alright, back to our KSL Challenge. Our challenge was to purchase a week's worth of groceries for a family of four for $100 (they actually wanted to give us $150 but I told them that wouldn't be a challenge enough 😉 Below is what we purchased and what meals we planned and bought for. For the recipes we were assuming this family had basics like; flour, sugar, spices, oil, etc. They were shocked when we were able to purchase TWO WEEKS worth of groceries and 28 meals for this family. Here is what our loot consisted of:
17 homecooked meals + 22 quick & easy meals= $99.01
*Recipe
*Groceries we bought*How much the recipe would make
Homecooked meals:
Chicken Curry Broccoli Casserole (chicken, broccoli, cream of chicken soup, cheddar cheese, and rice)–enough of the ingredients to make 2 meals (one for this week & another for a freezer meal)
Southwestern Chicken Cobb Salad (chicken, bacon, roaine lettuce, tomatoes, avocados, cheddar cheese, green onions, 2 cans black beans, ranch dressing, tortilla chips)–enough for one meal
Parmesan Chicken with Noodles, Sauce & Green Salad (chicken, sour cream, milk, eggs, butter, spaghetti noodles, spaghetti sauce, cheese, green salad, and frozen vegetables)-enough for one meal
Garlic Lemon Herb Grilled Chicken with Mashed Potatoes (chicken, lemons, garlic, green salad & russet potatoes, sour cream, butter, milk)–enough for one meal
Easy & Healthy Taco Soup (ground turkey, canned corn, canned beans, canned tomato sauce, shredded cheese, sour cream)–enough for one meal & one freezer meal
Cinnamon Waffles with Caramelized Apples (butter, apples, sugar, brown sugar, eggs, milk)–enough for one meal
Creamy Tomato Basil Soup (onions, garlic, butter, diced tomatoes, tomato paste, chicken broth, milk)–enough for one meal and two freezer meals
Spicy Bean & Hamburger with Rice (ground turkey, pork n' beans, brown sugar, bbq sauce, onions, ketchup, mustard)–enough for one meal and one freezer meal
16 Minute Beef Burritos with Refried Beans (ground beef/turkey, tomato sauce, flour tortillas, cheese, lettuce, tomatoes, green chilies and refried beans)–enough for one meal and one freezer meal
BLT Sandwiches (bacon, bread, lettuce, tomatoes)–enough for one meal
Potato Bar (russet potatoes, frozen broccoli, tomatoes, green onions, cheese, sour cream, butter)–enough for one meal
Dessert: Chocolate Fudge Cake with Fresh Strawberries (cake mix, strawberries)
Quick & Easy Meals (22):
Cereal & Milk (enough for 4 meals)
Frozen Waffles (2 boxes)
Macaroni & Cheese (6 boxes)
Top Ramen (10 packages)
Bread, Peanut Butter & Jam (2 bread & one each)
Spaghetti Sauce
Extra Produce & Food Storage Items Bought:
Bananas, oranges, and extra apples.
Extra packages of brown sugar, powdered sugar, canned tomatoes, canned refried beans, ketchup, pork n' beans and canned beans to add to their food storage.