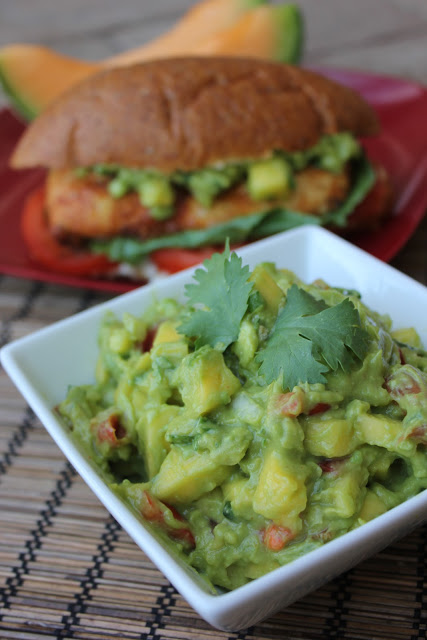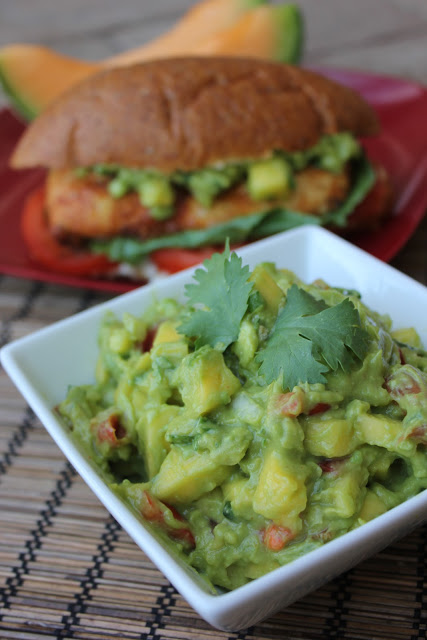 My sister was watching the Food Network the other day and called me excited about a recipe she saw for Mango Guacamole. She said it sounded just like something I would like. She was right!! I couldn't get it out of my head. I am one who loves the savory and sweet flavors together and this guacamole is the perfect combination. The fresh lime flavor, the smoothness of the avocado and the kick from the jalapeno pepper all work so great together. After eating a huge bowl of this with chips I decided it would be great on a southwestern chicken sandwich. I marinaded some chicken in a basic Mexican lime marinade, grilled it and served the chicken with the Mango Guacamole and it was amazing!! There were so many great flavors working together to make a really flavorful and delicious weeknight dinner.
Mango Guacamole
1 mango, peeled and diced
1/2 red bell pepper, diced
1/2 white onion, diced
5 medium sized avocados, peeled, seeded and mashed
1/4 c. green onions
1 tomato, diced
2 cloves garlic, minced
1/4 c. cilantro, chopped
1 lime, juiced
1/2 t. salt
1/2-1 jalapeno chopped (or just add some cayenne to your liking)
Dice the bell pepper, onion, green onions, tomato and cilantro. Add in a bowl and peel the avocados and place in the bowl. As you stir the ingredients together, mash the avocado into smaller pieces. To the guacamole add the salt, lime juice and garlic. Peel and dice the mango and add to the guacamole. Serve with tortilla chips, over chicken or on a southwestern sandwich.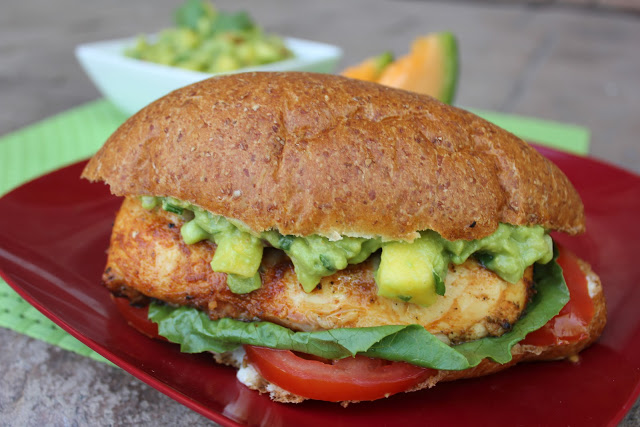 Lime Chicken Marinade
5 chicken breasts
2 limes, juiced
1 t. paprika
1 t. salt
2 t. taco seasoning
2 t. cumin
2 cloves garlic, minced
Dash cayenne pepper
1 t. chili powder
1 T. brown sugar
2 T. olive oil
Place the chicken with all of the marinade ingredients in a Ziploc bag or in a large bowl and let it sit overnight or for a few hours. When ready to grill, remove from the marinade and cook for 5-7 minutes on either side, or until the chicken is no longer pink. Serve the chicken with the guacamole or on a bun with lettuce, tomatoes, pepperjack cheese and mayonnaise for an amazing Southwestern Chicken Sandwich.