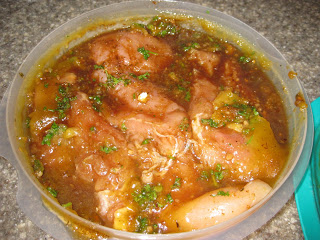 This is one of my absolute favorite pasta dishes. Many times pasta dishes can be too heavy for me..too much cream, cheese, and butter. Not only is this recipe better for you than your average pasta dish, it is FABULOUS!!!
We played around with this recipe until it is perfect! Make your own homemade French Bread and you will be in heaven! This can also be a good food storage meal with a few adjustments (ex: canned chicken instead of fresh, dried parsley and chives instead of fresh, bottled lemon juice instead of fresh..and the rest is out of your food storage!) Delicious!
Beach Street Lemon Chicken Linguini
1 lb. linguini (or Fettucini)
2 T. olive oil
Zest from one lemon
Juice from one lemon
½ c. chopped green onion
¼ c. chopped fresh parsley
Salt and freshly ground pepper
Parmesan cheese
Marinade:
½ c. olive oil
2 cloves garlic, whole
2 T. Cajun seasoning
1/4 c. lemon juice
2 T. minced parsley
1/4 c. brown sugar (or more if you like it a little sweeter)
3 T. soy sauce
2 chicken breasts, sliced. (OR 16 extra large shrimp)
Combine the marinade ingredients in a Ziploc bag. Slice thawed chicken (or shrimp). Pat dry and toss in marinade to coat. Refrigerate 1-12 hours. Cook marinated chicken with the marinade sauce in a large saute pan on medium heat until chicken is cooked. If using shrimp, preheat the oven to 450 degrees. Bake for 7-10 minutes. Be sure not to over cook shrimp.
Cook linguini in boiling salted water until done; drain well and rinse noodles. Combine juice of one lemon, zest, olive oil, green onions, and fresh parsley together. Add hot pasta into bowl and toss well. Sprinkle with salt and pepper. Add chicken (or shrimp) with marinade into the large pasta bowl. Toss in parmesan cheese to taste and serve warm.