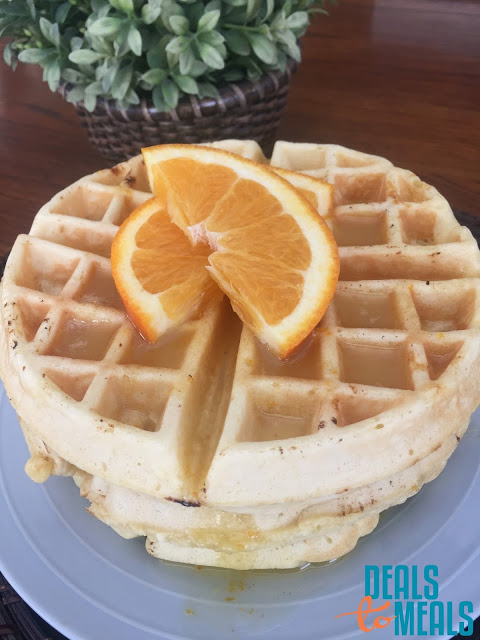 This past weekend my sister came into town with her family and we had such a great time! I love hosting family and despite the craziness, we always seem to have a great time–eat too much, stay up later than we should and laugh a lot. With 18 cousins over to our house, my go-to recipe to make the hungry crowd is pancakes or waffles. It seems these types of recipes can feed a large crowd and keep everyone happy and fed. Of course I always add in some whole grains to help fill them up, and with the creamy, butter syrup, they are none the wiser 😉 With all of the oranges I bought on sale this past week, I figured an Orange Waffle was in order. These waffles are incredible! They are fluffy, soft, moist, and full of fresh, citrus flavor. Top that with this creamy, sweet orange syrup and you will be in heaven! I could eat these for breakfast, brunch or as a quick dinner any day of the week. Hope you love these as much as we all did this week.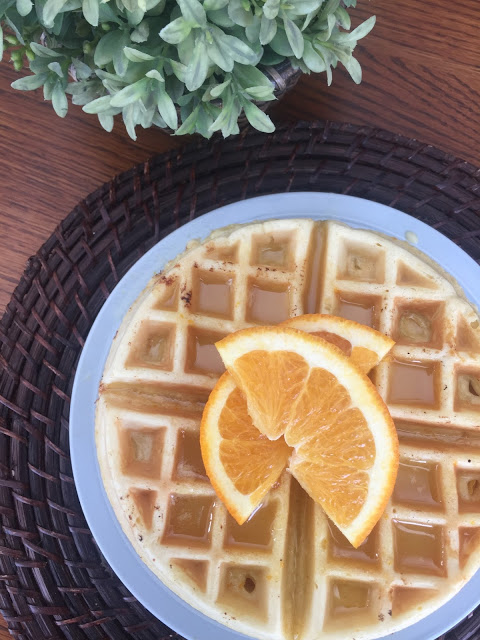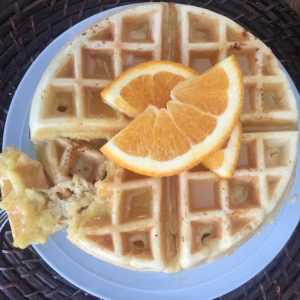 Ingredients
WAFFLE:

3

cups

orange juice

Zest of 2 oranges

4

eggs

1/4

cup

sugar

2

tsp.

salt

1/2

cup

sour cream or yogurt

1/4

cup

canola oil

2

tsp.

vanilla extract

5

tsp.

baking powder

4-4 1/4

cup

flour

ORANGE SYRUP:

1

stick butter

1

cup

orange juice

Zest of 1 orange

1

cup

sugar
Instructions
In a large bowl, whisk together the orange juice (can you use fresh of from concentrate), zest of two oranges, eggs and sugar. Whisk until smooth and then add the sour cream, oil, vanilla, baking powder and the flour. Whisk until the flour is combined, but don't over mix. Heat a waffle iron and spray with non-stick cooking spray. Pour a 1/4-1/2 cup of the batter into the waffle iron and bake until golden brown. While the waffles are cooking, make the orange syrup. In a sauce pan, add the butter, orange juice, zest and sugar. Bring the syrup to a low boil and boil until the sugar is dissolved and smooth and silky. Serve the syrup over the cooked waffles.