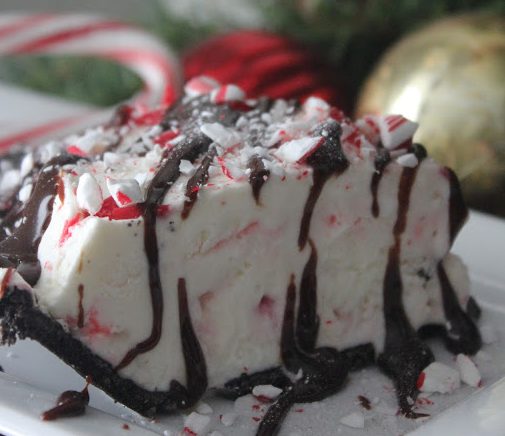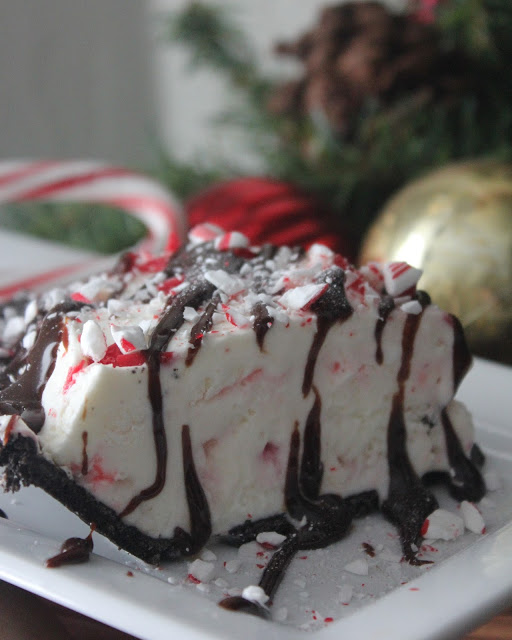 I have to admit with the 12 Days of Christmas Giveaways I have desperately missed sharing recipes with you. I have been dying to share some of my newest favorite holiday recipes with you. So, in the next few days I am going to be in hyper drive, sharing (sometimes twice a day) some delicious Christmas recipes with you. Hopefully it's not too late for you to put together your Christmas meal plan. If you need help shopping, we can help you with that too, over at Deals to Meals! There are some AWESOME deals on baking items, canned goods, Christmas items, all of the meats you need for your parties and much more. It's a great time to shop. Sales end on Christmas Eve, so hurry and login and see what's for sale in your area 😉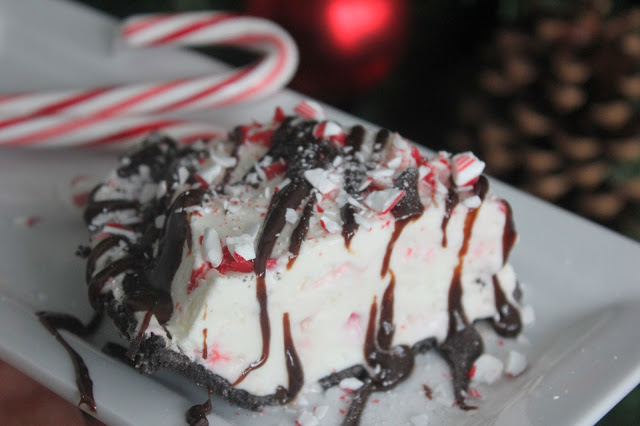 Okay, now onto recipe one. I'll post about this one first because it is SO, extremely easy. Although it is easy however, this pie was a huge hit at our last Christmas party. The combo of the hot fudge, chocolate cookie crust and peppermint ice cream is a match made in heaven. This entire pie costs around $5 (most ingredients are on sale this week) and is an inexpensive (and easy) dessert recipe for upcoming holiday gatherings 😉 Enjoy!
**And don't forget to enter to win the $750 Blendtec–giveaway ends in TWO days.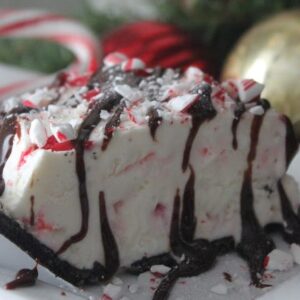 Ingredients
1

Oreo cookie crust

1/2

gallon

peppermint ice cream

1/2

cup

whipping cream

whipped (or Cool Whip)

2

Tbs.

powdered sugar

1

candy cane crushed

1

jar hot fudge sauce
Instructions
Let the ice cream thaw slightly on the counter for 5-7 minutes. Once the ice cream is slightly soft, pour the ice cream into the Oreo cookie crust (or make your own Oreo cookie crust). Spread the ice cream to all sides of the pie. Put the pie into the freezer until you are ready to eat (at least 1-2 hours). When you are about ready to serve the pie, whip the whipping cream in a bowl until stiff peaks form. Add the powdered sugar to the whipping cream. Crush the candycanes in a Ziploc bag into small pieces. Warm the hot fudge sauce in the microwave for 30 seconds, or until smooth and easy to drizzle. When ready to eat the pie, remove from the freezer. Top the pie with the whipped topping. Sprinkle the candy cane pieces on top of the pie. Drizzle the pie with the hot fudge sauce and then serve.