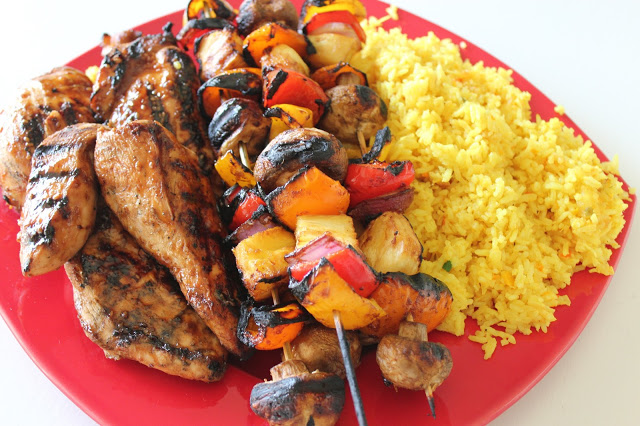 Grilled chicken is the dish I make most in the summer time, there are just so many ways to prepare chicken on the grill that my family never gets bored of it.  For this recipe I tweaked one of my all time favorite marinade recipes to add just a hint of sweetness.  This Marinated Pineapple Grilled Chicken It is a great dish that can easily pair up with practically anything.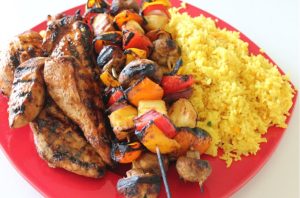 I love to serve it with Pineapple Rice (recipe coming tomorrow).  I usually double the recipe to save extra chicken for sandwiches or chicken gyros the next day.  You just can't go wrong with this recipe! Later this week I will also share a recipe for amazing Marinated Vegetable Kabobs and Pineapple Rice that pair perfectly with this Pineapple Chicken. Stay tuned 🙂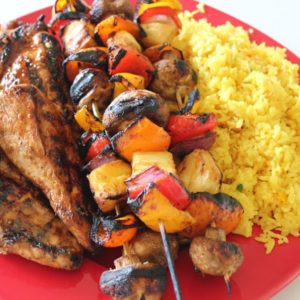 Ingredients
4

boneless skinless chicken breasts cut in half lengthwise

2/3

cup

low sodium soy sauce

must be low sodium or it will be too salty!

1/3

cup

extra virgin olive oil

1/3

cup

coconut oil

1/4

cup

pineapple juice

2

Tbsp.

liquid smoke

1

Tbsp.

spicy brown mustard

1

tsp.

garlic powder

1

tsp.

black pepper

1/2

cup

teriyaki sauce
Instructions
Place everything except the chicken and teriyaki sauce in a blender and blend on high speed until completely mixed. Measure 1/2 cup of marinade and set aside for kabobs. Place Chicken in a large Ziploc bag and pour remaining marinade over it and place in the refrigerator for at least one hour, but up to four. Heat grill on high, oil grill grates and grill chicken about 4-5 minutes per side or until juices run clear when cut at the thickest part. remove from the grill and brush chicken with teriyaki sauce on both sides and let rest 5 minutes before serving. *If you will be making the vegetable kabobs we will be posting about tomorrow, reserve 1/2 cup of the marinade.

Be careful not to overcook. Many people cook chicken on the grill until there are no juices when cut open, remember that the chicken will continue to cook for up to 5 minutes after you remove it from the heat, as long as the juices are clear and the center is no longer pink you do not need to worry about under cooked chicken.