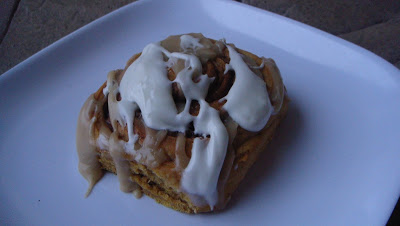 Are you tired of pumpkin yet? For me that is not possible, even after eating leftover pumpkin pie for breakfast, lunch and dinner the last few days. If you can stomach another pumpkin recipe, you must give these Pumpkin Cinnamon Rolls a try. They were delicious and the perfect recipe for your upcoming holiday parties. The caramel frosting was absolutely divine. I think I could have just eaten it by the spoonfuls (shh…I did!). The combination of the buttery pumpkin roll, the brown sugar filling, the strong flavor of cinnamon, and the caramel frosting was heavenly.
I took several recipes I saw on popular food blogs and came up with my own recipe with a food storage twist. Since we are focusing this month on powdered milk and eggs, this recipe worked perfectly with both ingredients. One tip on using powdered eggs I have found helpful. I have noticed that in bread/yeast recipes and some other bread recipes if I add the 1 T. powdered egg in the place of one egg and NO water, the recipe turns out better. The 2 T. water for each egg in some recipes made for a dough that was too sticky. Keep experimenting and finding new ways to use these products in your everyday cooking.
Here is this amazing recipe. Happy Holidays!
[buymeapie-recipe id='788′]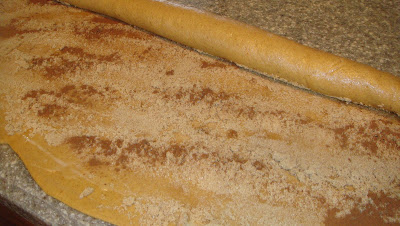 Roll the dough into a large rectangle and cover with the melted butter, brown sugar and cinnamon. Roll the dough as tightly as you can for a pretty swirled cinnamon roll.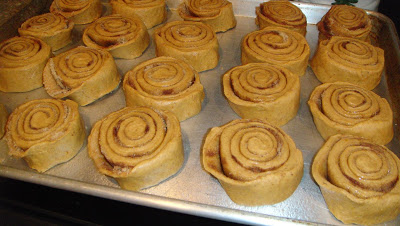 Let rolls rise in the oven until doubled in size.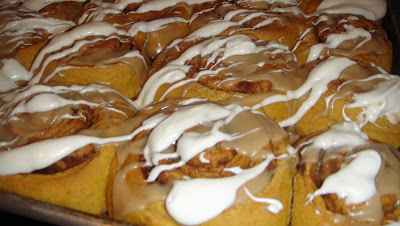 Drizzle warm cinnamon rolls with the caramel and cream cheese frostings. Yes, the two different frostings are a little much, but OH so delightful!!