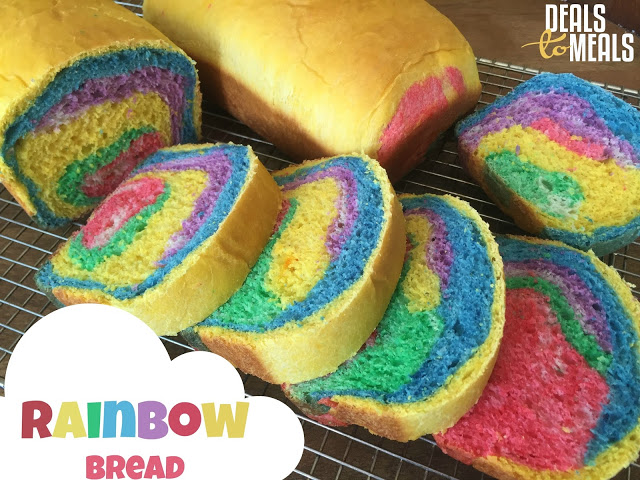 Alright, I have been blogging now for almost 9 years and in all these years I have been on this blog-o-sphere, I have NEVER made, or blogged about something as fun as this Rainbow Bread. I am telling you, this is a MUST MAKE RECIPE!!! Yes, those are capitals and exclamations because this recipe is THAT fun! If you have kids, if you want to have kids, or if you know kids, they will think you are the coolest person EVER if you make this bread for them. There is something about this bread that just makes you smile–young and old. This is the perfect recipe to make for this upcoming Easter weekend. Serve this bread with your Easter breakfast or dinner, or as a snack for the kiddos, either way, your guests are going to be amazed at your talent and creativity.
I'm not sure exactly where this idea came from, but my sister is the one who introduced this to me and made the first several batches I had–thanks Diana! Whoever is the original inventor of this idea, my hat goes off to them. I don't know why I never thought to color my dough before, but I feel this has opened up a whole new world of creativity to my baking life 😉 The fun thing about making Rainbow Bread is it is not hard to make. Basically, you are making our no-fail bread recipe and adding food coloring to the different pieces of dough. After that, you can have your kids create their own loaves of bread (see the above picture in the bottom right hand corner–there's no right or wrong way to roll this bread). The crazier, the better. It's like cutting into a treasure.
The best part is you don't know what the bread will look like until you slice into it. Each loaf was like a different present we were opening–it is SO fun!
By the time we were done with one batch of this recipe, and the kids ate 6 loaves (all the neighbors had to come try some at this point) we had to start on another batch. Twelve loaves of bread later and we couldn't stop from smiling. In fact, I'm making another bath this afternoon for a picnic. We are going to use this colored bread for our sandwiches tonight. It will be a riot for the kids! I'm telling you, this recipe is the coolest!! I can hardly wait to hear how you like it. If you love this recipe, share this idea with your friends and family. This recipe is a keeper! Hope you love it and happy first day of spring friends.
[buymeapie-recipe id='72']
(Color the dough into as many colors as you would like. The Neon Food Coloring works surprisingly well too)