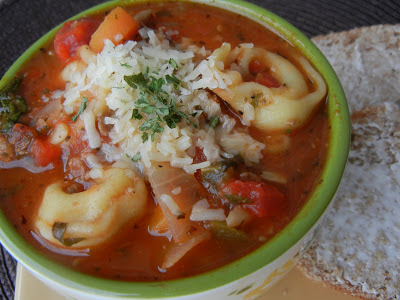 If I had my way, and calories were not an issue, I think I would eat all of my pasta covered in cream sauce and parmesan cheese. I love soups or pastas with lots of sauce and many times that includes a cream base–meaning..lots of butter, cream and fat. Because I could easily be the size of blimp if I cooked and ate everything I enjoy, I have to try and cut back every now and then. This soup is the perfect solution to my calorie dilemma. There is no cream, no butter, and very little fat in this soup, and yet so full of flavor, texture and goodness. I almost added a pint of whipping cream but then controlled myself and decided to have a piece of our Homemade Smore's for dessert (worth the wait–oh man, probably one of my favorite desserts EVER!)
This soup made a very large pot and would easily feed 10-12 people. It freezes perfectly, so make up a batch and freeze the extras for a later meal. Whenever I go to Macey's Grocery Store I love to pick up several bags of their frozen pastas (tortellini, ravioli, etc.) They are usually on sale for $1.25 a bag and although they are inexpensive, I think they actually have great flavor. If you don't have a Macey's near you, you can always buy the super delicious Costco variety–you just won't get it for a buck 😉 Having several bags of these frozen pastas, although we can't store them in our food storage, are great to have for those quick nights you don't have time to make something fancy.
This soup, although it takes a few minutes to chop the vegetables, can be made in it's entirety in under an hour. I began making dinner at 3:30 and was done by 4:15 (I know..early. It was one of those nights I knew if I didn't get it done early, we would all be eating cereal).
I served this delicious soup with our favorite wheat bread recipe and it was perfect for dipping! Whole wheat bread, fresh vegetables, and no cream. I was surprisingly a very full, and happy girl at the end of the night. Try this soup now, or when you have vegetables popping out of your garden. It is a keeper for sure!!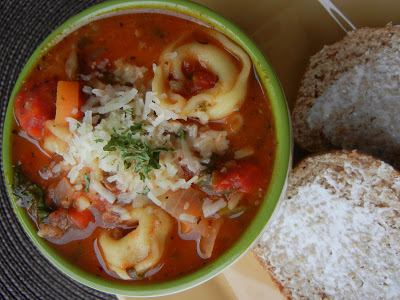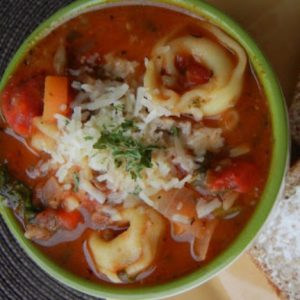 Ingredients
2

onions

chopped

1

c.

carrots

sliced thin

1

c.

celery

chopped

1/2

c.

mushrooms

diced (optional)

1/2

c.

zucchini squash

diced

3

cloves

garlic

minced

1

lb.

spicy Italian sausage

or ground turkey or chicken to cut calories & fat

1/2

green bell pepper

3

cans diced tomatoes

I like the petite diced tomatoes

6-7

c.

beef or chicken broth

I used beef base & water

1 26-28

oz.

jar spaghetti sauce

Classico is my favorite brand

1

T.

black pepper

1

T.

salt

2

T.

parsley

fresh or dried

1

t.

thyme

1

T.

Italian seasoning

1

c.

fresh or frozen spinach

2

packages frozen tortellini pasta

I used 2 bags that were each 12 oz.--I would have added even a few more if I had them in the freezer

1

c.

Parmesan cheese

grated (I added 3/4 c. into the soup and the rest for garnishing on each serving)
Instructions
Saute the sausage, onions, carrots, mushrooms and celery together until the meat is cooked and the vegetables are tender. Add the zucchini and the bell pepper and saute until they have also become soft, but not mushy. Add the seasonings to the pot. Add the diced tomatoes, spaghetti sauce and beef/chicken broth. Stir soup and simmer on low for 20-30 minutes, or until soup flavors begin to come together. Add the tortellini pasta to the soup along with the spinach. Simmer on medium heat until the pasta is tender and cooked through and the spinach has become wilted, about 10 minutes. Add most of the Parmesan cheese to the soup and stir. Remove from heat and serve. Garnish each bowl with more grated cheese and extra parsley.