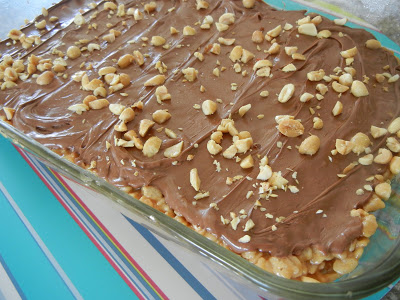 For those of you who have Kellogg's cereal coming out your ears (thanks to their AWESOME sale and rebate), I have an awesome recipe for you! I don't enjoy Rice Krispies as a breakfast item, but cover them in sugar and peanut butter and they are my new favorite cereal. I am sure most of you have this recipe already, but in case anyone has never made or eaten a Scotch-o-Roo, this recipe is amazing. These bars are super easy to make and are a great dessert to bring to any family gathering, summer barbecue, etc. This recipe is also 100% food storage friendly..so, if we ever had to live out of our food storage we could make this incredible dessert and feel much better about life 😉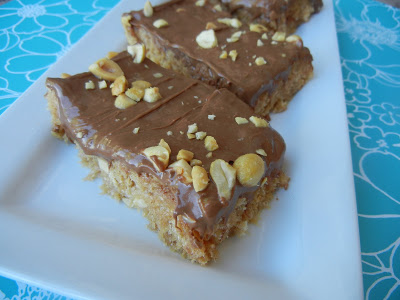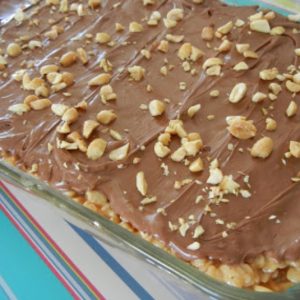 Ingredients
1

cup

white sugar

1

cup

corn syrup

1

cup

peanut butter

1

tsp.

vanilla

Dash of salt

1/4

cup

crushed peanuts

optional

4-4 1/2

cup

rice crispy cereal or Special K cereal

TOPPING

1/2

bag

6 oz. milk chocolate chips

1/2

bag

6 oz. butterscotch chips
Instructions
Place the sugar and corn syrup in a medium sized sauce pan. Bring to a low boil and boil for 1-2 minutes, or until sugar is completely dissolved (don't over cook or your bars will be hard like candy--just long enough that the sugar is smooth and dissolved) . Remove the pan from the stove and stir in the peanut butter, salt and vanilla. Once the mixture is smooth, add the cereal and chopped peanuts (peanuts are optional--I love this with them because you then get the sweet and salt combo that I love so much!).

Spray a 9x13 pan with cooking spray and when the cereal/peanut butter mixture is combined, spread it evenly into the pan. Set aside or cool in the fridge while you make the topping.

In a microwave safe bowl, melt the milk and butterscotch chocolate chips until smooth (in the same dish). Once the chips are soft, stir them together and then spread the melted chocolate over the cereal bars. Garnish with extra chopped nuts and keep cool until ready to eat, or until chocolate top hardens. Cut into squares and serve.