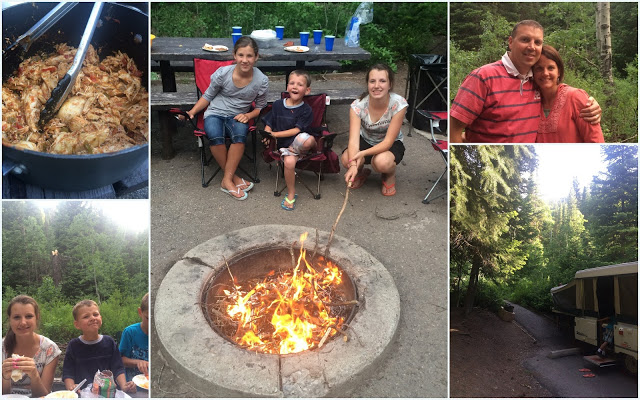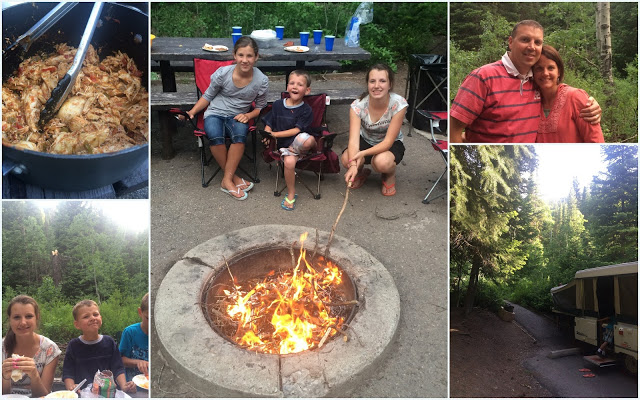 I have to admit my favorite part of camping is the food. I am a sucker for a roasted marshmallow and hot dog over the fire. I have come along way however. I used to spend days packing gourmet meals to take up camping, spend all day by the stove and barely have time relax at the end of a long day. I have come to terms that I can enjoy myself much more on vacations if I choose to simplify. This past month we have been on several different trips and I have found there are several meals that are quick and easy to prepare without much effort.
My absolute favorite trick is to crock pot (or grill) chicken before you leave on your trip. Just throw several pounds of chicken in a crock pot and season with some Montreal Steak Seasoning. Once it is cooked, shred the chicken and use it for different meals while on vacation. This past camping trip my family was on I used the cooked chicken for three different meals.
Meal one: Shredded chicken tacos–heat up 4-5 chicken breasts in a pan, add some bottled salsa and season with taco seasoning. Shred meat until tender and then serve in a tortilla with shredded cheese and garnishing.
Meal two: Place 4-5 chicken breasts into a pan and get warm. Pour over the chicken your favorite barbecue sauce and shred. Serve the bbq meat on buns. Serve with sliced watermelon, chips and baked beans and you have a quick and easy meal.
Meal three: Thaw several chicken breasts and cube into pieces. Add some chopped green onions and celery, mayonnaise and seasonings and you have a simple chicken salad sandwich that works great for dinner.
Voila! Three meals that require less than 10 minute prep time each, and you have dinner done no matter where your destination lies this summer. Below are some of my other favorite, quick-fix meals we take on every vacation we go on. You can save nearly 50% on your vacation food budget by eating from home instead of going out to eat. It's a great way to save BIG money on your trips 😉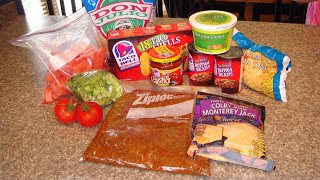 BREAKFAST MEALS:
Breakfast is a meal where it helps to keep things simple. You don't want to be cooking all day, so think simple and plan more elaborate meals for later in the day. Good ol' cereal and milk is easy to pack and keeps dishes to a minimum.


*Cereal and milk
*Bagels, cream cheese and fruit
*
Pancakes
(can be cooked on an electric skillet brought from home)–bring a box mix or put the dry ingredients for a homemade pancake mix in a Ziploc bag and bring the wet ingredients separate.
*Eggs (can be fried on an electric skillet or in the microwave)–add some cheese and hash browns and you could make
breakfast burritos
without a lot of effort.
LUNCH MEALS:
Lunch meals are easy to pack and can be brought around easily on the road as you are traveling. You can feed a family a healthy lunch for under $10, where as going out for lunch (even at a fast food chain) would cost most families over $25-$40. Here are a few of my favorite lunch options that can be brought from home. Add a bag of chips, some veggies or fruit and you have a complete meal at a low price.

*PB and J sandwiches
*Tunafish sandwiches
DINNER MEALS:
Here are a few of my favorite simple dinner meals I pack from home when going on an extended vacation. One time saving tip is to make a few of these meals 1-2 weeks prior to your vacation. Double the recipe and eat one batch for dinner the week you make them and then freeze the second half for your vacation. It takes a little more thought and prep, but makes cooking on the vacation simple and hassle free.


*
Tacos
(cook up the taco meat ahead of time, freeze and warm in the microwave or skillet for a quick meal). Pack along shredded cheese, salsa, lettuce and taco shells and you have a quick and inexpensive dinner. I usually bring extra taco meat and serve the rest in a taco salad later in the week (just bring more lettuce, cheese, tomatoes, ranch dressing, chips and a can of kidney beans).
*
Soups or Stews
–soups can easily be made ahead of time and frozen for your vacation. Warm up in the microwave and serve with store bought rolls for a quick dinner. If you are in a hurry you could even just use canned soups or stews.
*
Shredded BBQ Pork (or Chicken) Sandwiches-
-crock pot a large pork loin (or boneless chicken breasts), shred and freeze the meat for your vacation. Frozen pork/chicken thaws perfectly. You can add some bbq sauce for a nice sandwich or serve in a burrito as a wrap. Serve with fresh fruit and chips and you won't be dissapointed.
*
Shredded Pork Tacos
or
Carne Asada Tacos
-these tacos are one of my favorite are simple to make on the go. Just cook and shred the pork ahead of time and all you have to pack is some salsa, corn tortillas and cheese. Make these tacos on your skillet to melt the cheese and you have a simple dinner.
*Quesadillas or grilled cheese sandwiches are simple and inexpensive to make. Add some refried beans to the quesadillas to help fill your family up or some ham to your grilled cheese for extra flavor.
*
Breakfast for dinner
is another simple approach to dinner. A pancake dinner never hurt anyone for dinner and is much less expensive to make than most meat-heavy dinners.
*Potato Bar-this is simple to make away from home if you just microwave the potatoes and cut up the toppings ahead of time at home. When ready to serve just open up the potatoes, place the toppings on top and you have a dinner ready in just a few minutes.
*
BLT Sandwiches
-Buy the precooked bacon that can be warmed in the microwave, throw on a piece of toast with lettuce and tomatoes and dinner is done! Serve with a side pasta salad made from home or a store bought salad to share.