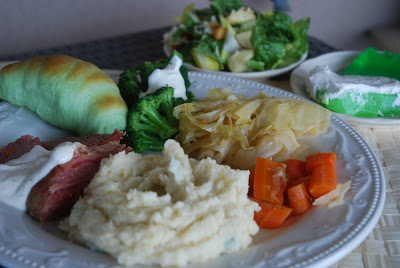 Happy St. Patrick's Day!
Irish Feast: Corned Beef with Cabbage & Carrots, Colcannon Mashed Potatoes, Steamed Broccoli, Green Lime Slime Jello, Green Crescent Rolls, Pear & Cranberry Salad, Horseradish Dipping Sauce, and Pistachio Cake.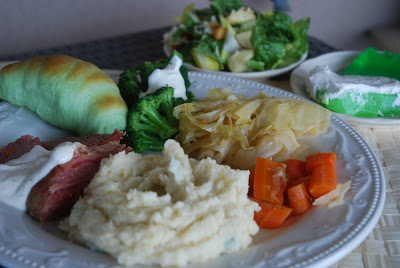 Happy St. Patricks Day to everyone! Why does it seem like, with many other areas of being a mom, it is SO hard to get things done on schedule. I take pictures of food, plan fun ideas for holiday blogging and then somehow the day's fly by and here we are, once again, hours before the big day. I apologize for those of you who already have your St. Patricks Day dinner planned and put together..perhaps next year this post may be of help. For those who are able to pull things together last minute, here are a few of my FAVORITE parts about St. Patricks Day.
Our family pretty much loves and celebrates every holiday. We are a big family with lots of kids, cousins, and grandkids, so we are always looking for reasons to get together throughout the year (or…the week). Pretty much in our house, if there is a holiday then that spells F.O.O.D and what holiday isn't more fun with good food? St. Patrick's Day is NO exception to this rule.
Last year we had a blast with homemade pizzas made with GREEN pizza dough–fun! Another year we had everyone bring a part of dinner that was green and we had a big pot-luck dinner with everything green you could imagine.
This year we decided to go more traditional and have the good ole' Corned Beef & Cabbage. I am not a huge fan of the corned beef brisket (although it is cheap and can feed a lot of people), so my cute mom also made a beef roast to go along with our Irish dinner. However…corned beef or not, this horseradish sauce was SOOOO good I wanted to drink the entire bowl. I love horseradish anyway, but this version of a horseradish dipping sauce was AMAZING! It completely made the meal for me. So..if you are serving any type of pot roast or corned beef, this is the sauce to serve it with!!
[buymeapie-recipe id='815′]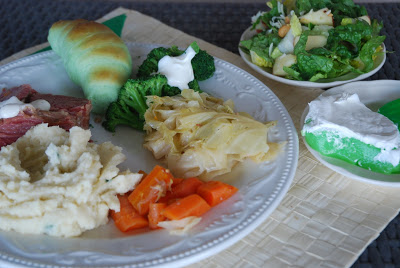 Another highlight of our annual St. Patty's Day dinner are the Colcannon Irish
Mashed Potatoes
. Oh man…I LOVE a good mashed potato side dish, but this one is even better than your everyday potatoes. I know the green cabbage sounds so weird, but the buttery potatoes with the sour from the sour cream, the garlic, and then the soft pieces of green cabbage…hmmmmm. SO good! If you have never had Colcannon potatoes, you have GOT to give this recipe a try. So fun and perfect for this holiday.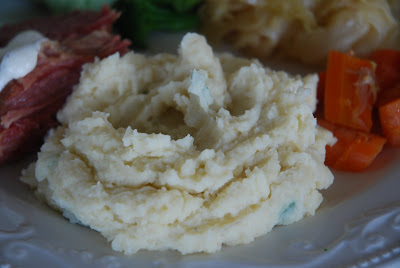 [buymeapie-recipe id='816′]
Okay..another must-have at St. Patricks day is my Aunt Michelle's Green Lime Slime Jello. Funny name, but such a delicious side dish. The texture of this jello is really fun and the kids (as well as the adults) will not be able to stop eating this!! Use real whipping cream on top and you have a jello that is good enough to eat for dessert!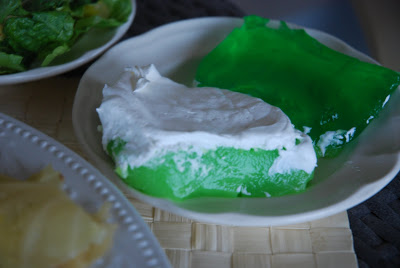 [buymeapie-recipe id='817′]
Of course, knowing our family, we have to have a side of some sort of bread (who can have enough bread). My sister Diana makes THE best dinner crescent rolls on the planet!! She made these rolls extra special this week by adding lots of green food coloring. Such a fun addition to our Irish meal 🙂 Diana even hid a four leaf clover in one of the rolls for a lucky winner to find..the kids like to see who can find the lucky prize!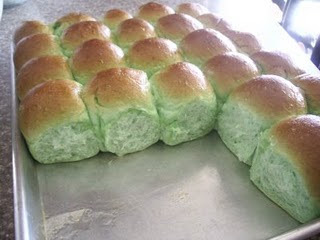 Speaking of dessert, we always have our traditional Grandma's Pistachio Cake. My sweet Grandma has passed away many years ago, but this holiday isn't the same without her famous green pistachio cake. It is super easy to make, but so delicious and light–the perfect end to any meal.
Have a wonderful holiday tomorrow and I wish you all the luck o' the Irish in your upcoming year!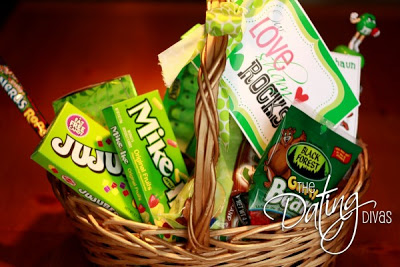 (Such fun ideas at one of my favorite
websites
–this is exactly what we do every year, so instead of blogging about our traditions..just head over to their website and see pictures and descriptions.)