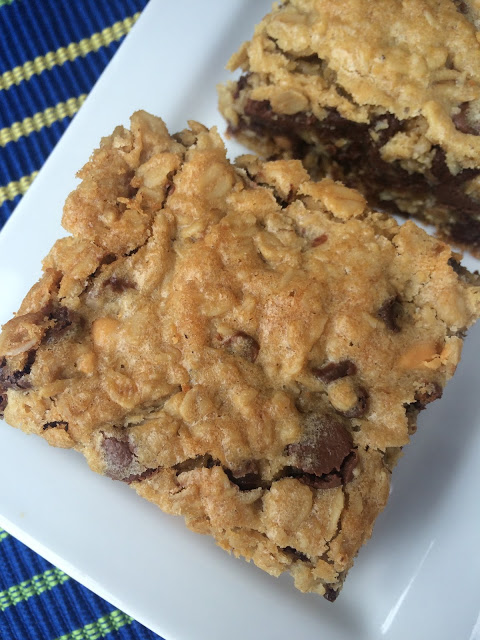 These bars have decades of memories for me. I grew up in the same neighborhood as my husband and have known him since I was 6 years old. I remember being at his house growing up and eating these oatmeal bars as a little girl. We had a neighbor who was an amazing cook and she used to bring these 'Rolayne Bars' over to my in laws house for special occasions. Still to this day, they are called Rolayne Bars, because they were her signature treat she used to bring to every neighborhood function. We always loved it when she would make them and to this day, any time my mother in law makes these cookie bars, they are a nostalgic part of my childhood.
Now, knowing the recipe I know why these bars were so heavenly–butter, sugar and three different kinds of chocolate chips. Of course they would be good !?! These bars are unique because they are SO thick. It's hard to tell in the picture, but there are parts to these bars that are 2 1/2 inches thick. These bars are rich, decadent and the perfect dessert to bring to any party or serve on any special occasion.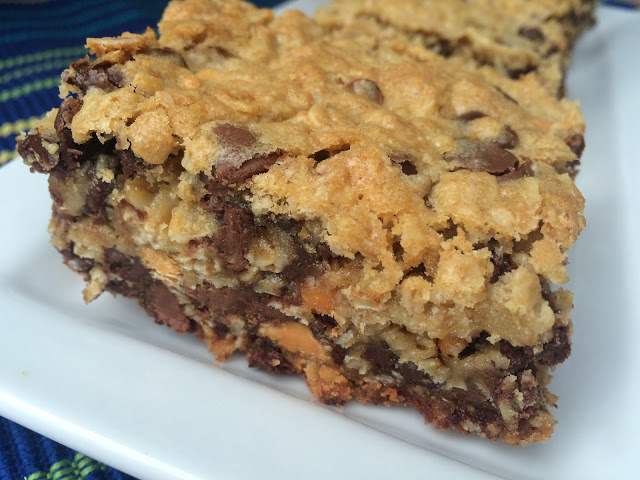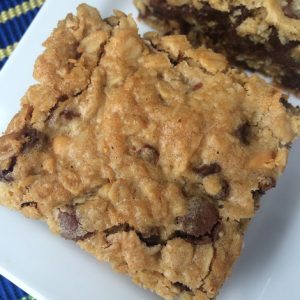 Ingredients
6

cups

oats

2

cups

flour

2

tsp.

salt

2

tsp.

baking soda

2

tsp.

vanilla extract

4

eggs

1 1/2

cup

white sugar

1 1/2

cup

brown sugar

1

lb.

butter

12

oz.

bag milk chocolate chips

12

oz.

bag semi sweet chocolate chips

1

cup

butterscotch chips
Instructions
Preheat the oven to 375 degrees. In a large mixing bowl, with an electric mixer, cream together the butter and sugars until creamy and light in color and texture. Add the eggs one at a time and the vanilla. Continue to mix until incorporated. Then add the baking soda, salt, flour and oats. Continue to mix until cookie dough comes together and all the oats are coated. Then add the chocolate chips and mix slightly until they are all dispersed throughout the dough. Spray a 9x13 pan and pour the dough into the pan and spread evenly throughout the pan. Place in the oven and bake for 33-35 minutes. The tops of the bar will be lightly golden brown but you will not think the center is all the way cooked. You want them to look slightly under done or they will dry out and not be as good. Remove the cooked bars from the oven and let them rest on the counter for 2-3 hours (unless you want to eat it warm with vanilla ice cream--that's also heavenly!). If you want the bars to set up and be able to cut nice squares, you will want it to rest for awhile to set up. These are extremely thick and you want to so that the bars are tender and gooey in the center and not dry and thin. These are bars that are even better the next day once they are totally set up.