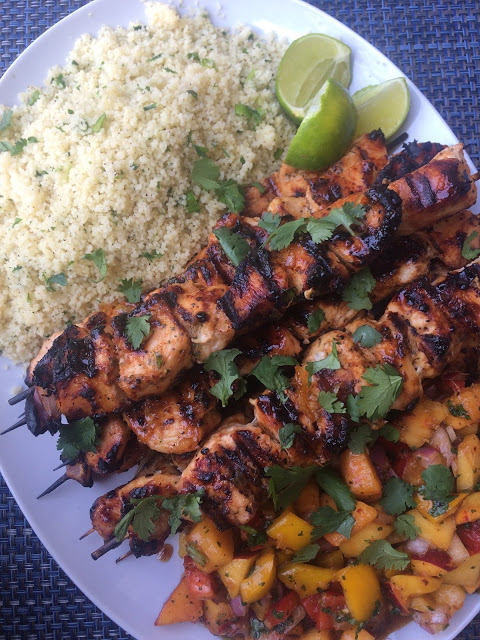 There are recipes that come and go throughout your life that make a big impact on your taste buds. Some recipes are awesome, but you know they are nothing you'll remember in a years time. However, along comes a recipe that you know is one you will never forget. The flavors are just bursting off the plate and the combination of tastes are like a symphony exploding in your mouth. Anyone who knows me, knows I am obsessed with the sweet and tangy combination of food. That is why I love Thai and Asian food so much. Their recipes are never dull and always have my favorite combinations of sweet, savory and spicy. This Nectarine chicken fulfills all of those requirements for me. The chicken is marinated to perfection and then eaten with this fresh, slightly spicy and deliciously sweet salsa. With nectarines (or peaches) on sale everywhere, this is the perfect week for you to make this recipe. I can't wait for you to give this one a try!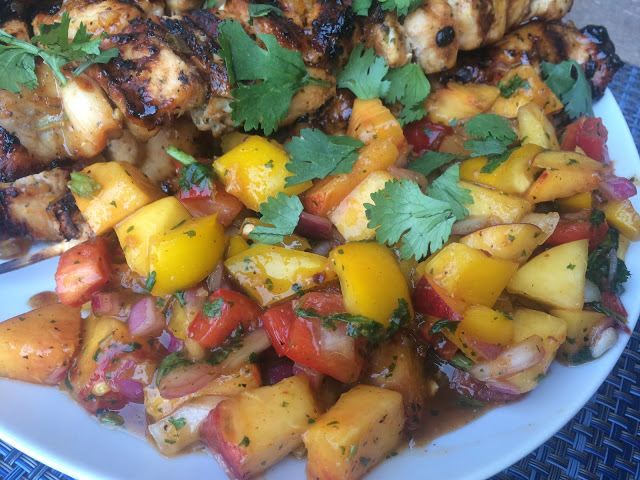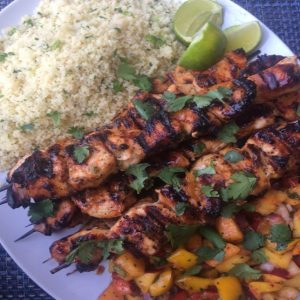 Ingredients
CHICKEN:

1

large nectarine

1/2

cup

cilantro

1/4

cup

brown sugar

1

Tbs.

chili powder

2

tsp.

salt

2

limes

juiced

1

tsp.

black pepper

1

tsp.

crushed red pepper flakes

4

garlic cloves

minced

NECTARINE SALSA:

2

nectarines

diced

1/2

cup

cilantro

chopped

1/2

red onion

diced

1

jalapeno pepper

diced

1

red bell pepper

diced

1

yellow bell pepper

diced

Remaining nectarine puree

from above
Instructions
Chicken

In a blender or food processor, blend together the nectarine (or peach), cilantro, sugar, chili powder, cumin powder, salt, lime juice, garlic, pepper and red pepper flakes together until smooth. Reserve 3/4 cup of the nectarine puree and pour over the boneless chicken. Move around the chicken so that each piece of chicken is covered in the marinade. Place the chicken in the fridge until ready to grill. Pour the rest of the nectarine puree into a medium sized bowl (for the salsa).

Salsa

Cut and chop the nectarine, cilantro, onion and peppers and place in the salsa bowl with the nectarine puree. Mix together until all the salsa is coated. Put a layer of plastic wrap over the salsa and keep in the fridge until ready to serve. You will want the salsa to have lots of extra juices to pour over the chicken and to eat with the rice or cous cous to give it more flavor.

When you are ready to grill the chicken, you can skewer the chicken on kabob sticks or just grill the chicken breasts whole, which ever you would rather. Grill the chicken on a medium-high heat until the outside of the chicken is nice and golden brown and has nice grill marks. Turn down the grill heat to medium-low and continue to grill until chicken is no longer pink in the center and is cooked through. Serve the cooked chicken with the nectarine salsa.