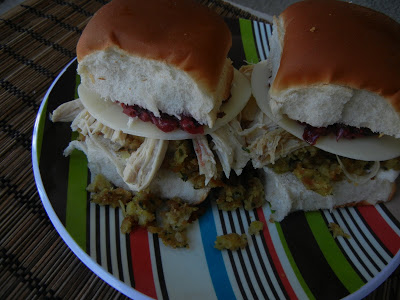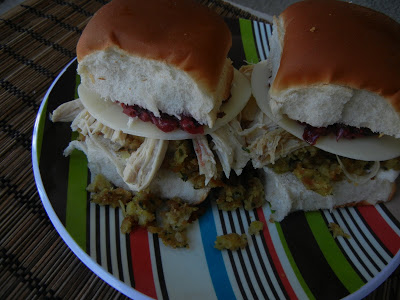 The other night I was watching the food network when one of my favorite shows came on, The Best Thing I Ever Ate. It is where chefs around the country talk about the best thing they have ever eaten. This episode was about Thanksgiving favorite recipes. By the end of the show my mouth was salivating. I wanted to jump into the screen and eat the two sandwiches they talked about on this show. They were both very simple and plain, nothing fancy-shmancy, but I could imagine how incredible they would taste.
I could hardly wait to make these and so I crock potted a turkey breast the next day (a week before Thankgsiving) and we ate turkey to our hearts content! Here are three of my favorite ways to eat turkey leftovers. Enjoy!
(I am sorry if your leftover turkey is gone…mine has been for a few days now. Pull back out your roaster or crock pot–it will be worth the effort 😉
Terrific Turkey Sandwich (I made mine a slider version with leftover rolls)
Pulled turkey breast, cooked and shredded (seasoned with salt and pepper)
Rolls or white bread
Stuffing (stove top was recommended from the show)
Cranberry sauce (I like whole cranberry sauce)
Best Foods Mayo (only the best!)
Sliced provolone or cheddar cheese
Cook the turkey and shred. Place a thick layer of mayonnaise on one side of a roll or piece of bread. Spread another layer of cranberry sauce on the other side. Spoon some stuffing onto the roll along with some shredded turkey and a slice of cheese. Press the sandwich together to hold it all in and voila..dinner is served.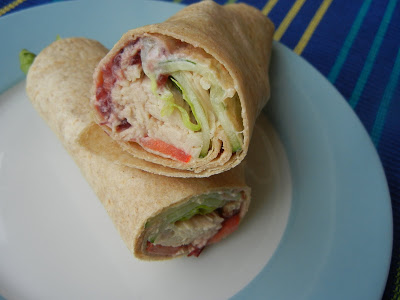 Turkey Cranberry Wraps
Shredded cooked turkey
Wraps or tortillas
1 cucumber, peeled and sliced very thin
2 tomatoes, sliced very thin
Pieces of romaine lettuce
Red onion, sliced thin (optional)
Cranberry sauce
Cream cheese mixed with a little mayo, parsley, garlic powder and salt/pepper–mix until smooth and use as a spread for your wraps
Shred the cooked turkey breast. On a tortilla or wrap, spread a generous portion of the seasoned cream cheese mixture. Add a thin layer of cranberry sauce on top of the cream cheese. Place the slices of tomatoes, cucumber, lettuce and red onions on top of the cream cheese. Add several large pieces of turkey and roll the wrap up as tightly as you can. Cut the wrap in half and serve.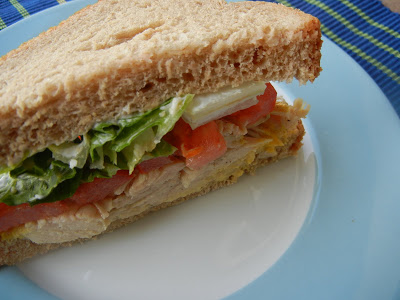 Turkey Avocado Sandwich
Shredded turkey, seasoned with salt and pepper
Tomatoes
Lettuce
Avocado, seeded, peeled and sliced
Slices of provolone cheese
Mayonnaise and mustard
Whole wheat bread (or any bread)
On a piece of thick bread, spread a generous amount of mayonnaise and mustard. Place large pieces of turkey breast onto the bread. Add the sliced tomatoes, lettuce and avocado on to the turkey. Finish with a slice of cheese and press sandwich together.