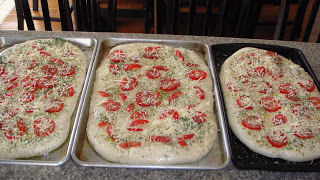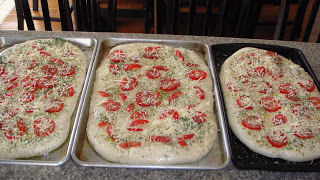 This recipe has been around the block on many food blogs lately, but I had to give it a try to use up those garden tomatoes! I loved the freshness of the tomato and the savory garlic and cheese flavor…delightful! We dipped this bread in an olive oil, balsamic vinegar, and Parmesan cheese mixture. We felt like we were at Macaroni Grill. (Yes, I tripled the batch–I can't do anything in small quantities!)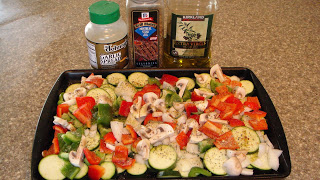 QUICK GARDEN VEGETABLE SIDE DISH
One of my other favorite ways to use the vegetables from my garden (or ones you buy at the store) is this quick and healthy vegetable side dish. There isn't a fancy name for this recipe, it's just something I throw together for a quick side dish and a way to get my kids to eat their vegetables. I just coarsely chop up any vegetables I have on hand in the fridge (zucchinis (there's always tons of those going around!), onions, mushrooms, bell peppers, etc.) and toss them in a drizzle of olive oil (or you can use butter for more flavor). I sprinkle the veggies with Montreal Steak Seasoning (my ALL time favorite seasoning!) and Johnny's Garlic Spread (my second favorite seasoning–both you can get at Costco in BULK!!) and put it in the oven on a cooking stone. I broil this at 450 degrees until the vegetables are slightly soft and have a few crispy edges (like they were grilled on the barbie). Put your pan down on the lowest rack to prevent burning. You can also just bake these vegetables, but I like the crispiness of the veggies verses the soggy-overcooked flavor baking gives. This is just a quick option to skewered vegetables without all of the skewering! I served these tonight with the Teriyaki Pork from this weeks menu planner and it was AWESOME!!